Note to Readers: Online Comments on Bono Cartoon
Revolution #040, March 26, 2006, posted at revcom.us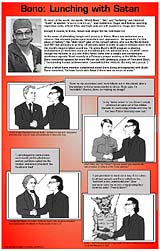 We got an unusual amount of passionate complaint letters about our cartoon making fun of Bono. We are posting some of those letters online, and inviting readers to comment at revcom.us.
Editors
Bono may be an appeaser of these evil doers but he is not one of them. If he has made some difference to world poverty it is worth it. Do not tell me he has made it worse.
You should not be trying to make people who admire guys like him and Bob Geldof decide between you and them. you will lose. from a previously impressed reader goodby
......................
"Bono: Lunching with Satan". Parody, hey? Humor lesson #1, and please take note: parodies are meant to be funny. That's F-U-N-N-Y, folks. Look it up - you might learn something.
.........................
What have you done to change the world besides sit behind the computer and write smartass comments that don't help anyone?
.........................
At least he's doing something for the world... WHAT ARE YOU DOING??? taking advantage of his popularity to gain readers to your crappy website?