Sir! No Sir!
A Film About The GI Movement Against The War In Vietnam,
by David Zeiger
Revolution #041, April 2, 2006, posted at revcom.us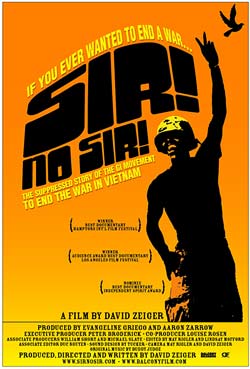 Larger jpg

From time to time, Revolution will run tips from our correspondents and readers on movies, art exhibits, books, plays, and other cultural events that readers should know about. No endorsement implied, but worth checking out.
Sir! No Sir!
A Film About The GI Movement Against The War In Vietnam.
by David Zeiger
"The Vietnam War has been the subject of hundreds of films, both fiction and non-fiction, but this story—the story of the rebellion of thousands of American soldiers against the war—has never been told in film. This is certainly not for lack of evidence...
" Sir! No Sir! will change all that. The film does four things: 1) Brings to life the history of the GI movement through the stories of those who were part of it; 2) Reveals the explosion of defiance that the movement gave birth to with never-before-seen archival material; 3) Explores the profound impact that movement had on the military and the war itself; and 4) The feature, 90 minute version, also tells the story of how and why the GI Movement has been erased from the public memory."*
Reviews, schedule of showings, trailers and much more available at this site.