Revolution #55, July 30, 2006
Jennifer Harris
Standing up to Persecution at Penn State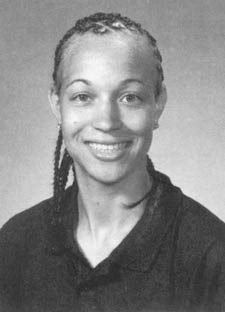 Jennifer Harris
Jennifer Harris played in every game during her two years on the Penn State women's basketball team. She averaged 10.4 points a game her sophomore season, started 22 of 30 games, and averaged 25.8 minutes a game. In March 2005, Coach Rene Portland—who has a long record of overt discrimination against lesbians or any behavior she perceives as supposedly non-"feminine"—kicked Harris off the team.
Harris filed a suit, supported by the National Center for Lesbian Rights, charging that she was repeatedly asked by Coach Portland if she was a lesbian and pressured to change her appearance to be more "feminine," and that Portland harangued and humiliated Harris, saying things like, "That's why they don't let coaches carry guns" and "Break a leg so you can't play and put me out of my misery."
Harris refused to conform to Portland's regime. "As I told [Portland], 'This is who I am,'" Harris says. "My dad doesn't like the way I dress. I haven't changed for him; I'm not going to change for her."
According to a story in USA Today, after being kicked off the team, Harris felt as if her heart were breaking. The paper reported that Harris "barely ate. She seldom slept. She hardly spoke. She skipped classes, and she lay on the couch and wondered: 'Will I ever love basketball, or anything else, in the same way again?'"
Rene Portland is known for a policy of "no drinking, no drugs, no lesbianism." In the wake of Harris' lawsuit, other players on the Penn State team have come forward to expose this. One woman told USA Today that "She [Portland] told me point-blank in her office that if she ever heard of any lesbian activities that not only would I be kicked off the team, but transferring would be impossible and I'd never play basketball again."
A woman trainer on the team was quoted as saying, "I grew my hair long. I wore more makeup. I stopped going to alternative night at Players, the club on campus. I dressed differently. To the point where my parents noticed a difference. I knew I needed Rene's name on my résumé. She was asking questions. So, I had to give the appearance of being straight. It didn't come up again. I'd always been open about my sexual orientation. It was the first time in my life that I hid. I never had to do it before, and I've never had to do it since."
Again and again, over 26 years, women athletes were interrogated about their intimate lives and threatened. And young women were repeatedly forced to leave the Penn State basketball program. Jennifer Harris said: "In the end, I knew I had to speak out. Coach Portland very nearly destroyed not only my athletic career, but also my dream of completing my education and becoming a doctor. I do not want to see a single other student damaged in this way."
Penn State's investigation found that Portland created a "hostile, intimidating, and offensive environment." The university declined to remove Coach Portland—giving her a formal warning, a $10,000 fine, and diversity training.
If you like this article, subscribe, donate to and sustain Revolution newspaper.