Revolution #59, September 3, 2006
New T-Shirt Available!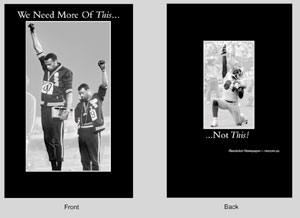 New T-Shirt Available

"We Need More of This.... Not This!"
Individual orders:
Specify size:
s, m, l, xl
Available in English
$20 (includes shipping costs)
Distributors, contact:
Liberated Marketplace
RCP Publications
PR Office
773-227-4066
rcppubs@hotmail.com
P.O. Box 3486
Merchandise Mart
Chicago, IL 60654

If you like this article, subscribe, donate to and sustain Revolution newspaper.