Revolution #72, December 10, 2006
Outrage in New York
The Cold Truth About the Police Murder of Sean Bell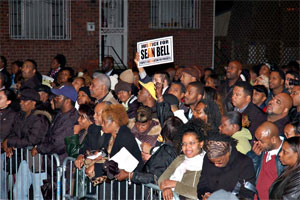 Sean Bell's funeral (click to enlarge)
Photo: Stanley Rogouski
Taped to a small brick wall, just a few yards from where Sean Bell was brutally murdered, is a large color photo of Sean, with the following words printed underneath: "There's an answer to every question. Question is, who'll answer it TRUTHFULLY?"
Indeed, who will tell the truth of what happened to Sean Bell and two close friends in the early morning hours of Saturday, Nov. 25, on Liverpool, a quiet street in the New York City neighborhood of Jamaica, consisting mainly of small, unassuming one- and two-story homes in which working class and lower middle class families dwell—mainly Black people who have emigrated from the Caribbean? Who will tell the truth of how the quiet of that street was shattered that day when NYPD undercover police opened fire—50 bullets in all in a space of only seconds—on Sean Bell's car, in which he and his two friends were sitting, killing Sean, 23, critically wounding Joseph Guzman, 31, and seriously wounding Trent Benefield, 23?
Will the undercover cops themselves tell the truth? Will it be Police Commissioner Raymond Kelly, who, despite mountainous evidence to the contrary piled up over the years, has earned a reputation in the capitalist mass media for "telling it like it is"? Or maybe Mayor Michael Bloomberg, who has been playing it cool and cagey—unlike his ham-fisted predecessor, Rudy Giuliani—meeting with the grieving and infuriated Bell family, offering his condolences to them and the Guzman and Benefield families as well, and even going so far as to state publicly that he agrees the fusillade of 50 bullets appears to be "excessive"? All this on Bloomberg's part in an effort to contain and channel the people's rage into the all-too-familiar dead-end of investigations and politics as usual.
The truth? In fact, even now, just a week after the 50 shots were fired, the contours of a typical cop cover-up and counter-attack are already clearly visible, in which the victims themselves are to be blamed for their victimization. So, let's compare the truth of what transpired on Nov. 25—as it has come to light so far, based in particular on a number of eyewitness accounts, all of which in the main corroborate one another—with the poisonous, paralyzing brew the NYPD and other local authorities are concocting, and which they hope the people will swallow.
What Happened Outside Kalua Cabaret
October 22nd Coalition Stop Police Brutality, Repression, and the Criminalization of a Generation
Contact the National Office of October 22nd at: Info@october22.org or 1-888-NOBRUTALITY, P.O. Box 2627, New York, N.Y. 10009.
To donate funds, make check out to: IFCO/October 22, and mail to address above.
The Stolen Lives Project
The Stolen Lives Project documents cases of killings by law enforcement nationwide. The second edition of the Stolen Lives book, Stolen Lives: Killed by Law Enforcement, is available from Amazon.com for $15.00. It documents over 2000 cases nationwide in the decade of the 1990's. Documentation, writing, editing and distribution work continues on the Stolen Lives project.
To get involved, to submit a case properly, to assist in the research, writing, or distribution, contact: stolenlivesinfo@gmail.com.
Stolen Lives is a joint project of The Anthony Baez Foundation , The October 22nd Coalition to Stop Police Brutality, Repression, and the Criminalization of a Generation , and National Lawyers Guild
On Nov. 25, Bell, Guzman and Benefield went to the Kalua Cabaret in Jamaica to celebrate the wedding later that same day of Sean and his fiancée, Nicole Paultre. According to several eyewitnesses who were at the club, an argument broke out between the three and two other men—an argument, which Bell told Guzman and Benefield, was not at all what he had in mind for his bachelor party. "Let's be out," he said. "I'm getting married. I don't need this."
But the dispute continued in the Kalua's foyer, as the three were trying to leave, and then outside the club, where one eyewitness said threats and counter-threats were made—the sort of posturing and bogarting that goes on all the time in situations like these. And, in fact, Benefield reiterated what Bell had said moments earlier about it being time to split, and the three headed for Sean's car parked a block away, on Liverpool.
Also in the Kalua that night was a male Black undercover cop, part of a special NYPD unit that was scoping out the club for possible prostitution and drug activity. Police Commissioner Kelly has admitted that this cop had a couple of beers before the shooting that followed but that he is considered to have been "fit for duty."
Having witnessed the argument, the undercover cop signaled those outside, who were sitting close by in an unmarked minivan and Toyota Camry, that one of the three friends might have a gun. As the three got to Sean's car on Liverpool and were climbing in, the minivan and Camry arrived and the inside undercover walked toward Sean's car, hollering at the three. What happened next (as told to their attorneys and the media by the wounded Guzman and Benefield a couple of days later from their hospital beds—to which they had been handcuffed until enraged family members and others forced the police to take them off) was that all three of them thought they were about to be robbed or car-jacked. In an attempt to get away, Sean Bell first lurched the car forward, which the police claim "clipped" the undercover cop, threw it into reverse, climbing over the sidewalk and bashing the rear end into the iron gate covering a store front, and then lurched forward again, hitting the minivan.
At that point, the undercover cop who had approached Sean's car opened fire, immediately joined by the others. One of them reloaded and clicked off 31 shots. In a matter of a few seconds, Sean Bell was dead and Joseph Guzman, hit 11 times, and Trent Benefield, hit three times, were fighting to remain alive.
The undercover cop who initiated the execution swears he announced he was a police officer before he began to fire. But several eyewitnesses say that's an outright lie. An attorney representing at least three of those eyewitnesses—all of whom are willing to testify before a grand jury looking into the incident—said they all agree that "the undercover never identified himself. Never." The inside undercover cop also claims he could see that Guzman, while he was in the car, had a gun tucked into his waistband. That's why, the cops claim, they "justifiably" feared for their own safety and opened fire. But no gun was found in the car or anywhere at the scene.
So, what is the truth? The truth is that three unarmed young men of color, two Black, the other Latino, were targeted by a bunch of cops acting like a death squad, shot at with 50 bullets—50 bullets! The truth is that Sean Bell died at 23 and his two friends ended up in the hospital struggling to live. As Sean's fiance, Nicole, told a local hip-hop radio station, "They were murderers, murderers. They were not officers. No one gives anyone the right to kill somebody."
All of this raises bitter and haunting memories of how, in 1999, members of another NYPD special unit, the street crimes unit, fired 41 shots at Amadou Diallo as he stood on the steps of his apartment building, with 19 hitting him and tearing his body apart. The "justification"? The SCU plainclothes cops feared for their lives because they thought Amadou Diallowas reaching for a gun. Turned out he was just reaching into his back pocket for his wallet, to identify himself.
NYPD's Outrageous Raids—Cover-up for an Assassination
With no gun found at the carnage on Liverpool St., the NYPD has turned to Plan B: they say there may have been a fourth person either getting into or standing next to Sean Bell's car, who ran away just before the cops began shooting and who police investigators insist may very well have been carrying the gun they argue was at the scene! In their frantic efforts to locate this "fourth man," the police on Nov. 29 and 30 conducted a number of raids, including an apartment in the same building in which Trent Benefield lives, arresting four people for criminal possession of a weapon. Other raids elsewhere in the city involved more arrests, mostly on gun charges, but none of which involve the gun ostensibly in the possession of the "fourth man."
On Dec. 1, the NYPD announced with great fanfare that they have identified one of those arrested during the raids—27-year-old Jean Nelson—as the supposed "fourth man." The police had to quickly release Nelson, since they had no charges against him. Nelson said the police claim about him is absurd, and his lawyer (and lawyers for some of the eyewitnesses) denounced the police tactics, charging that the police were trying to scare potential witnesses who might be called before the grand jury. Nelson had already consented to appear before a grand jury before cops busted him.
These raids have infuriated a Black community, as well as many others in New York, who are already boiling over with anger at the murder of yet another unarmed young Black man. "I think what they're doing is repulsive, disgusting and deplorable," said Bishop Erskine Williams Sr., whose son is a good friend of Trent Benefield's and was arrested during the raids for an unpaid summons of $25. "They're trying to put together something to cover up an assassination, an execution of this young boy," Erskine Williams Sr. said.
The people's rage over the execution of Sean Bell pulsed on Liverpool St. last week, where a memorial area has been carefully and lovingly set up right next to the iron gate that Sean's car backed into as he and his two friends tried to escape. On the sidewalk are dozens of lighted candles, bouquets of white carnations and red roses, and a large, multi-colored flowered wreath sitting on a triangular stand, with a photo of Sean, Nicole, and one of their two young daughters in the hollowed center of the wreath. And taped to the brick wall standing above the sidewalk is the question posed at the beginning of this article, of who will tell the truth of what happened on this street in the early morning hours of Nov. 25, along with a number of other posted thoughts and comments.
One of these is a neatly typed letter addressed to the NYPD and signed by "a mother of 3 African-American sons and 2 African-American grandsons." It reads, in part: "Last Saturday's encounter was nothing less than an execution. What is painfully, frightfully obvious to Black people is that those young men could have been ANY BLACK MEN, and it wouldn't matter about their social or economic status. However, know this: We are collectively mad as hell and are not taking it anymore!!!"
One day last week, a number of people visiting the memorial, both from the neighborhood but also from other parts of the city, expressed to a Revolution reporter their anger and anguish but also their determination to help bring these executions to a halt. Said a woman who was born in the country of Jamaica but has lived in the U.S. for 35 years, many of them in Jamaica, N.Y.:
"I think the police are the Ku Klux Klan. I think they've got that uniform on, but they're really the KKK. And I think it's a conspiracy of them to kill as many Black youth as they possibly can…. Right now, we Black people have like a slavery syndrome, where we are scared to fight. So anybody, especially the cops, can do anything they want and get away with it. But I personally believe it's time for us to fight back. I have three sons and they grew up in this country but I sent them to London, where we're originally from, after leaving Jamaica, because I didn't want the cops killing them. I haven't seen one of my sons for 21 years, and I haven't seen another one for 14. But if they were in this country I probably would have had to bury them a long time ago. So even though I can't see them, I know they're alive. Although, on the other hand, I know England is not much better in how they treat Blacks—not much better, but better than what happens to them here. That really says something about this country, doesn't it?"
The local branch of the Revolutionary Communist Party,USA has been widely distributing a statement that read in part:
"This system [of capitalism and imperialism] is what the police exist to 'serve and protect.' They are nothing but modern-day slave-catchers for a system of profit based on the exploitation of people here and around the world who have nothing to lose and can only live through selling their work—when they can get work. The master's whip has been replaced by the NYPD standard issue semi-automatic and they gun people down again and again, until it seems like we can't have any more tears left. This is why this keeps happening, no matter how many Black and Latino cops get hired and no matter how much 'diversity training' they get and no matter how 'sensitive' the mayor is…

"Today, a 'leaner and meaner' globalized American empire ships whole factories across the globe to more brutally use people in every corner of the world, and millions of Black people and others who can't be profitably exploited fill the prison growth industry in the U.S. Right-wing religious fanatics like Pat Robertson and others close to, or in, positions of power, contemplate Biblical punishment for those they consider a 'stain' on society. Thousands died in Hurricane Katrina and thousands more were separated from families as they were removed from New Orleans--not because of a natural disaster but because of a criminal regime. Meanwhile the President can now legally put anyone he decides is an 'enemy combatant' in secret prisons, to be tortured, for the rest of their lives.

"If you think Black people and those on the bottom of society have always caught hell and it couldn't get any worse, think again. A core of the ruling circles in this country is following the logic of genocide."

(From "Justice for Sean Bell! 50 More Reasons—We Need Revolution," Statement from RCP New York Branch. The whole statement is available online at revcom.us.)
On Dec. 1, several thousand people passed through the church in Jamaica, Queens for Sean Bell's funeral. Hundreds gathered outside to denounce police brutality and demand justice for Sean. All the authorities are frantically running around trying to tamp down the burning outrage among the people and head off an even bigger outpouring. But the anger of the people and their demands for justice are righteous. And everyone—from all walks of life—should support and join in the struggle for this demand.
If you like this article, subscribe, donate to and sustain Revolution newspaper.