Revolution #80, March 4, 2007
Celebrating the Revolutionary Communist Life of Billy "Jazz" Ellis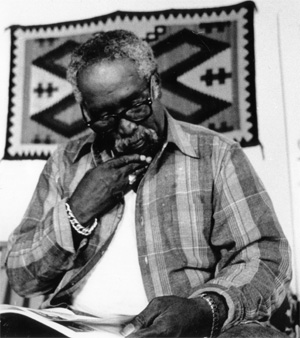 Billy "Jazz" Ellis
Photo: Special to Revolution
On February 11, over 100 people gathered in Oakland, California to remember and celebrate the revolutionary communist life of Billy "Jazz" Ellis. Present were family, friends, comrades, along with others who never knew Billy, but who after hearing about him wanted to commemorate his life. Billy, who died suddenly on January 6 at the age of 72, had been a revolutionary communist for over 30 years and was a founding member of the Revolutionary Communist Party.
The memorial began with a long saxophone solo--an improvised medley on themes by Coltrane, Miles, Mingus and Monk: some of the jazz composers Billy loved. A clip from the video Mao: The Greatest Revolutionary of Our Time that Billy had narrated in his beautiful, deep, resonant voice was shown.
Billy Ellis was born in 1934, in Tyrell, a Jim Crow town in rural Texas. Growing up where Black people were expected to step into the street to let whites pass by, in a place of constant injustices and daily indignities suffered under Jim Crow, made Billy quick to recognize oppression wherever he encountered it.
When Billy was a teenager he and his mother moved to the Potrero Hill projects in San Francisco. He worked summers picking fruit as a day laborer, to help his mother make ends meet.
Billy served in the infantry in Korea not long after desegregation of the armed forces. He not only observed the institutional racism of the military, he also saw the horrors of war inflicted on the Korean people. As one friend of Billy put it: "he talked about being out one day, high up on a hill, and he could see North Korean people in the distance. He was watching when U.S. jet planes streaked through the sky, flying low, guns blazing. He saw people scattering, getting hit. He said that it angered him to see this raw power being used against people who were poor and probably farmers. He used to throw potatoes up at the planes when they flew over his camp area, a form of protest. When asked what he was doing, he'd say, 'I'm just getting the bugs off these potatoes before we cook em.'"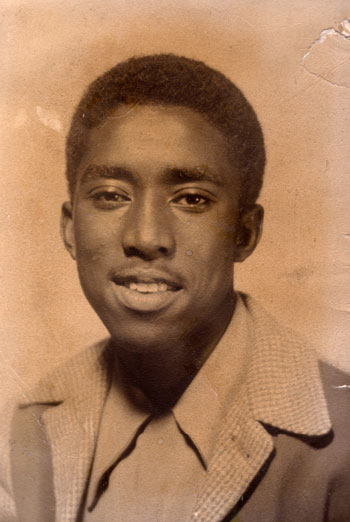 A young Billy Ellis, Photo: Special to Revolution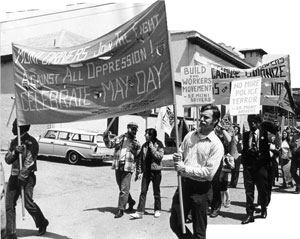 The San Francisco MUNI Driver Contingent at the May Day 1975 march in Oakland, California. Billy Ellis is on the left carrying the banner. Photo: Special to Revolution
After Billy was discharged he played minor league baseball. He was one of the first Black players to integrate American Legion Ball in San Francisco. He also played in the Baltimore Orioles program. Later, he coached semi-professional basketball in Manteca, CA. Billy had a special knack for spotting and developing promising young players.
It was during these years that his love of music blossomed. Billy spent many evenings in the 1950s and 60s stepping out to the Fillmore, the Harlem of the West and home to the Bay Area progressive jazz scene. He himself played traps and sometimes jammed with other aspiring musicians.
It was during this time that Jazz got married and had a family. "At a very young age I was exposed to critical thinking," Billy's son, remembered. "We would watch things on TV and he would say, 'why do you think they're doing that? Why are they addressing this issue?' At the time I hated it but now I look at things through a different lens."
These were tumultuous times when Black people were standing up, students were protesting against the war, and the very foundations of society were being questioned. Billy recently wrote an article that was published in the San Francisco Bay View newspaper on the 40th anniversary of the 1966 Hunter's Point rebellion. Billy remembered participating in the rebellion and boldly upheld it. "By rebelling, people were standing up against the whole way they were being treated and the hypocrisy of American society, which talked about civil rights but wasn't giving us anything. Our rage was uncontainable."
While working at MUNI, the city bus company, Billy became involved in political activism. He contributed to a militant newsletter called "Dragging the Line." It was at MUNI where Billy first learned about communism and communist revolution from a fellow driver. He more and more gravitated toward these politics.
Billy was especially inspired by the Great Proletarian Cultural Revolution in China and by the leadership of Mao Tsetung. Billy became involved in the Revolutionary Communist Party's predecessor, the Revolutionary Union, and through this met Bob Avakian. He soon recognized in Bob Avakian the same kind of leadership he saw in Mao. Billy made a firm commitment to dedicate his whole life to fighting for a communist future.
In 1979 Billy was selected to be part of the entourage for a speaking tour by Bob Avakian at a time when the government was leveling serious charges against Chairman Avakian and others. Years later, Billy described it this way: "I agreed to go without hesitation. I thought about why am I being asked to do this. Was it because I am a Korean war veteran and I have some special skills I learned in the service? I'm sure that didn't hurt. But I think the main reason I was asked to go is because people knew that I had not only come from the proletarian (working) class but I had taken up and embraced its ideology, the programme of its party, the RCP, and that I would do whatever it took to insure the success and safety of Chairman Avakian's speaking tour. So I went... you know I had this man's back.... It was very exciting."
Billy loved taking revolution and communism out to the people. In a statement read at the memorial Joe Veale, spokesperson for the Los Angeles Branch of the RCP, remembered the days when he and Billy worked together to reclaim May Day as a revolutionary holiday of the oppressed in 1980:
"We would go to different hiring halls and worksites throughout the Bay Area--calling on the workers to leave work and go into the streets with the red flag on May 1st. It was their holiday and we wanted them to see that and take part. This was very controversial at the time. Quite often we would get into very heated discussion and debates with these proletarians. At times things would border on becoming physical with some spilling over to this--and Billy would be right in the middle of all this struggle--patiently explaining to these proletarians why this is in their interest, why they had to 'break out and break free'…what this had to do with making revolution and getting FREE."
The memorial also brought out many personal things about Billy. He was always a sharp dresser. He had a lifelong love of sports, especially baseball. He loved jazz music. And he had a sharp sense of humor and a beautiful laugh.
In 1992 Billy experienced a debilitating stroke. Jazz, as he had come to be known, who had been a powerful speaker, a persuasive debater, an avid reader--truly an intellectual of the people--was left unable to speak or walk. His recovery was quite remarkable, but there was permanent and life-altering damage. Reading was particularly difficult. Throughout the latter years of his life, Jazz worked with his memory and his language difficulties. He learned to use a computer to read documents and access the Internet. Learning to use this technology was itself a struggle, but Jazz never gave up. At the time of his death, he was listening to an audio book of The God Delusion by Richard Dawkins.
Billy's physician and friend, Dr. Tolbert Small, who was physician to the Black Panther Party back in the day and who founded the Harriet Tubman Clinic in Oakland. said, "What impressed me most about Billy was that although he had suffered a major stroke; his brain didn't quite function correctly; his memory wasn't the best; he had a major heart attack. But he spent the last drop of his blood fighting for the rights of all people."
Jazz was enthusiastic about the new material being put forward by Bob Avakian, the Chairman of the RCP. His roommates remembered the hours that he spent listening to the recent talks by Avakian. He returned to them again and again, so he could better understand them and to figure out how to take them to the people.
Joe Veale, in his statement, remembered the last time he saw Billy at the 40th reunion of Black Panther Party in October 2006. "At 'Lil Bobby Hutton Park' in West Oakland, as I was about to leave, Billy was full of revolutionary communist enthusiasm. He motioned me over to a table where he and some others were in discussion with some masses about why they need to buy the DVD by Bob Avakian, Revolution: Why It's Necessary, Why It's Possible, What It's All About. Billy had a big grin on his face as he motioned me over to listen to and take part in the discussion. That was Billy. Even in very bad health he was out amongst the masses--enthusiastically taking the truth to them--that we have a leader that can lead us out of this hell and to a whole different kind of society and world."
We need a lot more people like Billy "Jazz" Ellis.
If you like this article, subscribe, donate to and sustain Revolution newspaper.