Revolution #83, March 25, 2007
March 16-18:
Protests in DC and
Around the World Demand End to Iraq War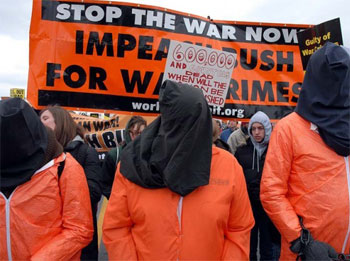 Washington DC, March 17, 2007
Photo: Stanley Rogouski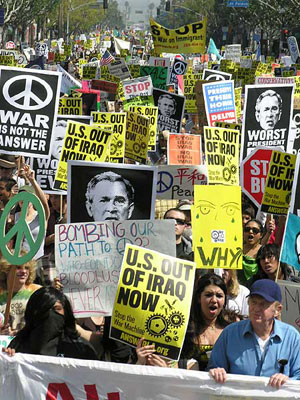 Los Angeles, March 17, 2007
Photo: Marcus-LA Indymedia
March 17 saw actions all around the country to mark the four year anniversary of the war on Iraq. In Washington, D.C, more than 20,000 protesters marched on the Pentagon to demand an immediate end to the war. People converged from places as far away as Florida, Denver, Iowa, Ohio, Vermont, and Kentucky, sometimes forming car-caravans after their bus companies cancelled due to the ice and rain storm that hit the night before. Ann Bonner, who drove through snow with her husband, Tom O'Grady, and two children, 13 and 10, from Athens, Ohio, told the Associated Press: "Too many people have died and it doesn't solve anything ... I feel bad carrying out my daily activities while people are suffering, Americans and Iraqis."
Veterans of the Iraq war and active duty military service members marched in uniform at the front alongside Gold Star Families for Peace, including Cindy Sheehan. At the Pentagon, Iraq war vets called on the audience to go "from protest to resistance," echoing the call put out by the anti-Vietnam war movement 40 years earlier in the same place. Cindy Sheehan, Salt Lake City mayor Rocky Anderson, former attorney general Ramsey Clark, and World Can't Wait spokesperson Sunsara Taylor received tremendous response from the crowd when they called for the impeachment of George Bush.
Other protests were held on March 17th around the world, including in Athens, Greece; Istanbul, Turkey; Seoul, South Korea; and Sydney, Australia and more are planned throughout the week worldwide. In Los Angeles, an estimated 4,000 people marched through Hollywood. San Francisco held a major protest on March 18, but there was also a march in the normally quiet suburb of Walnut Creek, where 1,000 people marched against the war on March 17. One of the protesters, Peter Gassner, is the CEO of a software firm; he marched with his wife and two children. He told the San Francisco Chronicle, "I'd like to teach my kids they have the responsibility to take action." Protests were also held in Hartford, Connecticut, and San Diego, California.
*****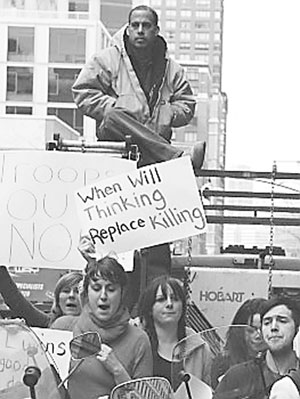 New York City, March 13, 2007
Photo: NYC Indymedia
Other actions have taken place around the country in recent weeks. On March 13, approximately 100 students, all members of SDS New York, occupied an Armed Forces Recruiting Center for two hours; the occupation ended when 20 students were arrested by the NYPD. On March 2, a group called the Pittsburgh Organizing Group (POG) and other supporters carried out civil disobedience in front of the National Robotics Engineering Center (NREC), a largely Pentagon-funded venture of Carnegie Mellon University (CMU) that has become a world leader in warfare robotics. Thirty-four people blockaded the main entrances to the facility in the largest act of civil disobedience/direct action in Pittsburgh since the beginning of the war in Iraq.
If you like this article, subscribe, donate to and sustain Revolution newspaper.