Revolution #95, July 15, 2007
New Campaign Launched by World Can't Wait
Declare Yourself!
Revolution received the following from World Can't Wait:
THE WORLD CAN'T WAIT
BANDANA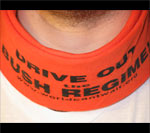 NO MATTER HOW
YOU WEAR IT
YOU MAKE A
STRONG STATEMENT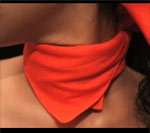 DRIVE OUT
THE BUSH REGIME
THE WORLD CAN'T WAIT!
MAKE YOUR VOICE HEARD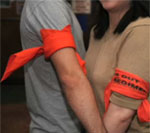 DECLARE YOURSELF!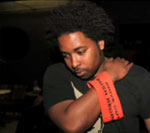 GET YOURS NOW.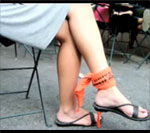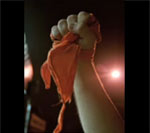 Over the past 7 years the Bush Presidency has given itself the right to invade countries that pose no threat to us, to carry out indefinite detentions and abrogate habeas corpus, to torture people, to spy on tens of millions of Americans without warrant, and when caught, brazenly declare that they will continue to do so, to use hundreds of signing statements, to declare themselves above the law and above scrutiny, to trample civil rights, to deny the dire threat of global warming, to suppress science.
But what is even worse, the "watchdog" media and the "loyal opposition" have allowed Bush and Cheney to get away with it! This must not be allowed to stand. We cannot allow ourselves to go down in history as looking the other way while tyranny, torture and war crimes were being committed in our names and in front of the whole world.
It is up to the people to stop this.
If you can't bear to hear the phrases "WAR ON TERROR" or "9-11" invoked one more time to justify more unjust war, more lying, more spying and more torture, Declare yourself.
If you are someone that cannot get over bloated black bodies floating through New Orleans, Declare yourself.
If you can no longer live a normal life knowing that people are being disappeared into secret torture chambers, Declare yourself.
If you are repulsed by the scapegoating, intolerance & bigotry being unleashed and propagated by the powerful to persecute the most vulnerable, Declare yourself.
If you cherish the ideal of men and women being equal & refuse to return to the days where a woman can be forced to have a baby she does not want, Declare yourself.
If you believe in the separation of Church and State, Declare yourself.
If you are someone who is exhilarated by humanity's capacity to discover and understand the wonders of the natural universe, Declare yourself.
If you believe that truth matters, Declare yourself.
If you have simply had enough of waiting for politicians to do right, or hoping that someone else would act first then… Declare yourself.
Your time has come to make a statement reverberating every place you go and with every person you meet.
Your time has come to be the symbol of a conscience that will not back down and will not go away.
A single person stepping forward can make a huge difference. Then picture hundreds…turning to thousands… then millions, refusing to turn their heads, to sell their souls, to accept endless war in a world without hope.
With each new burst of orange our current will grow, with every person drawn into its wake we gain momentum. What is now latent must be made manifest until we cannot be ignored, until the world and the war criminals in Washington read the writing on the wall:
We are not waiting. WE ARE DRIVING OUT THE BUSH REGIME!
"Wear orange. Put orange everywhere. Those who have been clad in orange, tortured, and detained without recourse will not be alone."
For more information contact World Can't Wait at:
worldcantwait.net
305 W. Broadway, #185
New York, NY 10013
866-973-4463
If you like this article, subscribe, donate to and sustain Revolution newspaper.