Revolution#117, January 27, 2008
Arlington West at California Beaches:
"An Intervention into Societal Apathy"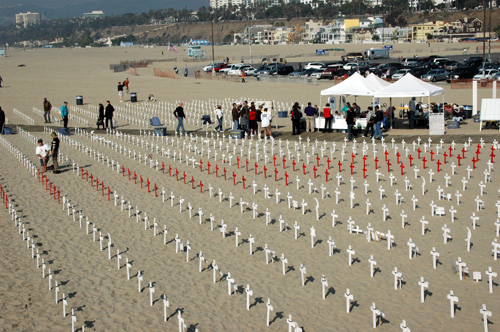 Visitors from around the country, and around the world, who visit Santa Barbara and Santa Monica Beaches in Southern California on weekends are confronted with an expansive anti-war installation put together by Veterans for Peace. "Arlington West" takes its name from the official veterans cemetery in Arlington, Virginia, and features over 3,000 crosses, Jewish stars, and Muslim crescents, which resemble traditional military grave markers.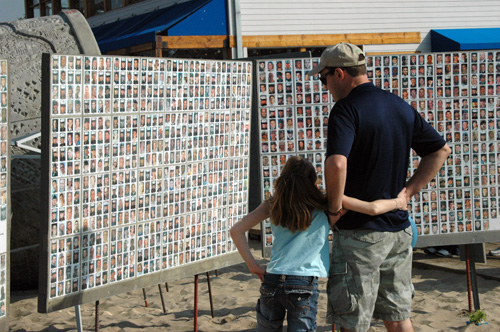 A Vietnam veteran who helped organize Arlington West told Revolution, "It makes people realize there's a war going on. In Santa Barbara as with Santa Monica, you're between shopping and recreation. On a Sunday afternoon, we're right where people don't expect us." He called the installation "An intervention into societal apathy."
The display includes several of what appear to be coffins draped with American flags, as well as a sign that reads: "If we were to acknowledge the number of Iraqi deaths, the crosses would fill this entire beach."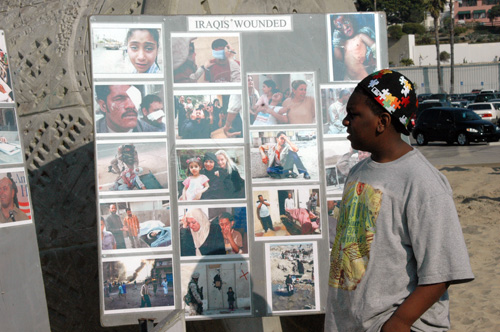 The Santa Monica exhibit includes a wall with photos of American soldiers killed, photos of wounded Iraqis, a large list of American casualties from the ongoing other war in Afghanistan, and a wall with newspaper clippings and articles written by war resisters.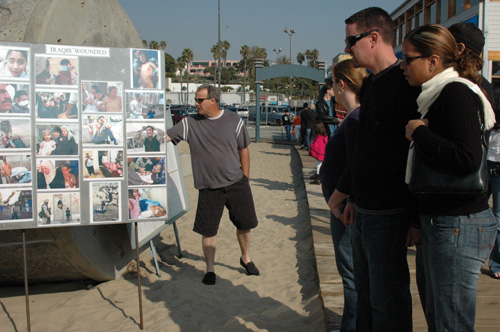 On the weekend before the Rose Bowl, busses bringing University of Illinois fans to the beach for some sun deposited them at the entrance to the display. A tourist from Australia told Revolution, "We want to see our troops come home as well." An Italian tourist said, "On TV it appears that America is always ready to make war all over the place. Instead, you find that the population seems to have a very different opinion."
If you like this article, subscribe, donate to and sustain Revolution newspaper.