Revolution#118, February 3, 2008
No to KKKluckers! No to Nooses! FREE THE JENA 6! WE WANT A BETTER WORLD!
The following is from a statement by the January 21st Committee: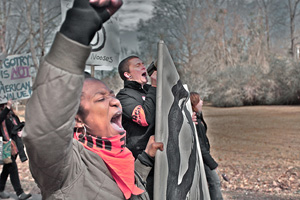 [Photo: Everett Taasevigen]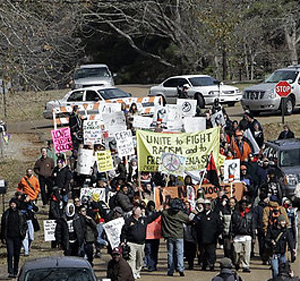 [Photo: AP]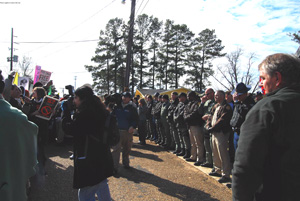 Protesters drowning out the kkkluckers who are behind a line of police. [Photo: Estela Semeco]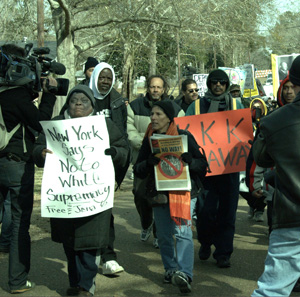 [Photo: Estela Semeco]
[Revolution photo]
On January 21st, Martin Luther King's official birthday celebration, almost 30 lynch mob racists associated with the white supremacist Nationalist Movement came to Jena. They carried lynching nooses and raised slogans like "Jail the Jena 6" and "Down With Martin Luther King." In a despicable display of government collaboration with these kkkluckers, local law enforcement allowed some of them to carry guns. This display of racist hate was like a lynching without a body.
The January 21st Committee was determined to unite with others to politically oppose these kkkluckers and drown them out. The question was posed of what message would rule the day? That of white supremacists carrying nooses through the streets of Jena? Or a different message that said, "No to Lynch Mob Racists," "Free The Jena Six" and "We Want a Better World"?
150 people, from all across the country together with residents from Jena and the surrounding areas, came together in Jena and marched to the LaSalle Courthouse where the kkkluckers were gathered. We drummed, whistled, chanted, and hollered our message in the streets. With determination and straight up noise, we drowned out the white supremacist rally.
On very short notice and in the face of intimidation and a lot of political controversy, people answered the Call put out by the January 21st Committee to: Oppose the Lynch Mob Racists! No to Nooses! Free the Jena Six! We Want a Better World! The diversity of our demonstration showed people of all nationalities, from all across the country, standing up against racism: A small number of Jena residents, Black and white, were in attendance, as well as a few from the nearby towns of Alexandria and Ferriday. People came from Los Angeles, New York City, Atlanta and New Orleans. From Detroit, Cleveland, Jersey City, NJ, Durham NC, Chicago, Ohio, Texas, and Montana. High school students from St. Louis, students from University of Texas, Columbia College in Chicago and DePaul University were in the house.
Activists from C3/Hands Off Iberville and Common Ground came up to Jena on a bus from New Orleans. The Harlem Revolution Club brought a van down from New York City. There were supporters of the Revolutionary Communist Party in the house. Activists from FIST rolled into Jena from New Jersey. Black Men 7 brought folk from Eunis, Louisiana. We showed the world the determination of people across the country to get to Jena and stand against nooses and white supremacy. We came with the message of Free the Jena Six and declared to the Black community and all those opposed to racism in Jena—"We got your back."
It cannot stop here. Those in Jena who took a stand have faced repression and come under attack. Five of the Jena 6 still face charges and segregation, racism, and the criminalization of Black youth continues in Jena and all across the US. We will continue to fight to "Free the Jena Six!" and let our efforts in Jena serve notice that wherever white supremacy rears up we will continue to be there to oppose it because we do not accept a world with nooses!!!
For the January 21st Committee Call, press coverage of the protest and other information, go to: http://januaryinjena.blogspot.com.
For a photo slideshow from the day, go to: http://www.thetowntalk.com (go to photo gallery or follow the link at revcom.us).
If you like this article, subscribe, donate to and sustain Revolution newspaper.