Now Available
FROM IKE TO MAO AND BEYOND
My Journey From Mainstream America to Revolutionary Communist
A Memoir by Bob Avakian
Revolutionary Worker #1263, December 26, 2004, posted at rwor.org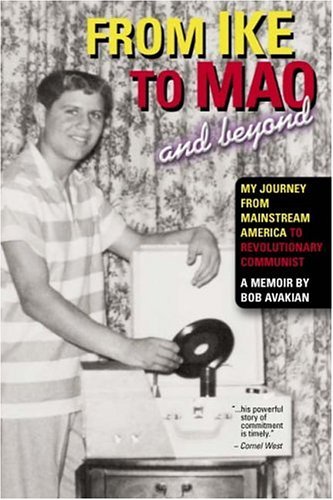 This winter, we are proud to announce the publication by Insight Press of a memoir by Chairman Bob Avakian.
The following is the preface from the book:
A short time back, Cornel West, speaking to the important role Bob Avakian has played in the fight against white supremacy and in relation to the quest for a radically different world, suggested to Bob that he think about doing a memoir of his life so far. Bob raised the idea to me and a few other people. I thought it would be a good way to introduce this revolutionary leader and thinker to a new audience, and so I strongly urged him to take this on, as did others. He heard us out and agreed, and before too long a few of us got together with a tape recorder and he set about telling the story of his life.
I was not prepared for what I would learn.
I've known Bob for over 30 years, but there are sides to people that you only learn about when they start peeling back a lifetime of experience for recounting and examination. Three separate but interrelated stories began to unfold:
A white middle-class youngster who grows up somewhat sheltered in the '50s but begins to learn about things like segregation and discrimination and then goes to an integrated high school, where the larger forces in society play themselves out, in interconnection with his personal experiences, in everything from sports and dating to teenage bull sessions about Plato and agonizing over racism;
A college student who, after several years of battling a serious and nearly fatal disease, recovers and becomes involved in the upheavals of the 1960s, beginning with the Free Speech Movement in Berkeley, which leads him into close relationships with some key figures of the 1960s movement and eventually catapults him into being not only a dedicated activist but a leading theoretician within that movement;
And a man who decides to devote his life to communist revolution, beginning (but not ending) with building a new, revolutionary communist party in the U.S.
I found each of these stories very moving and quite fascinating as they emerged, and even more interesting in the way they related to each other.
Any reader can get a lot out of this book — it's not "for the specialist," or just for someone who is already committed to or interested in movements for fundamental change (although both historians and activists will get a lot out of it!). There is history, drama — with no small amount of tragedy — and plenty of humor over a life that spans more than 60 years. There is a panorama of characters who come vividly to life. There is biting commentary and deep feeling and thoughtful evaluation and re-evaluation of the epoch (and epic) that began when Marx and Engels first proclaimed the "Communist Manifesto." Let me put it this way: whatever you may expect in picking this book up — I guarantee you'll be surprised. (Look over the table of contents and you'll immediately get a sense of why I say this.) There is a breadth to this man. And if you thought that "communism is dead" or that all those who continue to uphold it conform to the stereotypes of "dogmatic totalitarianism," you are in for a real jolt!
Speaking as a communist revolutionary, as someone who considers Bob Avakian's insights and body of work to be on the level of a Lenin or a Mao, a continuation of what they represent but also containing and pointing to some bold new directions — and as someone who considers that to be a very good thing! — I found incredible value in meeting this leader in a very personal way. I saw the combination of the experiences and his own individual character and dynamism that gave rise to his particular orientation and outlook and accomplishments. I got a deeper sense of the method and approach that he applies to every sphere of life: from basketball to Black liberation, from family and love relationships to the problems of socialist transition and the whole experience of socialism.
Finally, for both the revolutionary activist and interested witness, there is something unprecedented in the way Bob Avakian walks you through, "up close and personal," his perspective on all that went into building the Revolutionary Communist Party, USA and maintaining it on a revolutionary course — long after many others from the same period either scaled down their dreams or retreated altogether from the challenge of fundamentally changing the world. Above all, Bob Avakian is someone who never gave up his dreams, while he has simultaneously continued to critically and unsparingly interrogate himself as well as the movement he is part of and has contributed so much to. Bob is someone who came out the other side of that process with the vision not only intact, but greatly deepened in complexity and tempered with what can only be called science — and, as he himself emphasizes, a living, critical, creative approach to that science and its application to changing the world.
*****
A word here on my own role. As I mentioned, I helped to interview Bob for this work, and we then corresponded on the editing of the material from the transcripts. I added a few footnotes to help contextualize things. Other than that, you're getting Avakian, straight-up and uncut.
And, as they used to say back in the day, it's gonna blow your mind.
Lenny Wolff
Summer 2004
Get to know
"America's Most Radical Revolutionary Communist..."
Bob Avakian has written a memoir containing three unique but interwoven stories. The first tells of a white middle-class kid growing up in '50s America who goes to an integrated high school and has his world turned around; the second of a young man who overcomes a near-fatal disease and jumps with both feet into the heady swirl of Berkeley in the '60s; and the third of a radical activist who matures into a tempered revolutionary communist leader. If you think about the past or if you urgently care about the future...if you want to hear a unique voice of utter realism and deep humanity...and if you dare to have your assumptions challenged and your stereotypes overturned...then you won't want to miss this book.
"Bob Avakian is a long distance runner in the freedom struggle against imperialism, racism and capitalism. His voice and witness are indispensable in our efforts to enhance the wretched of the earth. And his powerful story of commitment is timely."

Cornel West
Class of 1943 University Professor of Religion,
Princeton University
"A truly interesting account of Bob Avakian's life, a humanizing portrait of someone who is often seen only as a hard-line revolutionary. I can understand why Bob Avakian has drawn so many ardent supporters. He speaks to people's alienation from a warlike and capitalist society, and holds out the possibility for radical change."

Howard Zinn
Author of A People's History of the United States
*****
Available for ordering at Amazon.com.
Also available at Revolution Books stores and outlets.
Price: $18.95 (Illinois residents add 8.75% tax)
ISBN: 0976023628
Insight Press Inc.
4064 N. Lincoln Ave.
Chicago, IL 60618
insightpress@netscape.net