Revolution #255, January 8, 2012
Announcing the 2012 Kick-Off
of the BA Everywhere Bus Tour
Imagine buses with eye-catching decorations touring the nation, spreading revolution and Bob Avakian's voice to those hungry for it in outlying areas. People on a mission rolling through community centers, high schools, Ivy League and community colleges, from mountains to valleys, suburbs to rural areas. Showing the film of Bob Avakian's talk Revolution: Why It's Necessary, Why It's Possible, What It's All About in classrooms and community centers. Getting Avakian's memoir, and other key works, out all over the country. Reaching the youth, visiting the Occupy encampments that have sprung up all over, going to where there is outrageous oppression going down, taking a week in an inner city... and then another inner city...  "The BA bus is coming to your town."
These buses will have a grass-roots component, taking the message directly to the people, and the different forces interested in or working for change... and they would also aim to become a news story in the cities and towns they go to... "The Revolution caravan has come to town" with photos tweeted and interviews broadcast.
The bus tour part of the campaign to get BA's Vision and Works Everywhere will be launched in February with a two-week pilot project in California, taking advantage of the warmer winter to make a real beginning and to gather experience for the full national tour to start later in the spring. This will be a great way to start off the new year, and proceeds from year-end parties and other contributions from people all over the country can help launch this important new project.
The BAsics Bus Tour, as the pilot project is titled, will start up with great fanfare in Los Angeles and tour key parts of the city and surrounding areas for a week. It will pass through and make stops in California's Central Valley and then it will head up to the San Francisco Bay Area for a week.
With banners wrapped around the bus advertising BAsics, from the talks and writings of Bob Avakian and the Revolution talk DVD,* the bus tour will sweep into inner city neighborhoods, into suburban communities and college campuses, reaching out to those most oppressed by this system, to inner city youth and suburban youth, to students and professors, and to farmworkers laboring in the agricultural areas of the state. BA's works will be displayed and sold, the Revolution DVD will be shown, and people will be encouraged to become acquainted with Bob Avakian's voice and vision, and to dig into how a radically different and much better world is possible.
An initial budget has been drawn up for rental of an RV, gas, food, and materials—more than $7,000 will be needed for the two-week project.
To support the bus tour and help get it off the ground send donations to:
Revolution Books
5726 Hollywood Blvd.
Los Angeles, CA 90028
Cash donations and proceeds from fundraising parties can be gathered together and sent in as a money order. Money orders and checks should be made out to Revolution Books. Please put "BAsics Bus Tour" in the subject line.  
*The full talk, Revolution: Why It's Necessary, Why It's Possible, What It's All About, is available in English and Spanish on DVD and online at revolutiontalk.net. Clips from the film are also at youtube.com/RevolutionTalk. [back]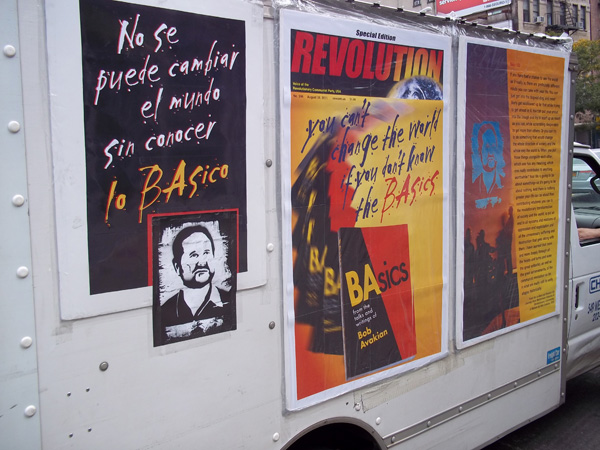 Above, October 2011, a van with banners and signs promoting BAsics in an inner city neighborhood.
Revolution Photo
If you like this article, subscribe, donate to and sustain Revolution newspaper.