Revolution #255, January 8, 2012
Occupy the Rose Parade
This year's Rose Parade in Pasadena, California was punctured with the sound of "We Are the 99%" as several thousand people joined and marched with the Occupy the Rose Parade contingent. The Rose Parade is traditionally dominated by corporate and municipal floats, mounted police and sheriffs on horseback, and military flyovers. But as the official parade ended, something different, fresh, and electrifying happened as Occupy the Rose Parade took over the streets of Pasadena.
People who normally clear out of the stands and head home or go to the Rose Bowl game stayed to watch a 70-foot Occupy Octopus symbolizing corporate greed, two gigantic replicas of the preamble to the U.S. Constitution, one reading "We the people," the other "We the corporations," and hundreds of individual banners and signs: "Employed, Affluent, and here because I care!" "Peoples of the world Rise Up!" "Keep your corporate hands off my parade" "We are the 99%. We won't retreat!" And there were homemade signs like "Just Imagine No War" that used the official theme of the Rose Parade, "Just Imagine…"
Occupiers came from all over the state—Occupy Oakland, Occupy San Diego, Occupy Fresno, Occupy Riverside, and Occupy Orange County. Among the many banners was "Humanity Needs Revolution and Communism."
Many supporters, including some immigrants' rights people, were waiting among the spectators on the sidewalk to join in when the contingent marched by. The Los Angeles Times quoted a 71-year-old woman who was at the parade with her friend who was a Rose Parade Princess 51 years ago. They had planned to join the Occupy protesters in the middle of the parade route. "We believe in the Rose Parade, but we believe it is time for the people to be heard…"
This year's Rose Bowl game was between the University of Wisconsin and the University of Oregon. As the parade passed a crowd of Wisconsin rooters, they cheered as the chant of "Impeach Walker!" [Wisconsin's governor] came from the Occupy contingent.
At the press conference and rally after the march, Revolution and the Call for mass action against the suppression of the Occupy movement were welcomed.
All Photos: Special to Revolution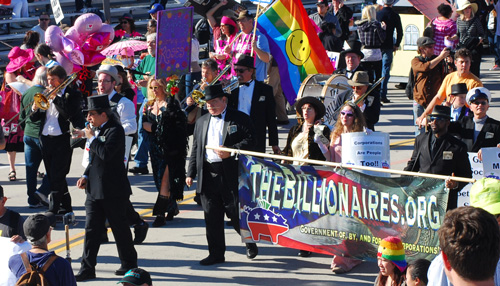 If you like this article, subscribe, donate to and sustain Revolution newspaper.