Revolution #267, May 1, 2012
April 19 Reports: Day to Break the Silence—Say NO to Mass Incarceration!
Revolution received the following reports on April 19 actions to end mass incarceration.
New York City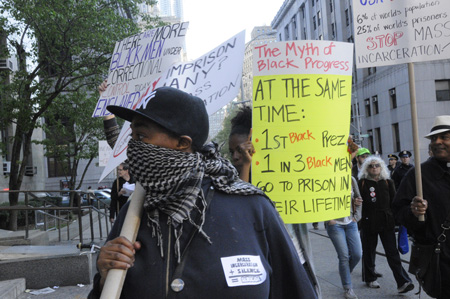 April 19, New York City - Photo: Special to Revolution
A very spirited crowd of 60 people rallied in front of the downtown headquarters of the NYPD—calling out the murder and brutality of the police, exposing how the official policy of stop-and-frisk serves as a pipeline to prison, and calling for an end to mass incarceration. (At the same time, another action was taking place uptown in Harlem.)
Several of those who spoke had been "Freedom Fighters"—those who had been arrested last fall and winter at police precincts carrying out non-violent civil disobedience protesting the stop-and-frisk policy. These included: Father Luis Barrios, associate professor of psychology and ethnic studies at John Jay College of Criminal Justice and associate priest at St. Mary's Episcopal Church in Manhattan; Randy Credico, political comedian, activist and former director of the William Moses Kunstler Fund for Racial Justice; Carl Dix, from the Revolutionary Communist Party; Debra Sweet, World Can't Wait; and Elaine Brower, World Can't Wait and Military Families Speak Out. Others also stepped up to testify about the brutality and murder of the police and the importance of the struggle to end mass incarceration.
The crowd included people from different walks of life—those who have or have had loved ones in prison; people who came to talk about how they or people in their family had been brutalized by the police; activists around police murder; youth and students; teachers and other professionals. Two older white women came from New Jersey¸ one of them a retired hairdresser, who got a flier for the protest in Central Park. They said they came because as one of them said, "This is something that affects everyone and there's lots of people in jail who don't belong there." They said they were new to this group but, "We're here to protest and build up the group and to just keep on going until some change is made."
During the march, there was lots of interaction with people along the route and more than 100 copies of Revolution were sold. At Union Square others joined the protest and gathered around for another rally and others stepped up to the mic to speak out and call for an end to mass incarceration.
Harlem, New York
The thousands who traverse the plaza around the Harlem State Office Building in the center of Harlem were challenged by an agitator on a milk crate painting a picture of why Silence + Mass Incarceration = Genocide and reading quotes from BAsics. A huge enlargement of the poster-style front page of Revolution #264 "Trayvon Martin—A Modern American Lynching" with the words "Black and Latino youth have been marked as a 'generation of suspects' to be murdered or jailed. We say NO MORE!" was at the corner and people were asked to sign the "We Say No More" statement. We found its message spoke deeply to people in Harlem. Many expressed that they know that the murder of Trayvon is just the latest incident, that there is no justice, and that they don't know what to do. Upon hearing the statement, it was striking the number of people who turned around, shaking their head in vigorous agreement, sometimes standing in line to sign it. Several people said that they'd "been looking for something like this." As one young man said, "I'm very aware that there's a New Jim Crow! We have to fight it!" By the end of two hours, 160 people from Harlem had put their names on the statement.
Carl Dix will speak in Harlem on mass incarceration next week and there was great interest in this. Over half of the signers said they would like us to contact them and most of these bought Revolution. A woman who had read the last two issues of Revolution said that she didn't agree with us on the god question but that we were the only ones speaking the truth about these issues. One man who had just been out of jail for a few months said that "even after paying your debt to society" the system treated you "as if you are stained." He said that he was very heartened to see how people were beginning to speak out.
In the morning at the high schools, we had passed out a quiz: "What do you know about mass incarceration?" which included info about the afternoon event. Some of these kids swung past in the afternoon. Since the murder of Trayvon Martin there has been a change of mood among high school and middle school youth. They feel this murder as an assault on them. They discuss the murder of Emmett Till not as something that happened in the distant past, but as part of the ugly history that is still being lived today, with great knowledge of detail. One 13-year-old said with outrage and determination in his voice as he signed the statement: "What do I think? I think that it's a terrible thing to live in a country where I face being killed every day and that there is no place that I can feel safe." It is clear that a lot of discussion is going on in school classrooms. A number of teachers very eagerly signed the statement and asked to be contacted. A couple of times teachers shepherding dozens of elementary or middle school students grabbed up leaflets and passed them out to the class themselves, and signed the statement.
There was one brother who joined in with us after spending some time listening to the agitation and reading BAsics. He said that BAsics had spoken to him with its clarity and passion. He said he'd joined us because he could see we were determined to struggle and felt compelled to take part. He said that he can understand in his heart how people are feeling: "Some people can't do that because they've been damaged so bad. Once you've given up, you're lost." He is firmly convinced that revolution is needed. He spoke of years spent in prison, and having seen so many friends lose their lives to the crack epidemic that was part of the system's assault on the Black community in the '80s.
Los Angeles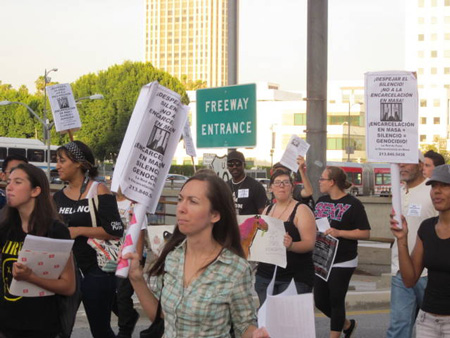 April 19, Los Angeles - Photo: Special to Revolution
In downtown Los Angeles, about 100 people gathered in Pershing Square to protest mass incarceration. There were men and women of all ages and nationalities, from high school youth to veterans of the 1960s. Some are active in the Occupy movement; others heard about the protest at church or in school. There were friends and relatives of people incarcerated, and those formerly incarcerated themselves.
One Black man, who'd gotten a flyer at a program featuring Tavis Smiley and Cornel West, said he had to come; his son was finishing a 19-year sentence (originally 26 years) he'd been given at age 16 for involvement in a robbery; a horror that included several stretches of a year at a time in solitary confinement in California's infamous system of Security Housing Units (SHUs). He said he felt honored to be there, and took part from beginning to end. Another Black man, age 30, managed to survive a 13-year sentence and was now working for a program that helped other former prisoners. He'd gotten a text about the protest and said he had to come.
After a brief rally, the demonstrators began marching to the nearby Civic Center, where government institutions that create and contribute to the huge California prison population are located. There were stops at the Criminal Courts Building, the federal detention center where immigrant prisoners are held, and a final rally at LAPD headquarters. Speakers included Rev. Richard Meri Ka Ra of the KRST Unity Center of African Spirituality, who also MC'ed the rally; a young speaker who has been involved in Occupy Everywhere (formerly, Occupy LA); Clyde Young, revolutionary communist and former prisoner; and Kendra Castañeda, whose husband is permanently incarcerated in one of the California SHUs.
California State University, Northridge Teach-in
On Tuesday, April 17, close to 90 people, overwhelmingly students, attended a teach-in on the campus of California State University, Northridge (CSUN), organized by the newly formed Stop Mass Incarceration Network at CSUN, made up largely of students in the Pan African Studies Department. The speakers came from a wide range of experiences and perspectives in bringing to the audience an understanding of the great crime of mass incarceration, and the need to stop it.
Professor David Horne, from the Pan African Studies Department at CSUN, situated mass incarceration in the history of slavery and then Jim Crow, talked about the role of overcharging; the criminalization of drug users who should be given medical help; and spoke to the fact that both Black and Latino youth have been and are being criminalized.
Professor Kelly Lytle Hernandez, professor of history at UCLA, drew on the work she has done in writing MIGRA!: A History of the U.S. Border Patrol, and Amnesty or Abolition? Felons, Illegals, and America's Unfinished Abolition Movement in speaking to the history of the criminalization of immigrants, and Latinos generally.
Belinda Ramos gave a moving account of what it means to have a son who was sentenced as a juvenile to 53 years to life.
And Clyde Young, a revolutionary communist and former prisoner, spoke powerfully of the connection between the murder of Trayvon Martin and the crime of mass incarceration. He talked about the urgency of building a mass movement to stop mass incarceration, pointing to the April 19 National Day of Resistance. And he argued that it will take a revolution to put an end to this, and the many other horrors whose root cause is the system of capitalism-imperialism.
A week earlier, CSUN students had written a letter to students across the country, saying in part: "As Students, we have a civic duty to stand against these kinds of injustices and step out in Resistance to Mass Incarceration! We would like to invite you to join scores of campuses nationwide on April 19 by holding rallies, teach-ins, walk-outs, sit-ins, or marching out into the community, to say that we are tired of being demonized and being treated like criminals."
San Francisco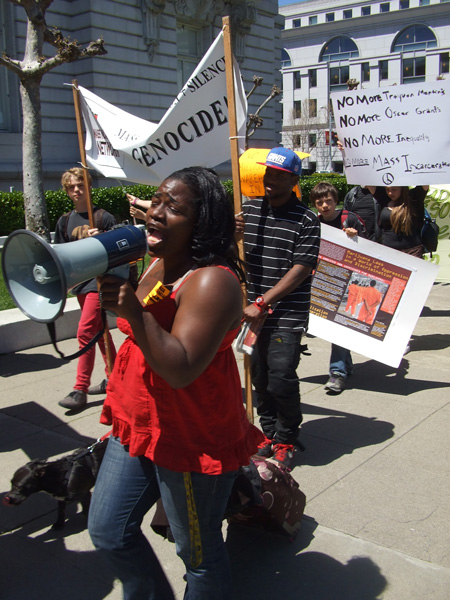 April 19, San Francisco - Photo: Special to Revolution
"There has never been an event like this at Skyline College. People have never opened up their feelings and experiences like they did today."
That's how one person summed up the very moving April 18 speakout on mass incarceration, organized to build for April 19. About 60 students at this junior college south of San Francisco gathered to hear about the dimensions and consequences of mass incarceration—and as they did, a number were moved to speak out about their own bitter experience. The rally, organized by two professors, was opened by Joey Johnson, a Revolution newspaper reporter fresh back from the Trayvon Martin protests in Sanford, Florida. Cephus Johnson, the uncle of Oscar Grant, then passionately condemned the institutionalized white supremacy that "legitimizes" racial profiling, and how this leads to mass incarceration and the epidemic of police murders of Black and Latino youth. He described how this ideology even found its way into his thinking: after his son received his teaching credential, he announced he planned to teach in inner-city schools in Chicago. "Why do you want to do that? You have a good education, don't you want to make money?"
Denika Chatman gave angry and visceral testimony to just one of the crimes of this system: the murder of her son Kenneth Harding—shot eight times in the back by the SFPD and allowed to "bleed out" after being chased by police over a $2 bus fare. Kenneth's uncle invoked his loss and the murders of Oscar, Trayvon and countless others to argue for the urgency of building the movement to Stop Mass Incarceration, and called for people to come out on April 19.
Students were challenged to step up to the mic. At first, no one stepped forward. Then one young Black woman came up and told the families how much she felt for them, and then added that as a mother of two young children, she was terrified for their lives. Her words were the crack in the dam of outrage and bitterness. Student after student told their stories, vented their feelings—police stops, profiling, just routine disrespect and "sweating" by cops.
One Latina student talked about how her son had been in and out of juvenile detention—where he was told he'd never amount to anything—who, in spite of all that, is about to graduate from college. But then last month, her husband, who is on parole and who has been labeled a "gang member," was seen by his probation officer in the "wrong neighborhood," while paying a utility bill. He was arrested and is now in back in prison. She said there is nothing that could keep her away from the next day's Stop Mass Incarceration rally. Many others pledged to come and stayed around at the end to make signs for the rally.
Revolution newspapers were grabbed up and copies of BAsics were sold. The MC read the quote ending with "no more of this, I say" and encouraged people that if they hate this shit and want to get out from under all this they need to get to know Bob Avakian.
The April 19 rally was held in downtown San Francisco—in front of the state government building, where numerous protests against California's notorious prison system and in support of prison hunger strikers have been held. About 50 people came out, including members of the religious community, longtime activists, urban youth and students—including a group of eight or so middle school students who had come on a field trip from out of state to study Occupy Oakland. They energetically joined the rally and the march through the Civic Center and then down Market Street. Some were seriously scanning through their copies of Revolution. One bought a copy of BAsics.
Speakers included Joey Johnson, Cephus Johnson, retired teacher, Jerry Elster, who works with All of Us or None, a retired government worker whose son is in prison, Brother Daniel from the Nation of Islam, a young rapper from Berkeley, and many others who wanted to speak bitterness. At one point, a young Black man from a local junior college who was videotaping the rally stepped forward to say a few words about being harassed and disrespected by the police. He later said it was the first time he had ever spoken out like that. "For a moment, I felt a bit of dignity. It's rare for a person like me to have that."
Seattle
In Seattle, a small but significant gathering of people participated in the National Day to Stop Mass Incarceration by speaking out and holding placards in front of the King County Jail. Protesters included a broad array of people—people who have been in prison or had family members in prison, occupiers, those who worked in social services, anti-police brutality activists and revolutionaries. We read the "No More Generations of Our Youth" quote from Bob Avakian and it was electrifying. There was a Native woman whose nephew was found dead in juvenile detention. She worries for the lives of her sons on almost a daily basis. She held a sign that read "Mass Incarceration + Silence = Slow Genocide" and wanted to make sure every single car passing by saw it. Another white woman who was invited by somebody who had been participating in the Trayvon Martin protests said that her husband is Black and even though he has a good job, he is still treated like a criminal. He was arrested because a co-worker felt threatened by him. She works with "at risk youth" and is sick and tired of visiting them in jail because they have been racially profiled. One Latino former prisoner who said he had in San Quentin talked about how the guards pit people against each other and try to categorize people into rival gangs based on where they are from.
Blacks and Latinos make up only about 16 percent of the population in Seattle and it was shocking to see the largest concentrations of minorities around the jail. People going into the jail were very happy to see us. One woman, two of whose sons have been in prison, got two Trayvon Martin buttons and two Revolution newspapers; one for herself and one for her other son. Another woman visiting her son said that she was so happy to see us, her son was in jail but she didn't really know why. Her son has eye problems and they authorities had been denying him treatment. She said she had been praying for "something like this," referring to the campaign to stop mass incarceration and wanted to know when we were going to be out there next. Discussions broke out about Occupy Wall Street, where the source of mass incarceration comes from, the ugliness of the justice system and the need for revolution. People were talking at the end about how to mobilize people in their circles, friends and family members and co-workers and having a regular presence outside the jail.
Houston
A spirited protest, march, and speakout took place in Houston, beginning at an intersection where a housing project, Texas Southern University, and an inner-city high school come together.
A number of residents of the housing project participated in a previous speakout on the April 10 Day of Outrage around Trayvon Martin, and several of them built for the April 19 activities in various ways. People from Occupy Houston played a prominent role in the afternoon's protests, and a professor of Mexican-American studies, who had shown Carl Dix's speech on mass incarceration in his class, spoke in Spanish and led the group in chanting "mass incarceration + silence = genocide."
A Black woman spoke to the reality of mass incarceration for the masses when she related that two of her brothers were serving time, and that she had also spent time in jail. People were very moved when she spoke of a woman who went to prison for killing a man who had raped her. A number of students from the university as well as residents of the community engaged with the protest and hundreds of flyers got out as well as copies of Revolution. The day ended with a march to a police substation located nearby.
Atlanta
About 20 people gathered and several more joined in on the spot for a roaming speakout and street theater in downtown Atlanta during rush hour. Seven people donned orange prison-style jumpsuits with placards hanging from their necks "mug shot" style—but instead of numbers they read "Mass Incarceration + Silence = Genocide," "Stop Racial Profiling," "2.5 million in prison." This was a vivid and dramatic focal point of the action, grabbing the attention of hundreds of people downtown, with a determined spirit to break the silence and call for an end to mass incarceration. Engaging people coming in and out of the main train station, at several packed bus stops, and in the main plaza at Georgia State University, two things stood out: 1) how much this issue connected deeply with people and how many people welcomed the call to break the silence on it; and 2) how "locked down" and repressive the atmosphere is even out on the streets, as we were harassed by the police at every point, and people gathering to hear what we had to say were repeatedly told by the police to "keep moving."
At one crowded bus stop, as we were chanting "We Say No to the New Jim Crow," a Black woman came up and said "I know, I'm locked up myself." Then she explained that she and several other women waiting for the bus were out on work furlough for the day and getting on the bus to return to their lock-up transitional center for the night. She pulled back her sweater to show us the "Department of Corrections" shirt she was wearing. At another point a young white man introduced himself on the "people's mic" with his inmate ID number and said he had spent a year and a half in a juvenile jail for possession of marijuana. Throughout the afternoon, many people told us stories of their own or their loved ones' experiences with the prison system.
At Georgia State, we did a flash mob action where everyone froze in silence for three minutes, then broke out in a chant. Several students clapped, others came up to express their appreciation and to find out more about what we were saying about mass incarceration.
Although we were a small group, we interacted with real impact on many people and got a deeper sense of the scope and depth of the outrage of mass incarceration and the potential for massive resistance to stop it.
Chicago
April 19, Chicago - Photo: Special to Revolution

About 50 people took to the streets of downtown Chicago to answer the call for April 19 to initiate a movement to end mass incarceration and to break the silence. Saving Our Sons Ministries, Inc. brought several carloads of mainly youth to represent and speak out against mass incarceration and youth being murdered by the police, infusing the action with an energy that stopped passersby in their tracks. A youth from the suburbs saw the demo and joined on the spot. Supporters of prisoners from TAMMS (a maximum security prison in Illinois that is at the heart of a controversy because the governor of the state has suggested it be closed for financial reasons) came with signs: Close down TAMMS, Solitary is Torture.
Two women gave Bear Witness testimony from the stage. One was Gloria Pinex, mother of 28-year-old, Darius Pinex, murdered by the Chicago police in January 2011 by the same cop who murdered Flint Farmer exactly six months later. She spoke of another son who had just been released from prison and a third son who had a felony weapon charge for carrying a screwdriver. She told the crowd, "I am not going away. I'm not afraid." The grandmother of a 13-year-old shot by the Chicago police last summer told the crowd she was a former addict who had turned her life around and she was standing up to stop the biggest gang in Chicago—the Chicago Police Department. Her message of transformation and fearlessness resonated.
A spoken word artist shared his vision, poetically breaking down imperialism, the systemic oppression of Black people from the schools to the prisons—more Black men in shackles than in 1861.
An enlarged copy of the statement "We Say No More—The killing of Trayvon Martin and 2.4 million in prison make clear that there is a whole generation of Black and Latino youth who have been marked and treated as a 'generation of suspects' to be murdered and jailed". This is not an issue for Black people alone but for all who care about justice; it is not a random tragedy. "We Say NO MORE" was signed by 57 people.
Other diverse actions took place. Some of the people working on the campaign for Justice for Rekia Boyd organized for people to attend the Chicago Police Board hearing which was taking place on April 19. They agreed that the murder of Rekia by an off-duty police officer and the offhand declaration of that murder as justified was part of the whole culture of criminalization of Black youth that is fundamental to mass incarceration. So attending the Police Board hearing and insisting on Justice for Rekia was one of the actions for the day of action against mass incarceration.
North Carolina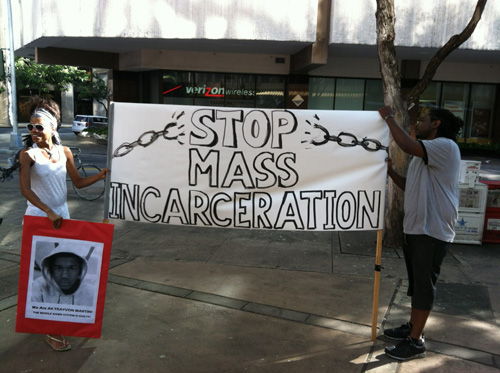 April 19, North Carolina - Photo: Special to Revolution
A few of us went to a busy downtown bus transfer point to sell the latest issue of Revolution, and to stand in solidarity with the National Day of Action Against Mass Incarceration. As soon as we got there a young woman saw the large Trayvon Martin poster and stopped to talk about his case. When she heard about the day of action against mass incarceration she said she had some friends who would be happy this was happening, and went to find them. She returned with three more people who helped hold banners and took pictures for their website. With higher visibility, more people snatched up leaflets and stopped to talk.
People engaged in a way we had never experienced before, openly speaking bitterness about racism and the prison system. A mother spoke about the profiling that goes on in public housing and the fear she has for the safety of her children. A homeless man talked about how hard it was to get a job after getting out of prison. A young woman spoke about how scared she was because she had just been sentenced to prison for six months and was worried about her child. An older man talked about the racism he's encountered in his lifetime, and broke into tears. Another man said that "even if you did good in prison, you'll never get a job again." A high school student spoke about missing his father, who had been sent to prison in Arizona because the Hawai`i prisons are overcrowded. Another youth said he'd gotten Revolution once in the past and liked it, but then hasn't seen it. He was happy to learn he could get a free subscription online. An overwhelming number of people we met had family members or friends in prison and many were eager to tell their stories.
When we left we summed up that the Trayvon Martin case and mass incarceration had tapped into a reservoir of anger about racism and the prison system we'd never heard before.
If you like this article, subscribe, donate to and sustain Revolution newspaper.