Revolution #278, August 19, 2012
Stories from the Warzone
Activists from around the country came to NYC for 10 days, August 4-14, to Take Patriarchy by Storm and to launch the movement thoughout society to End Pornography and Patriarchy: The Enslavement and Degradation of Women. Below are a few highlights from their early experiences as posted on their blog (stoppatriarchy.tumblr.com). If you want to be part of this movement contact stoppatriarchy.org.
We started with this…
…and took it to Union Square. The idea was to create a banner that grows, as people add their personal stories. Part of the war on women is a deep sense of isolation and shame, which reinforces self-blame. When people don't know statistics like 1 in every 4 women in this country are raped at least once in their lifetime, it is easy for women to think they did something wrong, feel ashamed, and unable to understand or fight the institutions, advocates, and vendors of violence against women.
Before this starting banner was even complete, we met a woman who contributed this:
Yeah, some of us "choose" to be in the SEX INDUSTRY,
                        BUT
When you're RAPED + MOLESTED + BEAT
From when you're 5 yrs old, you think, "What else can I do, but
                      FUCK?      I might as well
                                  Get PAID
                                  $ for it."
    So the 1st time I got $300 for some guy painting my toes for being a Dominatrix, I thought, "This shit is cool. I've been used by men for sex so many times, raped, "date raped," etc... might as well charge."
      But no one told me it was going to change my life so horrifically in so many ways– I was miserable, I hated my life, I hated myself, I felt even more degraded than ever, and I hated the way I was humiliating & degrading the men who were my clients.

And I was almost murdered.                   — A. A.
We learned that she had done work at a porn store / strip club that we were going to protest, and she got really excited about going there with us to rail against it. Within a few minutes, she was defending our project against people who were defending porn. She will be coming back, and fighting the power with us.
The day after the banner was complete, we received approximately 30 stories. Some are included on stoppatriarchy.tumblr.com. As this grows, it is building a wall against the false rationale that women are to blame for the WAR ON WOMEN.
Taking Patriarchy by Storm!
our week begins...
All photos: Li Onesto/
Revolution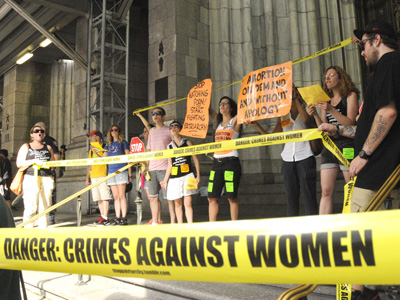 In front of St. Patrick's Cathedral, New York City, August 11
Protesting in front of a porn shop, New York City, August 11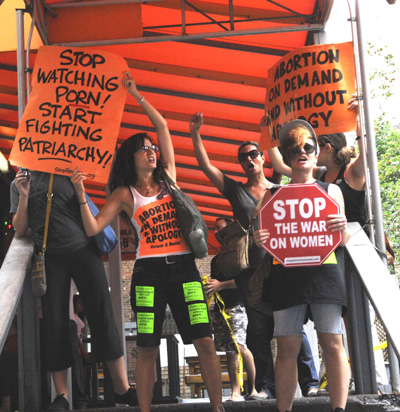 August 4th, 2012. What a day! Taking patriarchy by storm is already becoming a major topic of discussion throughout New York City stemming from the buzz of our first day out. Volunteers began the hot afternoon in Union Square, using an art piece as the focal point for discussions. The piece represents women's bodies being walked all over by oppressive forces such as the military and the church. It also shows alarming statistics on how the war on women manifests in other countries, as well as here, and especially in the pornography industry. We were met with all kinds of responses. One take on what we were doing was that we simply 'hated men,' a common misconception of what bold women are all about.
We were generally met with warmth and gratitude from people thanking us for being out in the public making such a statement that most others are too afraid to make.
It was this great energy that we carried over to Williamsburg with us. The Mad Decent Block Party was our next stop and it brought with it a pretty typical Williamsburg crowd, i.e. 20 somethings with strong opinions and bold style.
The volunteers rocked shirts and stickers which spelled out the statements: "If you can't imagine sex without porn, you're fucked!" "Abortion on demand and without apology," and "Create a world without rape." The crowd's reactions varied from quite curious to completely outraged. Surprisingly, more often than not, we were approached with lots of positive energy and enthusiasm to wear our stickers and support the cause. The majority of discussions were focused on the topic of pornography. Opinions were shared, knowledge was spread, and the outcome was generally very positive.
Altogether it was an amazing first day. At the very end of the day, we ran into an actual storm which completely caught us off guard and almost destroyed our art piece. With the quick thinking of a volunteer, the piece was saved with a few plastic bags and the storm turned out to be a refreshing, and much needed cooldown. With this being only the first day, so full of positive energy, curiosity, and gratitude, imagine what 10 days of this could amount to…
The following is from stoppatriarchy.org:
ALERT! Sun. Aug 12—"Take Patriarchy By Storm" activists arrested at St. Patrick's Cathedral, released on Monday the 13th
Aug 12, New York City: Sunday morning a message was delivered at St. Patrick's Cathedral, a historically right-wing, anti-birth control, anti-abortion, anti-queer and anti-woman stronghold of the Catholic Hierarchy. Chants rang out: "Abortion on demand and without apology!" "Forced motherhood is female enslavement!" "Stop the war on women!"
Sunsara Taylor, initiator of End Porn and Patriarchy; the enslavement and degradation of women, and Alice Woodward, were arrested.
They have now been released from jail and are scheduled to appear in court on October 15 to face charges of criminal trespass and a violation level trespass charge.
This action came at the end of 10 days of political protest in New York City, to Take Patriarchy by Storm. The message that women are full human beings, not sexual objects for the pleasure of men, not breeders, and capable of equality in every sphere, was brought across the city: inside a Hooters restaurant, into porn shops, and a "crisis pregnancy" center. We confronted the current political climate where people aren't outraged by the subjugation of women.
If you like this article, subscribe, donate to and sustain Revolution newspaper.