October 22, 2012: The National Day of Protest to Stop Police Brutality, Repression, and Criminalization of a Generation
October 28, 2012 | Revolution Newspaper | revcom.us
Revolution received the following initial reports of protests on October 22, the National Day of Protest to Stop Police Brutality, Repression, and Criminalization of a Generation. Check back for additional reports which will be posted as we receive them.
Updated October 28, 2012, with reports for Greensboro and San Francisco Bay Area, and photos from New York.
Los Angeles Area
In Los Angeles, people and families who have been targets of police brutality, murder, and incarceration came together with others who refuse to condone this injustice. About 35 people from Las Vegas, Riverside, San Bernardino, San Diego, and Los Angeles rallied at the Twin Towers/Men's Central Jail at noon. A huge banner that read "Mass Incarceration + Silence = Genocide," signed by people from the Crenshaw area in LA and Cal State Northridge, was held up facing the street. The Cuauhtemoc Aztec Dancers brought a spirited cultural participation to the action.
Wayne Kramer, of Jail Guitar Doors, a Unitarian Universalist minister, and Keith James of the Stop Mass Incarceration Network spoke at the rally. By joining together to "break the silence" people found a way to do something about the horrors of mass incarceration. Yolanda Trotter, whose 96-year-old mother died after being tased by the police who had been called to help her, came all the way from Vegas to LA to tell her story to the world and cry out for justice. Visitors to the jail and people going to the nearby court joined the protest and shared their stories. One of them, a woman who had come to the jail that morning to tell her incarcerated husband that their son had died in police custody that Saturday because, out of fear, he had swallowed the drugs he was carrying when the police stopped him, stayed for a while by the banner. "I felt so happy when I came out and saw this here," she said. In an embryonic way, collectively breaking the silence transformed people's outrage and pain into strength and resistance.
A spirited march of about 300 people, led by a truck decorated with pictures of people killed by police, went from Pershing Square in downtown LA through Skid Row to police headquarters. On Skid Row, people welcomed the marchers; many took flyers, and people enthusiastically took up whistles (building on the Stop Mass Incarceration Network's "Blow the Whistle" campaign). Some of the homeless joined the march, vigorously blowing their whistles. At 5th and Spring Streets, in the downtown arts district, where Dale Garrett, a 51-year-old Black man was shot down by an undercover LAPD detective in broad daylight, the march defiantly stopped. A die-in covered the intersection. Body outlines were chalked in the street.
Black stickers reading "Mass Incarceration + Silence = Genocide! October 22nd. Break the Silence!" were widely taken up, as well as "Fight the Power, and Transform the People, for Revolution!" At police headquarters, friends and relatives of people killed by police and representatives of various organizations spoke to the crowd.
In Anaheim, California, friends and families of Manuel Diaz, Joel Acevedo, Cesar Cruz, Joe Whitehouse, Andres Avila, and others killed by police, and 16-year-old Jesus Aguirre, sentenced to life in prison, held a march and rally on Sunday, October 21, as part of the National Day of Protest Against Police Brutality, Repression, and the Criminalization of a Generation.
Chicago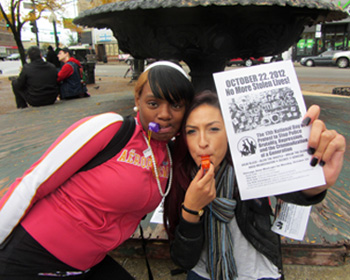 Despite a morning of pouring rain people chanted, blew whistles, and called on the public to stand up and stand together against police brutality and mass incarceration at rallies that were held in various neighborhoods throughout the day. At one community college people were called on to get handfuls of flyers and whistles and take the protest inside the school (because of the rain).
People involved in forming Revolution Clubs together with family members of people shot and/or killed by the police were at the center of some of the neighborhood rallies. Where family members spoke it gave powerful testimony to the impact of the outrage of police brutality.
These rallies unleashed people to tell their own stories of police brutality and abuse, as well as to dig into the overall impact of mass incarceration. One person encouraged people to reach out to those who were formerly incarcerated, talking about how they are the constant target and victim of police harassment. He knows because he, himself is one. Another person described how a friend received a call from his wife saying she was being set upon by men down the block from his house. He rushed from his house to the scene—where he was shot to death by an undercover cop.
People at the neighborhood rallies recalled the "Blow the Whistle on Stop-and-Frisk, Police Brutality, Racial Profiling and Mass Incarceration" day on September 13 and saw the October 22nd actions as part of a growing movement of resistance. Revolutionary communists described how they saw this resistance as part of building a movement for revolution in which "Fight the power, and transform the people, for revolution" is a central part. And Revolution newspaper was in the mix. Hundreds of whistles and flyers got out, with people joining on the spot to distribute them at some of the rallies.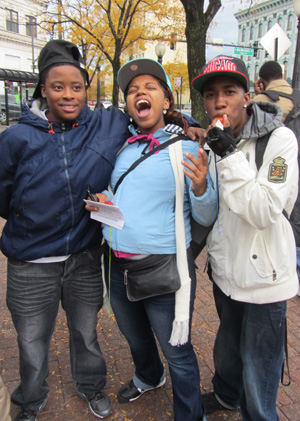 One feature of the rallies were banners reading "Mass Incarceration + Silence = Genocide" which people were encouraged to sign. These banners were brought from the neighborhood rallies to a citywide gathering the evening of October 22nd at the County Courthouse/County Jail complex.
The evening citywide gathering brought out some of the people who had been at the earlier neighborhood events, an anarchist drum corps, "punks against apartheid," people who are part of the Occupy movement, victims of police torture and others. Members of the group Rebel Diaz dropped by the event at the end of the evening. Speakers addressed the question of mass incarceration, its origins in the workings of the system and the conscious policies of the ruling class. The situation with stop-and-frisk in New York City and the resistance to it were described. And a call was put out for people to support those facing trial for that resistance.
The highlight and main event of the citywide gathering was a march around the walls and barbed wire fences that surround the massive county jail complex. Marchers carried a banner announcing the "October 22nd National Day of Protest to Stop Police Brutality, Repression, and the Criminalization of a Generation," 20 feet long by 6 feet high. The "Mass Incarceration + Silence = Genocide" banners were bright yellow with big black lettering standing out starkly. Among the chants were "We don't want a Prison Nation—Stop Mass Incarceration" and "Mass Incarceration IS the Crime." Visiting hours stretch until 9 pm and the marchers were able to connect with many family members who had come to visit loved ones. The message of October 22nd struck a chord and the resistance was welcomed.
The county sheriff's deputies, on the other hand, were anything but welcoming. They grew increasingly tense as the marchers message received support from family members and long lines of traffic backed up because of the increasing number of sheriff cars.
When prisoners crowded the galleries to watch and when the prisoners' fists went up in the air, the sheriff's deputies started blaring their sirens to drown out the chanting from the marchers. This drew even more attention to the marchers and their message.
Throughout the march there was an exuberance as people stood up right in the face of the state authority to get their message out.
Atlanta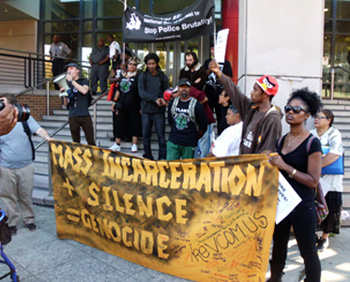 On Saturday, October 20, at the historic Auburn Research Library, several activist groups worked together to organize two events to address police brutality. The first event, called "Break the Chains," was an open forum calling on the audience to speak bitterness about their encounters with police or to recount the circumstances surrounding the murder of their relatives, as well as a platform for the resisters in Georgia who are part of the undocumented youth movement. They even had the testimony from a former corrections officer who detailed the attitudes and vicious culture of hatred among prison guards towards the prisoners, collaborating on how to make life more miserable and tortuous for targeted prisoners. The second program, called "Every 36 Hours: Extrajudicial Violence in the Black Community," was sponsored by the Malcolm X Grassroots Movement, the Ariston Waiters Foundation, and the October 22nd Coalition. There were a number of cultural presentations, from several dozen children from a local Black Liberation School marching in the auditorium to perform, to prominent local hip hop artists. The first panel featured several parents of children whose lives have been stolen: Nicholas Heyward, Freda Waiters, Missy Stafford and Joe Harris, as well as a close relative of Troy Davis. All of their testimony was riveting, making clear with substance not only how their loved ones were deliberately murdered, but how they feel the pain like it was yesterday. While some still held out hope to pressure those in power or even use the ballot box to get justice, Nicholas Heyward from New York City's Parents Against Police Brutality explained why he was part of the October 22nd Coalition, and why we must not rely on the system. He explained that over many years he had found that his time spent in the courts and in politicians' offices had gotten him nowhere... appealing to the audience to cast aside such illusions and go directly to the people to mobilize ever greater resistance that cannot be ignored. The second panel featured activists from Copwatch, Nation of Islam, October 22nd Coalition, and National Action Network, and Mawuli Davis, a defense lawyer known for taking on the cases of victims of police murder, and Vincent Fort, a politician who has stood with the families and got arrested in defense of the Occupy movement.
Revolution Books got a lot of attention with big display boards featuring different quotes from the book BAsics, from the talks and writings of Bob Avakian, as well as an enlarged image of him. A huge hit was a banner, "Mass Incarceration + Silence = Genocide" which was signed all day.
On October 22, protesters gathered in a downtown park called Troy Davis Park (renamed by the people during the Occupy days). The park has an interesting mix of homeless people (mostly playing chess), students from Georgia State University and Atlanta Metropolitan College, vendors, and office workers. In a sea of people wearing black, the demonstration opened with drummers and a brief speak-out including Nicholas Heyward, whose 13-year-old son, Nicholas Jr,. was killed by the NYPD, and civil rights attorney Mawuli Davis, before stepping off for a very lively march that took Peachtree Street to the Atlanta Detention Center. Piercing the air were the sound of whistles blowing and loud chanting as the march snaked through the downtown traffic. The October 22nd banner led the way with people holding signs with the names of those killed by the police followed by "The Whole System Is Guilty!," a banner that said "Mass Incarceration + Silence = Genocide," and the most popular banner was "Fuck the Police." As the march passed by the MARTA transit station, lots of Black youth joyously joined in the demonstration. They were really attracted to the "Fuck the Police" banner. By the time the march arrived at the detention center there were about 120 people. To the dismay of the jail guards, the demonstrators took the front stairs and had another speak-out. There was a continuous stream of harrowing stories by those whose loved ones were murdered by the police: Freda Waiters spoke about her son Ariston Waiters, who was shot in the back by the Union City police a year ago; Mary Neal spoke about her mentally ill brother Larry Neal, who was murdered in a Tennessee jail by the guards; a Vietnamese mother spoke about her son who was shot by the police and left to bleed to death; a teenage boy spoke about his brother who was killed in an Atlanta jail by the prison guards. And going through the crowd, you could hear outrageous story after outrageous story of those who were either brutalized by the police or jacked up by the "injustice" system. A middle-aged Black man who came over to see what the demonstration was about said he just walked out of jail after doing 60 days for littering (!) and lost his job. Following the families, several organizations made statements: Revolution Books Atlanta, National Action Network, FTP Movement, and others.  After the speak-out, the march took off through the streets once again, this time winding its way through the MARTA station plaza and back to the park. The day really captured the anger and anguish of all the lives devastated by this system on the one hand, and on the other tapped into the feeling of joy and liberation in standing up and fighting back, and the need for revolution.
During the course of the afternoon, Revolution Books distributed very widely a palm card with the BAsics quote 1:13, "No more generations of our youth, here and all around the world, whose life is over, whose fate has been sealed, who have been condemned to an early death or a life of misery and brutality, whom the system has destined for oppression and oblivion even before they are born. I say no more of that." They also distributed a flyer for an open house at Revolution Books including the URL for the Cornel West interview with Bob Avakian and sold 60+ copies of Revolution newspaper.
Seattle
On the evening of October 22 a mixed crowd of family members who have had their loved ones murdered by the police; revolutionaries; proletarian and middle strata youth; Veterans For Peace activists; and Occupy people braved the cold and drizzly evening to show their opposition to the epidemic of police brutality in Seattle and around the country. There were large posters that read "Stolen Lives" that had the pictures of people who had been murdered by the police. One of the images was of Henry Lee, an elderly Black man with dementia who was recently shot by the police in the doorway of his home in south Seattle. Friends and family members of Jedidiah Waters, Prince Gavin, and Victor Duffy Jr. courageously spoke out about the injustices and shared their stories of loss and pain. Waters, Gavin and Duffy were some of the most recent Seattle-area young people wantonly murdered by police this year. There have been six people murdered in the last three months alone in the region. One of the things about October 22nd is that every year, there are always new families who show up who have had their loved ones murdered by the police. Friends of Jedidiah Waters described how they found out at the inquest hearing that Jedidiah had been shot 11 times, five in his head, mutilating his body. After hearing this at the inquest, they ran into the hall screaming and crying. All this for "allegedly shoplifting" from Walmart. Marie Young, whose son, 23-year-old David, was murdered last year by the same cop, Matthew Leitgeb, who murdered Waters, also spoke. Pointing to the Stolen Lives posters, she said, "This is just getting ridiculous. We have to do something. This has to end." She said the inquest hearings were ridiculous and weren't set up to get any kind of justice for the people. A Native woman whose nephew was found dead in a juvenile detention facility spoke out about the daily police brutality and intimidation inflicted upon Native youth and the fear that this instilled in her and her son. The family members of John T. Williams and Victor Duffy Jr. took the stage holding pictures of their loved ones, and spoke through their tears and anger with a spirit of determination to keep up the fight for justice in memory of them. To be there in the crowd and listen to these stories was completely heartbreaking but also inspiring. Many in the audience were emotionally moved and responded with shouts of encouragement and agreement.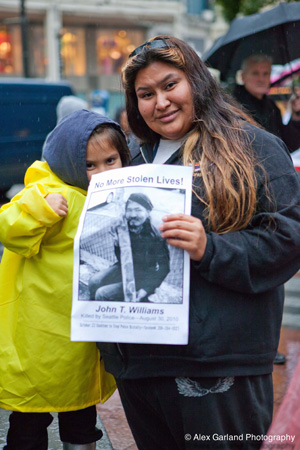 The president of the Seattle Chapter of the National Lawyers Guild spoke about mass incarceration and repression, remembering how the system murdered revolutionaries like Fred Hampton and other Black Panther Party leaders.
A volunteer with Revolution Books spoke about the nature of this system we live under, the scope of police brutality, mass incarceration and repression, and saluted people who have participated in the righteous resistance that has taken place this year and called for others to build off of it and take it further. The statement also told how within this situation there lies the possibility and basis for a radically different world through revolution, and Bob Avakian's new synthesis of communism. Some greeted this speech with exclamations of "right on" and a former prisoner said this spoke to everything that he had wanted to say.
Whistles were passed out and it was announced how these whistles were about everyone standing up to police brutality by blowing this whistle if they see or are being harassed by the police. People donated money in the donation bin that was passed around to support the work of O22.
The march set off for the Cinerama theater, where Chris Harris had his head rammed into a brick wall by the police, and is now unable to feed or dress himself because this caused a traumatic brain injury. The police presence was huge: motorcycles, cars, vans, and bicycles. A long row of bicycle cops lined up against the brick wall where Chris had his head smashed, as if they were proud of the fear and violence it represented. The people called this out, telling these cowards how much they hated them and the system of terror they represent. The march went into populated and visible areas of downtown and the protest was covered by at least two major mainstream news stations. People chanted, "Mass Incarceration: We Say No More! Police Brutality: We Say No More! Racial Profiling: We Say No More!" and added the names of people unjustly murdered like "Troy Davis: We Say No More!" Some people off of the sidewalk joined in the march and whistles were going off all throughout downtown. As the march continued, people along the way got copies of Revolution, O22 palm cards that had the faces of those who had been recently murdered, and BAsics cards with the "No more generations..." quote. There was intense anger, a resolve to get justice, and a determination to put an END to all this!
Houston
A group of about 50 people gathered at Market Square: several organizations fighting mass incarceration and police brutality were represented, as well as prison rights, LGBT rights, and anti-drug war activists, students, a group of homeless people, and artists. People penned their outrage on a banner reading "MASS INCARCERATION + SILENCE = SLOW GENOCIDE" that had been taken out to housing projects, stores, outside a county jail, and different neighborhoods the weekend before. Many comments described set-ups, victimization and murder by cops and the "criminal justice system."
An Occupy activist wrote in large letters, "Free Eric Marquez," a young man incarcerated and awaiting trial on felony charges, set up by an undercover cop for Occupy Houston's port protest last year—an example of how political dissent, too, is being criminalized.
A hallmark of O22, 2012 was the passion and participation of those whose lives have been directly and horribly impacted by police brutality and murder. Arlene Kelly spoke about her mentally ill daughter, Colleen, who HPD shot and let bleed to death in 1999. A woman people met at the jail came down with her sister, who got on the mic to tell her story. One after the other, people testified.
As the march stepped onto the street, whistles and chants reverberated across train stops and skyscrapers and people along the way grabbed flyers and copies of Revolution newspaper. Several people joined along the way. At the police station a couple joined in, one of them saying, "The words of people speaking out rang so true with me." Another joined because "this situation with the police is out of control and it affects the whole community, no matter where you live."
A Black veteran carrying a Stop Mass Incarceration sign recounted how he got arrested for arguing with a friend. Because he had a knife on him—one that he carried every day for use at his job—they hit him with a felony weapons possession charge. He subsequently lost his job and is now homeless. He marched because "I'm one of those persons that's fed up with this type of brutality… I've been everything in the book—I've been tased, I've been pepper-sprayed—for no reason—I've been falsely arrested, several times… Somebody got to start stepping up…I got some friends, they're like, 'Oh, it'll go away'.  No it won't go away."
He agreed with the quote from BA about how the police "serve and protect" the system not the people. He added, "Like you said, it's an emergency, and it's something that is needed right now, very much needed right now, not later. Every day it's destroying people's lives; innocent children being murdered, handicapped people being murdered.  They're not stopping.  So it should be other people coming up and making aware of what they're doing that won't stop either. And eventually it will bring about change."
A cousin of Chad Holly, a 15-year-old whose brutal beating by HPD cops drew national attention and protest, remarked, "I'm so glad to see you out here because this has to stop."
Later, some of the participants got together with the revolutionaries to reflect on the day.  Several said that this protest helped open people's eyes, especially about the link between the system and the police, and were struck by the unity expressed among people coming from different directions, and among different nationalities. One immigrant referred to a palm card she had recently gotten, with the quote from Bob Avakian, BAsics 1:3, which she said "got right to the point—that yes, this is not a democracy—this is imperialism."
Cleveland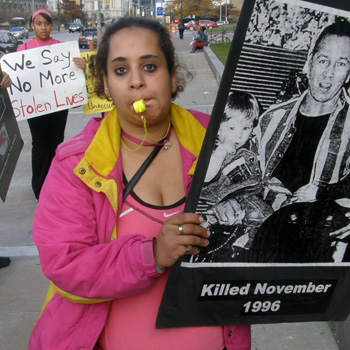 On October 22, there was a real swirl of curiosity, excitement, and engaging even before the rally started. People were moved and riveted by the stark, enlarged photos of people who had been killed by the police in Cleveland. Many stopped in their tracks, and just tried to take it all in, with reverence, shock and anger. One woman said she knew one of the victims pictured there, that he was full of love and potential never to be realized.
People testified to Revolution sellers about their experiences with police brutality and murder. A middle-aged Black woman who worked for the transit company talked about her nephew who has repeatedly faced police harassment. A white woman from a small town in Ohio where a young woman had been killed by the police told people the details of the police murder. A Black man in his 20's, who at first seemed apathetic, had a lot to say—including how police brutality and mass incarceration is all linked to the history of slavery in this country. When he saw the first quote in BAsics, it immediately resonated with him: "There would be no United States as we now know it today without slavery. That is a simple and basic truth."
With djembe drumming in the background, the MC called on people to join the movement of resistance against the horrors of police brutality and murder, the degrading practice of stop-and-frisk, and the massive incarceration especially of Black and brown people. He spoke about a Black homeless man in Saginaw, Michigan, Milton Hall, who was shot 48 times and killed, and that is only one of hundreds every year. He called on people to "Fight the Power, and Transform the People, for Revolution."
A Black student from Cleveland State University's African American Cultural Center spoke about how he was arrested and convicted of three felonies for having some marijuana on him, and now can't get a job. He said, "We need to take revolution to the youth, got to get to the youth with that message." A Black woman said, "We all need to take a stand on the police brutality: Black, white, everyone." Members of the New Black Panther Party spoke about the need to fight the police who are an occupying army in the Black community. A 25-year-old woman who just met up with the protest that day spoke about how she was abused in jail, strip-searched and degraded, and she called on people to continue to fight back.
Several youth jumped into the march to the "Justice" Center, blowing whistles, chanting "ICE, FBI/No more detentions, no more lies," "Stop the killing, stop the lies/NO MORE STOLEN LIVES," and more. At the "Justice" Center, suddenly about 50 cops in formation came marching right by the protest, yelling their reactionary grunts, trying to intimidate people and block out the message of the march. That didn't happen. Whistles blew loudly, and people yelled "Fuck the Police" at them. Then the family of Guy Wills (killed by an off-duty cop) came along. As the march went by the County jail, many inmates raised fists and the V-sign at the windows and people in the march raised their fists in response, whistled and chanted.
With deep passion and conviction, a Black youth said, "WE ARE SLAVES. I stand for my people, like Tupac and others did. FIGHT THE POWER." Afterwards, some people finished off the day by going to Revolution Books to watch the BA Everywhere DVD and listen to Cornel West's interview with Bob Avakian.
Detroit
On October 22, one person went down to the Frank J. Murphy Hall of Injustice. This is the site of the courthouse where countless people, mainly Black and Latinos, are sent off to prison. This is also the site of a scheduled hearing on the criminal trial of the cop who shot and killed 7-year-old Aiyana Jones as she slept on the sofa.  Officer Weekly has filed a motion to dismiss the charges and some say his attorney, the prosecutor and judge are colluding to find a way to grant this motion.
With all of this going on at the Hall of Injustice, the National Day of Protest to Stop Police Brutality, Repression, and the Criminalization of a Generation was met with a lot of enthusiasm. A young Arab guy said that he was down at the courthouse because of racial profiling. He pointed to the part of the flyer about discrimination against Arabs and told about how the police confiscated his $60,000 truck because he is Arab. An older, well-dressed Black man paused, looking at the flyer, and finally said, "I didn't know anyone else thought about this the way I do." A lot of younger people took the flyer and agreed that police are constantly harassing, brutalizing, and arresting people for bullshit.
After the person distributing flyers had been there for a while, a county deputy came out to the courthouse plaza and ordered him off "their" property. Immediately they threatened to arrest him for failure to obey a lawful order by a police officer, a felony in Michigan. A crowd gathered around as the distributor asked what law prohibits distributing literature on public property. Rather than answer the question, three more deputies and a city cop with a dog appeared. After the confrontation ended, some people came up to the distributor and expressed appreciation for what he was doing to stop police brutality.
Later that afternoon a small group of people went downtown to an area where there is city bus traffic. Again the response was enthusiastic and a number of people took flyers to give to people on the bus, in their neighborhood, or to friends. Person after person spoke with anger and disgust about the abuse they've suffered at the hands of the cops. An older white man said the cops have always brutalized people. He told of a beating he received at the hands of the cops in his youth. A young Black man pointed to an unhealed wound on his face. He had received it at the hands of a cop after he objected to an overly intimate pat-down. He was beaten unconscious for this "crime." He said when he regained consciousness he was in a cell in a pool of his own blood. No charges were ever pressed against him. A well-dressed middle-aged woman from India told about how the police everywhere do this, it's not just in Detroit. An older Black man spoke with bitterness about how many young people are being sent to prison. He spoke about grandsons and nephews who were all locked up.  He said he thought this was being done because there are no jobs for youth so they just lock them up.
New Orleans
Community activists held a protest rally in front of the New Orleans city hall on October 22nd: "We were demanding an end to police brutality and the decriminalization of a generation," said Rev. Brown, who joined thousands of protesters across the country demanding justice for innocent people killed and arrested by law enforcement. Speaker after speaker denounced racism in the criminal (so-called) justice system and will continue to fight for justice.
Greensboro, North Carolina
October 22nd in Greensboro, NC was marked by a spirited march through the Smith Homes housing project and was preceded by a rally/picket at the newly opened $114 million, 1032-bed Guilford ("Guilty") County Jail where banners, signs and drummers lined the street. An activist for immigrants' rights noted that the new jail "has made room in the old jail [next door] for immigrants awaiting deportation. It is now becoming a new regional detention center."
In the housing project, people were waiting for the march and some readily joined, including quite a few youth who were encouraged by their parents. One mother in a motorized wheel chair beamed as she joined the march: "My kids do this every year and they bring their friends. This is important." Another wheelchair-bound resident joined. The Cakalak Thunder drummers provided a loud pulsating beat that got people's attention and was hard to resist.
The march easily tripled in size as spectators were now discussing and debating with each other whether or not to join in or just wave support from their porches. Some people walked along the sidelines. Others took O22 Calls and revolutionary literature.
Significantly, Bob Avakian's name is beginning to be known to people here and some in the march (particularly young folks) took multiple copies of BA cards to distribute to others stating, "No more generations of our youth…" (BAsics 1:13) One man who had bought BAsics last year approached a person selling Revolution saying that "That first sentence in the book [about the exploitation of slave labor as central to the "wealth" of the U.S.] says it all!" The BA quote about the role of the police was distributed and discussed.
After the march, people gathered to talk about the police and their tactics, like arbitrarily "banning" residents (especially young males) from all public housing in Greensboro. One man spoke to the rally stating, "This tactic (banning) breaks up families, keeping men from their children and loved ones. It breaks your support, for instance, if you've just gotten out of prison, you often can't stay with your family if a cop decides you are 'undesirable.' There is no recourse and the 'banning' can last for years."
A "Blow the Whistle on Police Brutality" campaign was announced at the rally and young people got or signed up to receive whistles. At the end of the rally, the Stolen Lives Pledge was read by the mother of another Black man killed. Names were read from the Stolen Lives banner and the crowd shouted "Presente!"
SF Bay Area
Downtown Oakland on October 22nd a hundred people rallied, marched, and blew their whistles against police murder and mass incarceration. Called jointly by Cephus Johnson (the uncle of Oscar Grant) and the Bay Area Stop Mass Incarceration Network, the rally brought together many families of young men recently killed by police in Oakland and neighboring cities, high school and university students, people from the neighborhoods, revolutionaries, and activists from Occupy Oakland.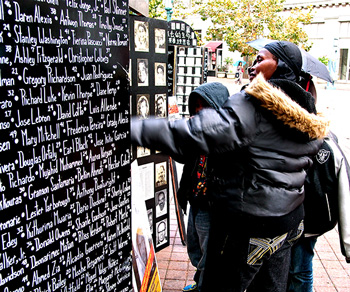 This was the first demonstration for one high school youth. He was challenged by one of the speakers in his class to step forward, and said he was amazed that there were so many different kinds of people standing up together. In fact, hundreds of students were part of raising the issue of mass incarceration to another level. At one high school, classroom doors were thrown wide open to speakers against police murder and mass incarceration. A teacher there told us how when one speaker asked how many knew someone in prison, every single student in a class of 40 raised their hand. Over 300 students (all the 9th and 10th graders in the school) heard from Cephus Johnson, Adam Blueford (whose son Alan, was killed by Oakland police only days before his high school graduation) and a youth from the Revolution Club. Cephus spoke to the epidemic proportions of police brutality and murder, from New York's Stop and Frisk, to Trayvon Martin and thousands of others; and how it's increasing. He spoke bluntly, "If you think it's bad now, just think what it will be like in a few years—unless you come out and stop it now. You are the future." The youth from the Revolution Club told the students that the situation they face of mass incarceration and police brutality is not their fault.  In fact, they are the answer to this horror.  Their stepping forward now to be part of this fight to end mass incarceration and police brutality is a very important part of changing what people are facing here and all over the world.
At the end of the day, students grabbed up hundred of whistles to blow against police brutality and mass incarceration, as well as copies of Revolution, stickers and leaflets to get out everywhere.
The use of BAsics 1:24  in the schools and more broadly has been both controversial and provoking—going up against the mantra of a "few bad cops spoiling the barrel." We challenged one family member on that. She admitted that "I kind of felt that unless I say that 'not all cops are bad, there are some good ones too,' I would come off as sounding too biased against the cops—too radical. But what he [BA] says is really true. We can't be lying to people."
At the rally, many spoke bitterness and outrage, both to the crowd and to the press— the mother and family of Mario Romero (one of the six people killed by Vallejo police since May), who was executed while sitting in his car in front of his house; the father of Alan Blueford, chased down and killed while lying on his back, unarmed; Denika Chapman, mother of Kenneth Harding Jr., gunned down by San Francisco police for not paying a $2 bus fare. At the end of the rally, the Pakistani/American family of 21-year-old Mohammed Shah—killed only days earlier in Hayward—bravely stepped forward to join in expressing both their pain and their determination to fight for justice.
Students from U.C. Berkeley brought a banner against police brutality they had made and signed. One older man from Egypt, after viewing photos of conditions of prisoners at Pelican Bay Prison, commented, "If this was in Libya, or some other country, this government would be screaming about it. But it's not there. It's here in the U.S.A." Many passersby were attracted to the Stolen Lives Wall, listing some of the names and photos of the thousands who have been killed by law enforcement across the country. Others came up to the table to get their whistles, stickers, copies of Revolution, and to look through and buy a copy of BAsics.
Carl Dix's call "All Out for October 22nd" in Revolution newspaper was a crucial part in building for the day. What he said about this being an "emergency situation" really resonated with people—how "the powers-that-be have unleashed their whole criminal 'injustice' system to carry out intensifying murderous assault on oppressed people across the country."
People got a sense of  a new movement of mass resistance against the whole system of mass incarceration as a powerful march, led by the families of the "Stolen Lives," took to the streets and marched to the jail—the Alameda County "pipeline to prison." We pledged to continue to stand with those incarcerated, and to spread the word of the courage of the hunger strikers and the call by the leaders of the Pelican Bay Hunger Strike for "peace between different nationalities in prisons and jails" (reprinted in Revolution #282). The rally ended with a call to blow the whistle here from this day forward, to have each other's back, to build the spirit of resistance against all of mass incarceration. Mass Incarceration + Silence = Genocide!
New York City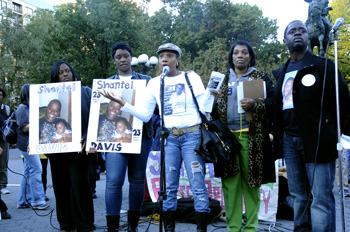 If you like this article, subscribe, donate to and sustain Revolution newspaper.