Excerpt from the Constitution for the New Socialist Republic in North America (Draft Proposal) from the Revolutionary Communist Party, USA
March 10, 2013 | Revolution Newspaper | revcom.us
Compare this Constitution—both the passage below and the entire document itself—with any other constitution on the planet! And after doing so, tell us why we should not fight for such a society.
Eradicating the Oppression of Women.
The oppression of women emerged thousands of years ago in human history together with the splitting of society into exploiting and exploited classes, and this oppression is one of the cornerstones of all societies based on exploitation. For the same reason, the struggle to finally and fully uproot the oppression of women is of profound importance and will be a decisive driving force in carrying forward the revolution toward the final goal of communism, and the eradication of all exploitation and oppression, throughout the world. Based on this understanding, the New Socialist Republic in North America gives the highest priority not only to establishing and giving practical effect to full legal equality for women–and to basic rights and liberties that are essential for the emancipation of women, such as reproductive freedom, including the right to abortion as well as birth control—but also to the increasing, and increasingly unfettered, involvement of women, equally with men, in every sphere of society, and to propagating and popularizing the need for and importance of uprooting and overcoming all remaining expressions and manifestations of patriarchy and male supremacy, in the economic and social relations and in the realms of politics, ideology and culture, and to promote the objective of fully emancipating women and the pivotal role of the struggle for this emancipation in the overall transformation of this society and the world as a whole. This orientation, and policies and laws flowing from it, shall be applied, promoted, encouraged and supported with the full political, legal and moral force, authority and influence of the government, at all levels, in the New Socialist Republic in North America.  (Article III. Section 3.)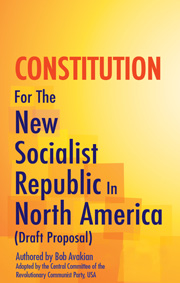 The Constitution for the New Socialist Republic in North America (Draft Proposal) from the RCP is written with the future in mind. It is intended to set forth a basic model, and fundamental principles and guidelines, for the nature and functioning of a vastly different society and government than now exists: the New Socialist Republic in North America, a socialist state which would embody, institutionalize and promote radically different relations and values among people; a socialist state whose final and fundamental aim would be to achieve, together with the revolutionary struggle throughout the world, the emancipation of humanity as a whole and the opening of a whole new epoch in human history–communism–with the final abolition of all exploitative and oppressive relations among human beings and the destructive antagonistic conflicts to which these relations give rise.
Read the entire Constitution for the New Socialist Republic in North America (Draft Proposal) from the RCP at revcom.us/rcp.
If you like this article, subscribe, donate to and sustain Revolution newspaper.