New York City IDs for Undocumented Immigrants
When they say, "Don't worry, we'll destroy the info you give to us," DON'T BELIEVE IT!
December 23, 2016 | Revolution Newspaper | revcom.us
New York's "IDNYC" is the nation's biggest city ID card program. Mayor Bill de Blasio said this plan was a way to promote, "equality, opportunity, and diversity." Now it could very well become a way for thousands of immigrants to get deported.
The ID program was billed as a way to help undocumented people get out of the shadows. People who didn't have a government-issued ID were told that now, with this IDNYC, they would be able to do things like register at public schools, get a library card, take the GED test, sign up at a bank or credit union, and file a report with the NYPD. Cardholders were offered discounts at pharmacies and stores and free admission to museums. The application didn't ask people if they were "undocumented," but required them to give all kinds of personal information. People were told all the information they handed over would be destroyed by December 31, 2016. To many of the estimated 500,000 undocumented immigrants in New York City as well as others who hadn't been able to get a government ID and still others lured by the "perks" of discounts, this seemed like a good thing—and close to one million people signed up.
Now, the "promise" to destroy all the information people turned over has been challenged by a lawsuit filed in November by Ronald Castorina Jr. and Nicole Malliotakis, two Republican members of the New York State Assembly from Staten Island in New York City. The lawsuit says the city should be barred from destroying these records. Before this, Malliotakis and Castorina had already filed a Freedom of Information Act request asking to obtain the records for all IDNYC cardholders, which the city denied.
The suit argues that destroying the records would threaten national security and that the data should be preserved and made accessible under New York's freedom of information law. A judge from the State Supreme Court on Staten Island has now delayed any destruction of the information at least until a full hearing can be convened in January.
Now think about this. What does this mean with the specter of the Trump-Pence fascist regime coming to power—a regime which has promised to register Muslims and deport the estimated 11 million undocumented immigrants living in the U.S.?
In addition to undocumented immigrants, many other vulnerable sections of the population signed up for IDNYC—like those living in homeless shelters, transgender people, and victims of domestic violence. Many African Americans (especially those who have gotten out of prison) have gotten these IDs.
Now think again. What would a Trump-Pence fascist regime do with such information and a list of people that it basically considers "undesirables"?
When the program was launched, civil liberties advocates and others sounded the alarm, warning of the dangers of a program where the government collects identity documents that immigration authorities or law enforcement could request, with a judge's approval.
The government's gathering of information from this ID program affects immigrants who have come from all over the world—including from Mexico and Latin America, the Middle East, South Asia (including Bangladesh, Pakistan, India), China and more. Not all of the immigrants from these countries in New York (and throughout the U.S.) are undocumented, but they ARE all targets of Trump's white supremacist, xenophobic venom and repression.
The IDNYC program should also be looked at in the context of what the U.S. government has done to set up a database for Muslims and Trump's plan to register Muslims. The National Security Exit-Entry Registration System (NSEERS), initiated in 2002, required people coming from 25 predominantly Muslim countries to register. In the wake of this, more than 13,000 men who complied with the program faced deportation charges. NSEERS created a national database of names, addresses, family members and contact information on immigrants who "fit the profile"—which could be used to carry out massive round-ups and deportation. (See revcom.us article, "Profiled and Persecuted: How the U.S. government is terrorizing immigrants from 20 Arab and Muslim countries.") Now Obama has announced he will dismantle the NSEERS program so Trump can't use it. But do people really think Trump won't have access to all this information? What's happening with the information from the IDNYC program should be a lesson.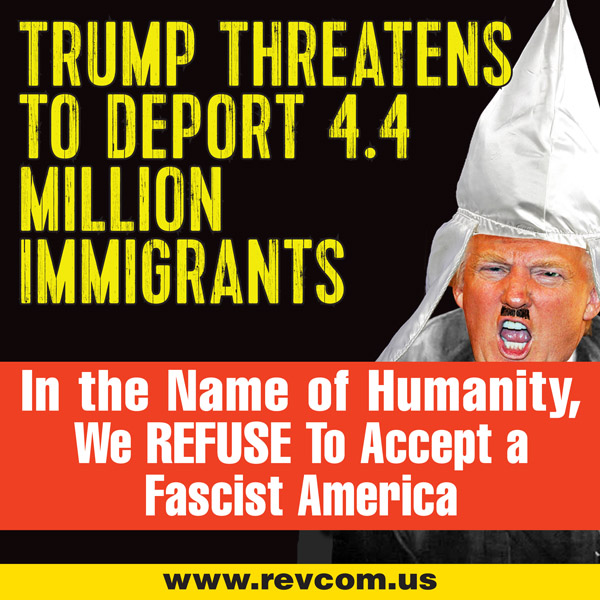 The law that created this ID program was negotiated with the NYPD, and explicitly stated that the documents would only be kept for two years. But it also said they would be made available through a judicial subpoena and there are apparently other "loopholes" for releasing the information as well. Cardholder information is supposed to be confidential but this information can be shared if the cardholder gives consent, if it becomes necessary to share this information with another city agency to determine eligibility for other programs, or when the city is ordered to share it in a court of law.
Steven Choi, executive director of the New York Immigration Coalition, commenting on the unclarity about how a Trump administration would use this information, said, "That's the wild card. Are they going to utilize the entire muscle of the Department of Justice and Department of Homeland Security to try to get this information?"
Malliotakis, one of those behind the lawsuit to block destroying this information, argues that the documents should be maintained because deleting the records would leave authorities "no way of knowing who these people are, how they obtained this documentation." YES. That is exactly the reason people wanted their information DESTROYED—because they didn't want the government to have a list of WHO THEY ARE and be able to use this to hound, persecute, and deport them!
Think about all this and what it means if Trump is allowed to take office. This is the Trump who is notorious for his racist attacks on Mexicans and immigrants, calling them drug dealers and rapists. This is the Trump who, right after being elected, vowed in an interview to deport millions of immigrants. This is the Trump who has threatened to withhold federal money from cities that provide safe havens for undocumented immigrants. Think about what he and his fascist regime would do with all this information.
Yet another reason to STOP THE TRUMP-PENCE REGIME BEFORE IT STARTS!
Volunteers Needed... for revcom.us and Revolution
If you like this article, subscribe, donate to and sustain Revolution newspaper.