December 25 and 26:
No Nukes! No Trump! Holiday Vigils by People of Every Faith & Other People of Conscience  
Reports from Protests Across the Country
December 26, 2016 | Revolution Newspaper | revcom.us
San Francisco Union Square: #NoChristmasAsUsual Protest
From a reader:
Thousands of people who gathered for the annual holiday festivities in San Francisco's Union Square December 25 were met with a #NoChristmasAsUsual protest to oppose Trump and his comments about expanding the U.S. nuclear arsenal and winning a nuclear arms race. A couple dozen protesters mobilized through Facebook and phone calls were joined by dozens more on the spot. They chanted "Donald Trump? Hell NO!" "Nuclear Arms Race? Hell NO!" "Deporting immigrants? Give him a chance? Hell NO!" "Fascism? Hell NO!" People held "NO" signs near the giant Xmas tree and huge menorah. There was a "countdown to a nuclear bombing" and die-ins. A jazz band playing Hanukkah songs for the official holiday celebrations gave shout outs to the protesters and broke into a spirited rendition of "The Harder They Come." Hundreds of people took flyers for the New Year's Eve protest. During the die-in people outlined the "bodies" in the ground with chalk. When city workers wielding mops came to wipe out the chalk outlines, others from the crowd immediately redecorated the ground with anti-Trump slogans. Many signed up with the Refuse Fascism initiative to STOP the illegitimate Trump-Pence regime from taking power and implementing their horrific agenda.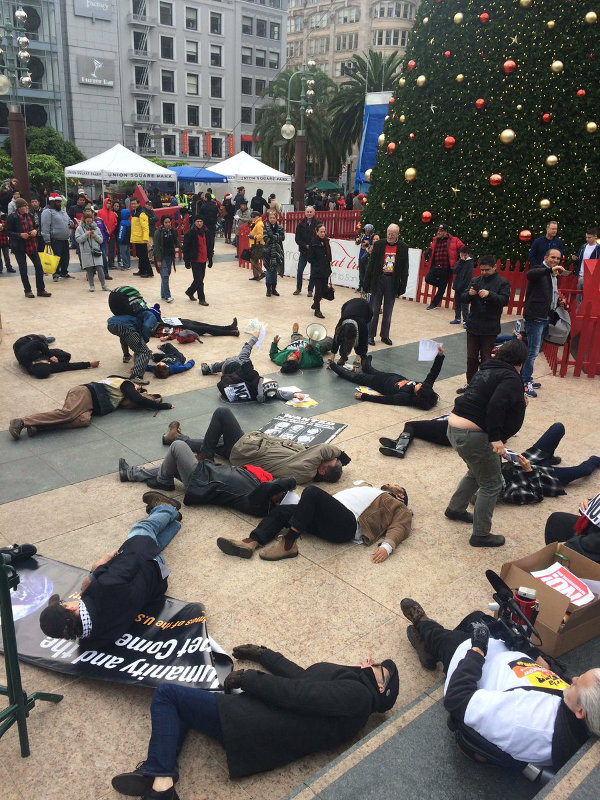 Die-in at Union Sq., San Francisco, December 25. Photo: @RefuseFascism
Christmas Day Die-in at Trump Star on Hollywood Blvd., Los Angeles
From a reader:
The event was a "DIE IN" AT THE TRUMP STAR ON HOLLYWOOD BLVD. ON CHRISTMAS DAY! Thousands of people from all around the world go to movies and otherwise visit Hollywood Blvd. on this day, and this Christmas was no different. Hollywood Blvd. was packed... and "NO! In The Name Of Humanity, We REFUSE To Accept A Fascist America! Trump-Pence Fascism MUST BE STOPPED Before It Starts" were the watchwords. During this week Donald Trump again escalated his nuclear threats—following up his genocidal tweet about expanding the U.S.'s nuclear arsenal with the following, "Let it be an arms race. We will outmatch them at every pass and outlast them all." This is threatening mass murder on an industrial scale.
At the Hollywood Blvd. "Die In"—begun by a small handful of people setting out to lead millions into the streets in these next weeks—quite a commotion was caused. Hundreds grabbed up new posters and statements put out by RefuseFascism.org, posed with the posters at the Trump star and tweeted them out, and gave the finger to Trump by way of selfies. Whole families danced defiantly on his star, young people and older folks too.
There were many Latin American immigrants on the street. They quickly grabbed up posters, sharpening up the importance of reaching Latino immigrants in their millions in the days and weeks in front of us. A number of people voiced they'd hoped the Electoral College would not have elected Trump. Some said it if it's not over, "it is very late in the game" (while we argued there is, in reality, a huge challenge and an actual basis to stop Trump-Pence). And others said they'd been looking for a vehicle and a plan to stop Trump. Some said, "We are not from here..."—hesitating for a moment and holding back from holding the posters—but then realized, through short discussion, that the future of the people on the planet is at stake, and Trump's nuclear weapons plans underscore that.
Photographers from Agence France Presse and a news truck from Channel 11 Fox captured images. At 3 pm, a die-in was held, a serious punctuation point during the event. Handheld sirens wailed, confronting people with the grave danger Trump and fascist team, especially with their nuclear war threats, represent to the people of the world.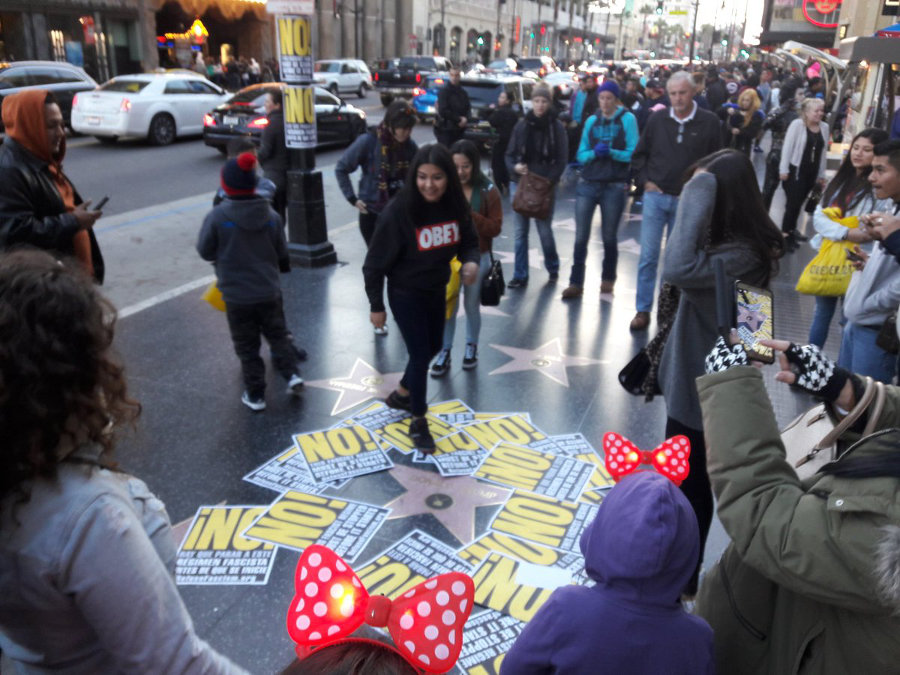 At the Trump star on Hollywood Blvd., Los Angeles, December 25. Photo: Twitter/Nikolai Garcia
NYC, Dec. 26: "No Nukes, No Trump, No Fascist USA!"
From a reader:
Starting across from Trump Towers in Manhattan, a group of around 40 people, plus some passers-by joined in for part of the time, gathered to declare "No Nukes, No Trump, No Fascist USA." It was very spirited and defiant. People who have stepped forward to be a part of RefuseFascism at this week's organizing meeting played a big role in it, including bringing lanterns (illuminated by cell phones). People from World Can't Wait, the Raging Grannies and other anti-war activists joined in. Carl Dix, an initiator of RefuseFascism, spoke. Rev. Doris Johnson (from the Faith Committee of RefuseFascism.org) spoke briefly. Then peopled marched to Columbus Circle—where the New Year's Eve action will begin at 8 p.m. (go here for New Year's Eve plans).
The day before, on Christmas Day, the Revolution Club New York City organized a die-in at 3 p.m. at Union Square. It was small but drew a tremendous amount of sympathy and attention at Union Square and in the busy subway transit hub below.
Chicago: Protest Brings the "NO!" Message to Thousands at Union Station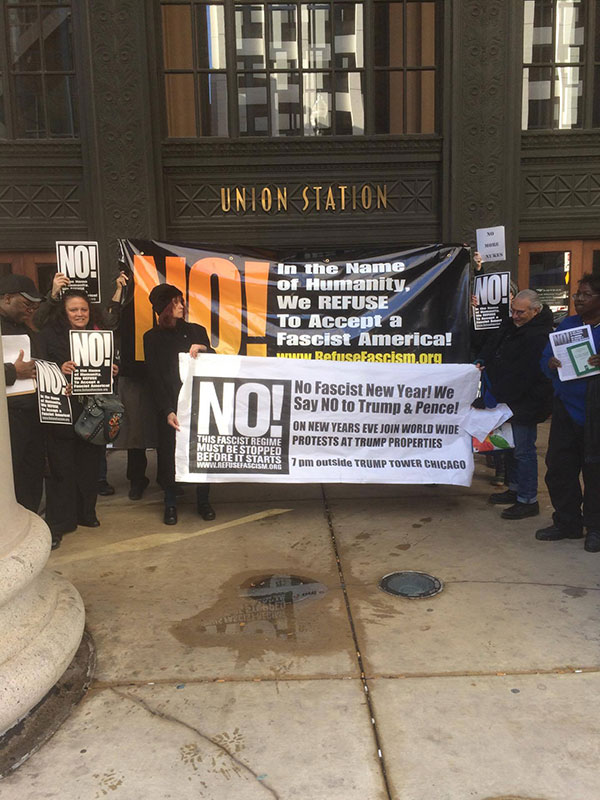 Photo: Special to revcom.us/Revolution
From readers:
The day after Christmas brings out crowds of visitors to downtown Chicago. Many come into Chicago through Union Station, which takes up a whole city block, with a cavernous great hall where people wait to board trains or meet incoming friends and family. Commuter trains from the suburbs and Amtrak trains from all over the country empty out in the tunnels underneath. More than a dozen protesters holding banners and "NO!" signs came out at noon, reaching out to the people coming in and out of Union Station and got out hundreds of copies of the Call. They also passing out an announcement of the New Year's Eve protest and the protest at a Chicago fundraiser that Pence plans to speak at later this week.
There were people of all ages and many races and nationalities coming and going. Some getting the Call took multiple copies to take to friends and organize others with. People going to other cities took flyers to get out where they were going. And some joined on the spot to help get out materials. Cab drivers, lining up around the block to pick people up from the station, were excited to get the Call, many taking multiple copies. One cabbie took a big stack of the Call to get to a place where cabbies hang out.
The protesters marched right into Union Station, down the marble staircase into the grand hall crowded with people. Over a loudspeaker which echoed against the marble, protesters read from the Call and the Message from the Faith Committee of RefuseFascism.org. They chanted "No Trump! No Nukes! Humanity Is Depending on Us!" Discussion and debate sprang up throughout the station. Someone said, "I am with you but that speaker is too loud." To which another person replied, "No he's not—what he is saying is very important and you should listen."
The protesters marched again through the station and then stopped in the center of the hall. They described the horrors that nuclear war threatened by Trump would bring. Then they counted down and fell to the ground in a die-in, dramatizing the human cost. The protesters marched through the crowd back out of the station where they continued to reach out to the travelers.
Volunteers Needed... for revcom.us and Revolution
If you like this article, subscribe, donate to and sustain Revolution newspaper.