San Francisco Union Square: #NoChristmasAsUsual Protest
December 26, 2016 | Revolution Newspaper | revcom.us
From a reader:
Thousands of people who gathered for the annual holiday festivities in San Francisco's Union Square December 25 were met with a #NoChristmasAsUsual protest to oppose Trump and his comments about expanding the U.S. nuclear arsenal and winning a nuclear arms race. A couple dozen protesters mobilized through Facebook and phone calls were joined by dozens more on the spot. They chanted "Donald Trump? Hell NO!" "Nuclear Arms Race? Hell NO!" "Deporting immigrants? Give him a chance? Hell NO!" "Fascism? Hell NO!" People held "NO" signs near the giant Xmas tree and huge menorah. There was a "countdown to a nuclear bombing" and die-ins. A jazz band playing Hanukkah songs for the official holiday celebrations gave shout outs to the protesters and broke into a spirited rendition of "The Harder They Come." Hundreds of people took flyers for the New Year's Eve protest. During the die-in people outlined the "bodies" in the ground with chalk. When city workers wielding mops came to wipe out the chalk outlines, others from the crowd immediately redecorated the ground with anti-Trump slogans. Many signed up with the Refuse Fascism initiative to STOP the illegitimate Trump-Pence regime from taking power and implementing their horrific agenda.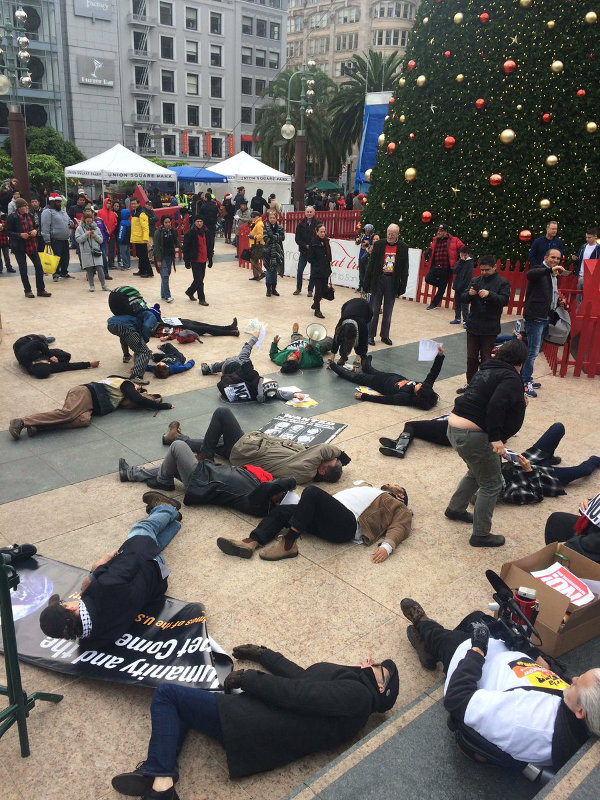 Die-in at Union Sq., San Francisco, December 25. Photo: @RefuseFascism
Volunteers Needed... for revcom.us and Revolution
If you like this article, subscribe, donate to and sustain Revolution newspaper.