"Cultivating Resistance": San Francisco Artists Create Anti-Trump Mural
January 3, 2017 | Revolution Newspaper | revcom.us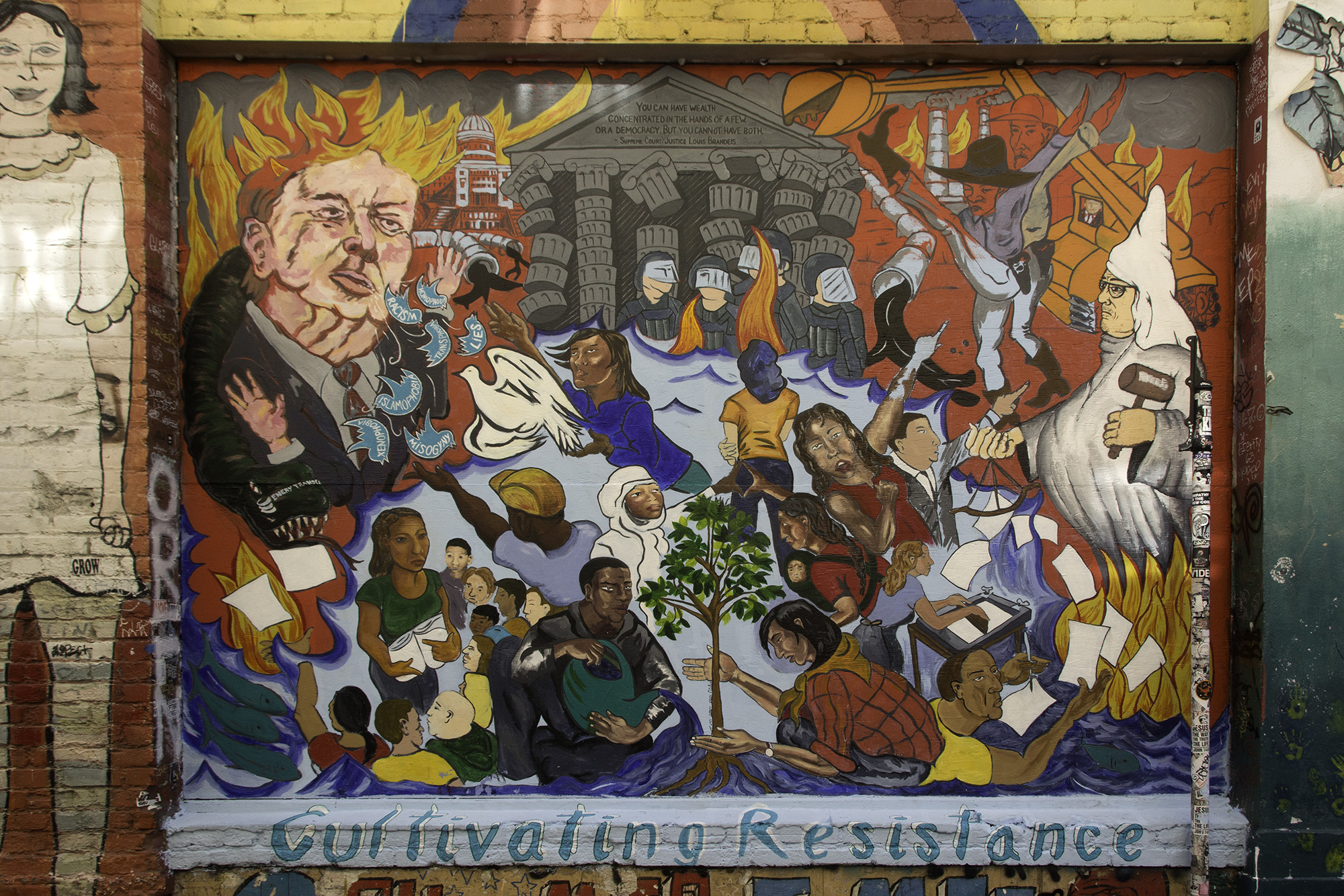 Photo: Special to revcom.us (Click image to enlarge)
An angry and intense anti-Trump mural has gone up in the San Francisco Mission District. The mural, by the San Francisco Poster Syndicate, is a bold call to resistance in the face of the horrors of Trump.
Entitled "Cultivating Resistance," the work depicts a fiery-haired and small-handed Trump spouting "Twitter birds" labeled "lies," "misogyny," "Islamophobia" and "xenophobia." To Trump's right a pipe spews oil and riot clad police guard a crumbling classical-style building symbolizing democracy. A cowboy chorus line dances in front of a bulldozer and Trump advisor Steve Bannon, dressed in the white, pointy hooded robe of the KKK, holds a judge's gavel and the scales of justice. On the bottom of the mural are forces of resistance, surrounded by water that holds the hope of putting out the fire surrounding Trump. People point accusing fingers at Bannon; a woman dressed in Muslim garb joins hands with a woman carrying a baby. Figures representing the artists print and distribute silk-screened posters. A woman and a man release a dove that is flying into Trump's face and appears to be scattering the "Twitter birds." At the bottom, a Black and Native American man are planting and watering a tree of resistance.

Photo: Special to revcom.us (Click image to enlarge)
The Mural is in Clarion Alley, a part of the vibrant San Francisco artistic and activist scene. Clarion Alley is a small street in San Francisco's Mission District filled with murals in a wide range of styles drawing from traditional Chicano mural art, graffiti-style writing, Central American political art, and much more. There is a mural by Emory Douglas in the style he created for the Black Panther paper in the 1960s, and there is a beautiful portrait of Prince. Some are a surreal view of a whole different reality. Like the Trump mural, many have an explicitly political message, memorializing those killed by the police, or who were victims of street violence, challenging gentrification, white supremacy, homophobia and transphobia, or calling out for a better world. More than 200,000 people visit the alley each year.
The San Francisco Poster Syndicate describes itself as "an organization of faculty, students and former students at the San Francisco Art Institute." The group's purpose, according to their Tumbler is "to bring art and design to many different people's movements in hopes that their message can be heard and seen more loudly." The Poster Syndicate often creates silkscreen art, which they produce and distribute at major political actions.
The Poster Syndicate has also created a poster stating "ENOUGH WITH THE TWITTER. COME OUT ON THE STREET JANUARY 20, 2017." They plan to be out in the alley the two Sundays before the inauguration to distribute the posters.
Volunteers Needed... for revcom.us and Revolution
If you like this article, subscribe, donate to and sustain Revolution newspaper.