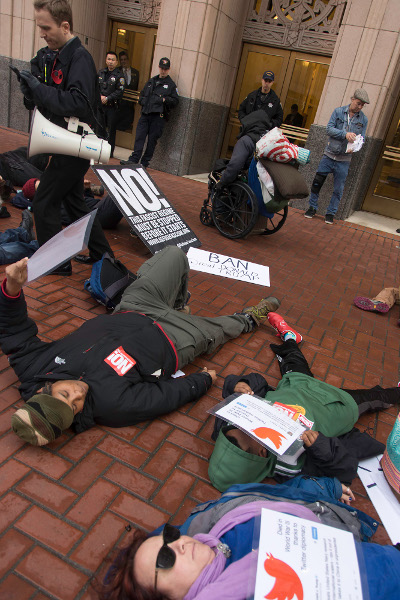 Twitter headquarters, San Francisco, January 7. Photos: Special to revcom.us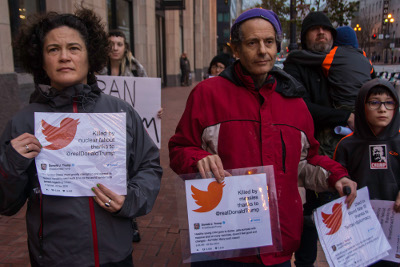 Die-in at SF Twitter HQ Demands Ban on @realDonaldTrump for Hateful, Dangerous Tweets
January 11, 2017 | Revolution Newspaper | revcom.us
San Francisco—Saturday, January 7, a couple dozen activists staged a protest and die-in at Twitter headquarters, demanding that Twitter ban @realdonaldtrump for repeatedly tweeting dangerous hate speech: racism, lies, and threats of violence including up to inciting nuclear war.
Twitter's own rules state: "In order to ensure that people feel safe expressing diverse opinions and beliefs, we do not tolerate behavior that crosses the line into abuse, including behavior that harasses, intimidates, or uses fear to silence another user's voice."
"Because of Twitter's anti-abuse policies, because of their stated commitment to social justice, and because they do business in San Francisco, they should ban @realDonaldTrump," said A.E. Marling of refusefascism.org, lead organizer of the protest. "Giving voice to a fascist and allowing him to spew his hatred and ignorance not only threatens to destroy our democracy, but could also lead to the next world war."
Volunteers Needed... for revcom.us and Revolution
If you like this article, subscribe, donate to and sustain Revolution newspaper.