Meryl Streep's Courage, Trump's Vision of the World... and What Are You Going to Do?
January 9, 2017 | Revolution Newspaper | revcom.us
From a reader: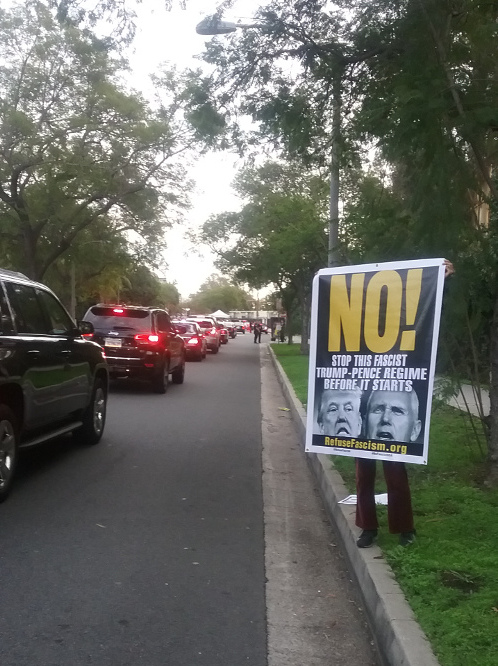 Los Angeles, January 8--Activists with RefuseFascism.org went out to a street in Beverly Hills where hundreds of limos were making their way to the Golden Globe awards, with actors, directors, producers and other movie industry people on board. The activists reached many with their large "NO!" posters, RefuseFascism.org stickers, and the Call to Action. Photo: Special to revcom.us
Meryl Streep, the actor widely recognized as one of the most versatile and creative in her field, on Sunday was awarded the Golden Globes Cecil B. DeMille Award for lifetime achievement. Over her career she has won an Academy Award three times and been nominated at least 19 times, and nominated at least 30 times for a Golden Globe award.
On Sunday she added to her lifetime achievements. She turned her acceptance speech over to setting a standard, a moral compass, for people in the arts and elsewhere who have a prominent public voice. Instead of the usual thank yous, among other things she said, "An actor's only job is to enter the lives of people who are different from us and let you feel what that feels like," and contrasted that to Trump mocking and humiliating those that are different, and the real damage that kind of thing does to the soul of society, especially from a would-be president. (And yes, he did mock a journalist for being disabled! It's on video.)
Then the wanna-be Hitler demonstrated for all who are paying attention what society would be like under his rule. This would-be president tweeted that Meryl Streep is "one of the most over-rated actresses in Hollywood" and "a Hillary flunky who lost big." His senior advisor, Kellyanne Conway, got on TV Monday morning to say "I'm concerned that somebody with a platform like Meryl Streep is also, I think, inciting people's worst instincts."(!)
Well fuck you Trump and minions. This blow-hard fascist would hold the reins of the most powerful country in the world? Imagine a society where acceptable culture is defined—and enforced—by a tyrant such as this! Imagine what would become of those who would speak like Meryl Streep if this regime's rule is consolidated!
Meryl Streep didn't say everything I would wish someone in her position would say. But she exhibited courage and principle, and concern for humanity. She brought thoughtfulness and a moral compass. Humanity needs, right now, much more of this. In the wake of Trump's bitter tweets (and the slop of ugly rants from his minions online), it's heartening to see many public statements and tweets from others in the arts and Hollywood supporting her.
This is a time for courage and principle. Remember the searing film and Broadway musical Cabaret about the poisoning of culture as the Nazis rose to power in Germany? We can't let the soul of society be so poisoned again.
To Hollywood, to all in the arts:
In the name of humanity, through your art, with your voice, DON'T LET THIS HAPPEN! Let's stop this regime before it starts!
RefuseFascism.org. Join in. Now.
Volunteers Needed... for revcom.us and Revolution
If you like this article, subscribe, donate to and sustain Revolution newspaper.