Mexico: Nationwide marches and highway blockades
January 10, 2017 | Revolution Newspaper | revcom.us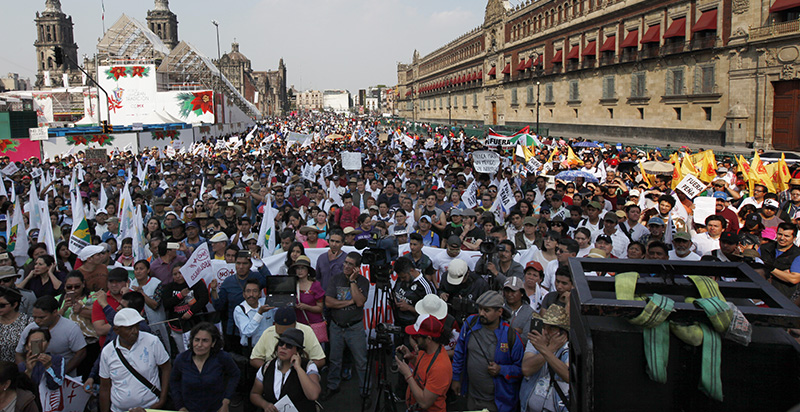 Protesters march against fuel price hikes in Mexico City, Saturday, January 7. All photos: AP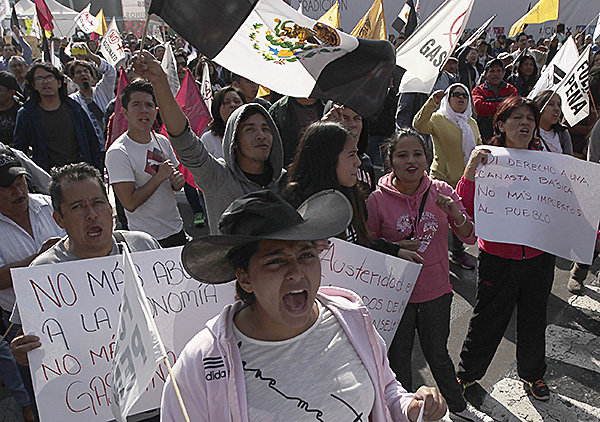 University students march against fuel price hikes in Mexico City, January 8.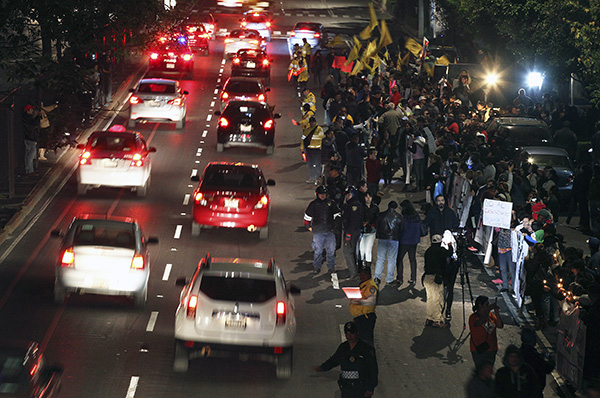 Drivers honk their horns to show support for demonstrators protesting outside the headquarters of the government-run PEMEX oil company in Mexico City, January 8.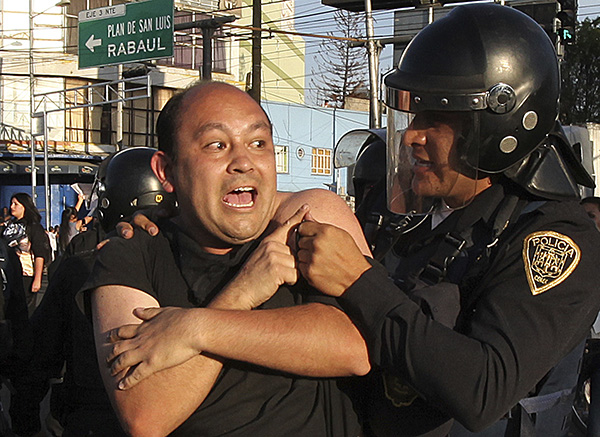 Cop removes a protester who, along with others, blocked a main road for about an hour during protests against gas price hikes in Mexico City, January 4. As of January 8, police have arrested 1,500 people and killed six.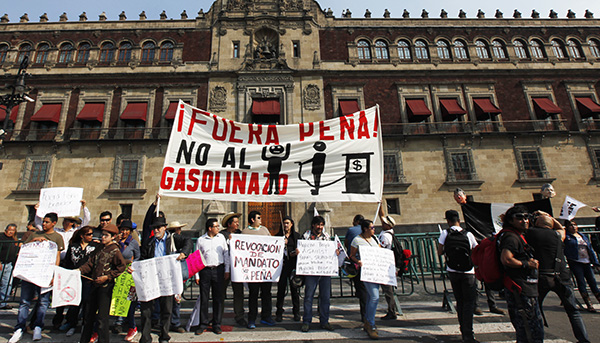 Protesters hold a sign that reads in Spanish "Peña Out! No to the gasoline price hike," January 7.
Throughout Mexico, people are in the streets! Taking over the Mexican side of the Tijuana border crossing... seizing tankers and blocking oil company installations in the town of Rosarito Beach, just south of the border... blocking highways and taking over toll booths all over the country... blocking refineries in southern states... expropriating gas from gas stations and distributing it free... blocking all train traffic from the U.S. into Nogales, Sonora... marches that varied from several dozen to tens of thousands... the first week of 2017 was what the New York Times has called "A Turbulent Start to the New Year." On January 1, in the "gasolinazo," or "big gas hit," the Mexican government floated gas prices to international levels, resulting in pump price increases of 14 percent to 20 percent.
At the urging of the U.S. over the course of several administrations, the government of President Enrique Peña Nieto pushed through the privatization of the Mexican oil company PEMEX, opening it up to foreign investment and control for the first time. Previously, PEMEX was owned and completely run by the government, and it regulated and subsidized prices of gasoline and other oil-related products. The removal of gas subsidies was one palpable result. Mexicans already paid twice as much for gas as a proportion of their income compared to Americans, so, for many, the price hikes literally take food from their children.
Revealingly, Mexican President Peña Nieto appeared on television to ask for understanding from the people. Regarding the gasoline price increase, he asked, "Here I ask you, what would you have done?" in the face of the rise of international oil prices and Mexico's dependence on gasoline imports. In other words, FUCK YOU, PEOPLE!
Last year, Peña Nieto was the first if not the only foreign leader to invite Donald Trump for an official visit. The fury this visit provoked in Mexico was so great that it forced the resignation of Luis Videgaray, the finance minister who arranged the visit and also was one of the chief architects of the PEMEX privatization. Trump defended him in a tweet as "brilliant" and "wonderful": Nuff said! Now Peña has appointed Videgaray as minister of foreign relations to work with the Trump-Pence regime, hence doubling down on the unpopularity of the measures and responding with more repression.
Calls for Peña to be removed as president were practically universal in the protests. Throughout Mexico people are demanding the resignation of President Peña Nieto and his government. His popularity rating has precipitously dropped below 25 percent. For some months there has been an increase in the calls for change: a change of president. On January 9 in Mexico City, housewives, university students and academics, workers, unemployed, single mothers, youth, senior citizens, shippers, representatives of trade union and social movements, feminists, merchants, lesbian-gay community members, and rockers joined in a march called through social media. Throughout the march, chants could be heard of "Fuera Peña, fuera Peña" ("Down with Peña, Down with Peña"). In a concert in October 2016, Roger Waters of Pink Floyd called for his resignation. The Mexican Conferencia Nacional de Gobernadores (Conago; National Conference of Governors) warns that governability and social stability is in danger. On January 9, the Confederación Patronal de la República Mexicana (Coparmex; Mexican Confederation of Business Owners), one of the key private institutions in Mexico, refused to sign on to Peña Nieto's new economic development plan for Mexico.
As of January 8, police have arrested 1,500 people and killed six (police claim they were looters but in at least one demonstration in a southern town in Hidalgo, video shows that two marchers were shot dead with no provocation). The government has also used hundreds of fake social media accounts to justify the repression.
Volunteers Needed... for revcom.us and Revolution
If you like this article, subscribe, donate to and sustain Revolution newspaper.