Marcha vs. Fascist Trump-Pence Regime in Downtown Los Angeles
January 16, 2017 | Revolution Newspaper | revcom.us
Sunday, January 15—150 people hit the streets of downtown Los Angeles against the Trump-Pence fascists. The rally and march were called as part of an urgent and historic effort to mobilize resistance of millions in the next days to create a situation where the a Trump-Pence regime is prevented from seizing the reins of power. The march was led by several co-initiators and signatories to the Call to Action of RefuseFascism.org—including Isabel Cardenas, a Salvadoran-American activist; Fr. Richard Estrada, a priest in the Episcopal Diocese of Los Angeles; and members of the Revolution Club, Los Angeles.
A significant contribution to the protest came from an immigrant man who'd lost two limbs when he fell from "La Beastia"—the train that moves tens of thousands of Mexicans and Central Americans through Mexico on the perilous trip north to the U.S. He told the story of the how he was saved by people in Chihuahua, Mexico, and discussed the human cost of the anti-immigrant repression by the U.S. government. The Aztec Dancers organized for the march—25 of them driving an intense percussive beat throughout downtown. There were high school students and people who came to the event off seeing interviews on Spanish-language TV throughout the week. Some people shopping on Broadway jumped into the march, which built in strength and numbers through downtown L.A.
The march arrived at the L.A. City Hall at 4 pm, hooking up with the encampment that is staying at the City Hall until the Trump-Pence regime is stopped. Major television coverage of the rally and march included KABC Channel 7 News, Fox 11 News, KMEX Channel 34 Spanish News, Telemundo Spanish News, La Nuestro Central American News, and other media.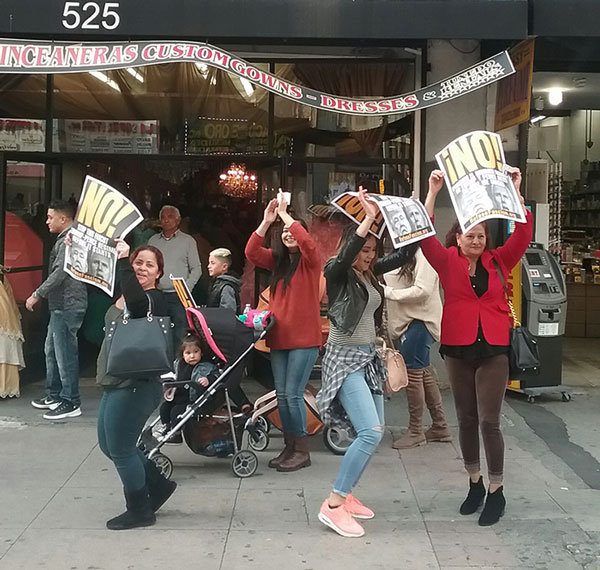 Volunteers Needed... for revcom.us and Revolution
If you like this article, subscribe, donate to and sustain Revolution newspaper.