February 4: Resistance Against Trump's Fascist Muslim Ban Spreads Across the U.S. and Around the Globe
February 4, 2017 | Revolution Newspaper | revcom.us
A week after Trump's ban on all refugees and immigrants from seven mainly Muslim countries, protests against this fascist attack are not only continuing—they are spreading. On Saturday, February 4, people in many cities across the U.S. and in a number of cities in Europe, Australia, and Asia marched and rallied against Trump's fascist attacks against Muslim people.
In the U.S., people took to the streets and demonstrated at airports in many major cities as well as in smaller communities. They involved a very broad range of people and forces expressing solidarity with people from other countries and disgust and outrage at the Trump-Pence regime's racist, xenophobic poison.
In Denver, Colorado, at least 10,000 people gathered at the downtown Civic Center Park for a Protect Our Muslim Neighbors rally. An official from the Colorado Muslim Society said the protest allowed "Muslims and non-Muslims to come together and say we are not going to stand for this." In Salt Lake City, Utah, thousands filled downtown streets in a March for Refugees which joined with Mormons March for Muslims. They marched to the state Capitol chanting "No hate, no fear, refugees are welcome here!" One man who came to the march from the suburbs with his wife said, "We just felt we had to come out and show some solidarity with all of these people. We want to let (leaders) know that you can't treat people that way."
Hundreds of people marched in West Palm Beach, Florida, to Mar-a-Lago, Trump's lavish estate, where he was reportedly spending the weekend. In Washington, D.C., more than 1,000 protesters marched from the White House to the Supreme Court in an action organized by Peace for Iran, a group of Iranian-American professionals. Huffington Post reported, "Families from the Virginia and Maryland suburbs joined college students and teenagers from the city in chants like, 'When Muslims are under attack—what do we do? Stand up, fight back.'"
In New York City, thousands of LGBT people and others rallied at the historic Stonewall Inn—site of the 1969 rebellion by gays against degrading raids by the pigs, marking the birth of the gay rights movement. A woman in her 50s who was part of the Saturday rally said, "Whether we're straight, gay, immigrant, Native American—no matter who you are, we're all standing up to fascists." At one point during the protest, the police stepped in to protect some pro-Trump fascist counter-protesters, and arrested four people, including members of the Revolution Club NYC and Refuse Fascism activists.
In Los Angeles, people protesting Trump, chanting "Let them in now!" and "No ban, no wall, sanctuary for all!" confronted pro-Trump reactionaries who supported the ban. Hundreds marched in Janesville, Wisconsin, on the offices of Paul Ryan, the head of the Republicans in the U.S. House of Representatives. In Houston, Texas, on the eve of the Super Bowl game taking place in the city, hundreds marched—and protests are planned on Super Bowl Sunday itself. In Chicago, Refuse Fascism and others marched in solidarity with immigrants in an area where South Asian stores and restaurants are concentrated.
There were protests in many smaller cities, including Raleigh, North Carolina; Wilkes Barre, Pennsylvania; North Adams, Massachusetts; Ogden, Utah; and Rhinelander, Wisconsin. One protest that took place earlier in the week was in Starkville, Mississippi, more than 200 people gathered for a vigil organized by the Religious Diversity Organization on the Mississippi State University campus.
Outside the U.S., there were protests in Toronto, Canada; London, UK; Paris, France; Berlin, Germany; Sydney Australia; Jakarta, Indonesia; Manila, Philippines; and other places.
#protest AT #mar #A #Lago against #trump #MuslimBan #NoMuslimBan #NoBanNoWall #resist #Superbowl #west #palm pic.twitter.com/4KSyzEEtVR

— US Kare (@USKare27) February 4, 2017
Mar-a-Lago, Palm Beach, Florida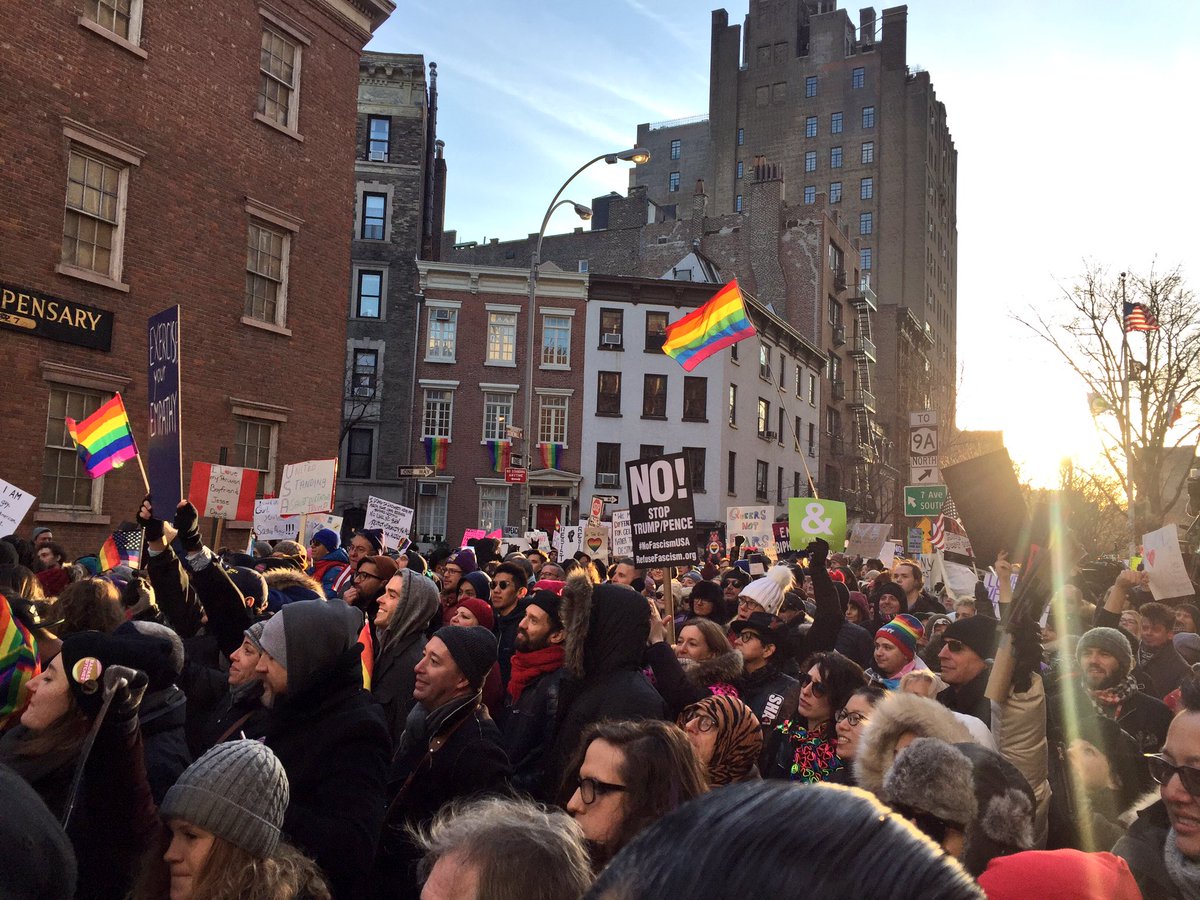 New York City, Stonewall Inn. Members of the LGBT community and many others rally to stand with immigrants. (Photo: Twitter/@Samynemir)
Thousands of people are marching to the Capitol. #NoBanNoWall pic.twitter.com/2Xt0a6rA9h

— Nathalie Baptiste (@nhbaptiste) February 4, 2017
Washington, DC
Well over 1,000 souls have descended on Paul Ryan's office in Janesville, WI #NoBanNoWall protest. Completely encircling the block #wiunion pic.twitter.com/XJMGW6yQ21

— Blocktivist ⛔️ (@LaborNerd) February 4, 2017
Janesville, WI
#protest IN downtown #miami Right now against #trump #MuslimBan #NoMuslimBan #NoBanNoWall #resist #ResistTrump pic.twitter.com/VuPVBWuAdq

— Dave (@DaveDhanbeer) February 4, 2017
Miami, FL
Thousands have turned out in the streets of #SLC to say NO to walls and NO to fear! #RefugeesWelcome #utpol pic.twitter.com/r5YV7KG99x

— Mayor J. Biskupski (@slcmayor) February 4, 2017
Salt Lake City, UT
Ogden, UT
Chants of "refugees are welcome here" as thousands protest against Donald Trump's travel ban outside the US Embassy in London pic.twitter.com/arovRAyWry

— Harriet Line (@HarriLine) February 4, 2017
London, UK, outside the U.S. Embassy
#protest IN #Houston calling for the ousting of #trump Right now #MuslimBan #NoMuslimBan #NoBanNoWall #Superbowl pic.twitter.com/4wDoat9RPq

— Dave (@DaveDhanbeer) February 4, 2017
Houston, TX
Chicago march in South Asian community
Denver, CO (Photo: Twitter/@dcwoodruff)
Los Angeles, CA (Photo: Twitter/@lebowskigrande)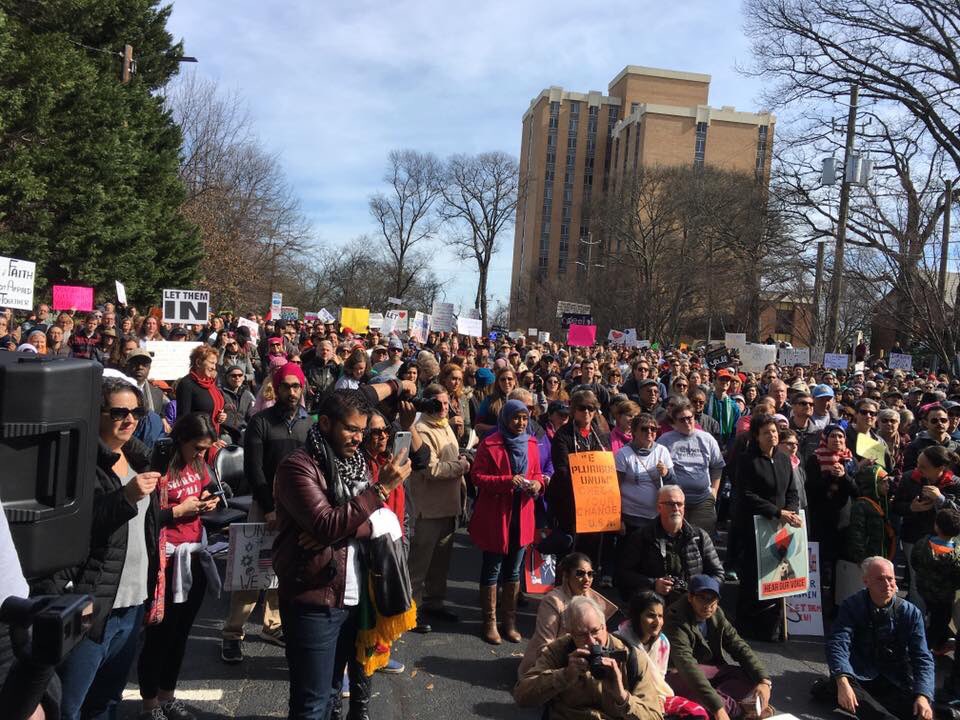 Atlanta, GA (Photo: Twitter/@FatSpinster)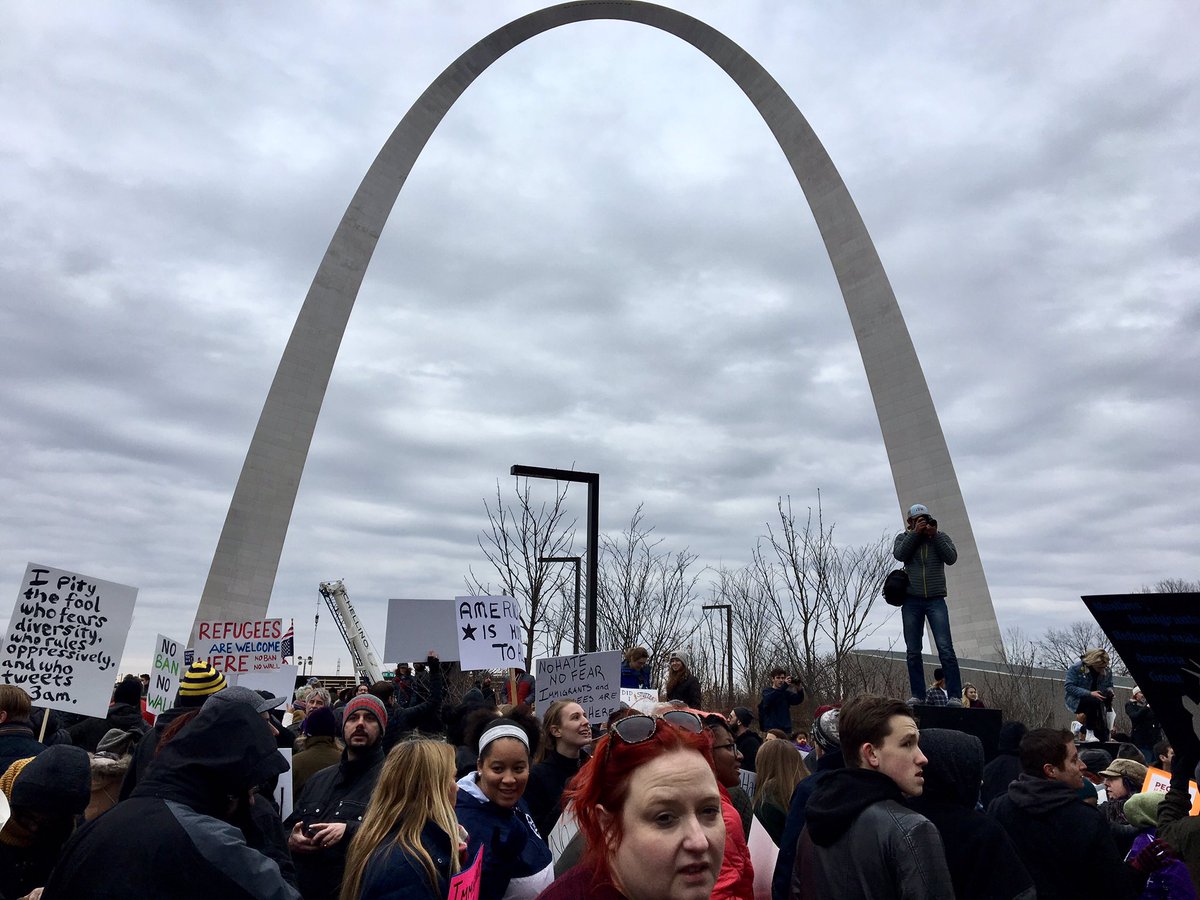 St. Louis, MO (Photo: Twitter/@aswb83)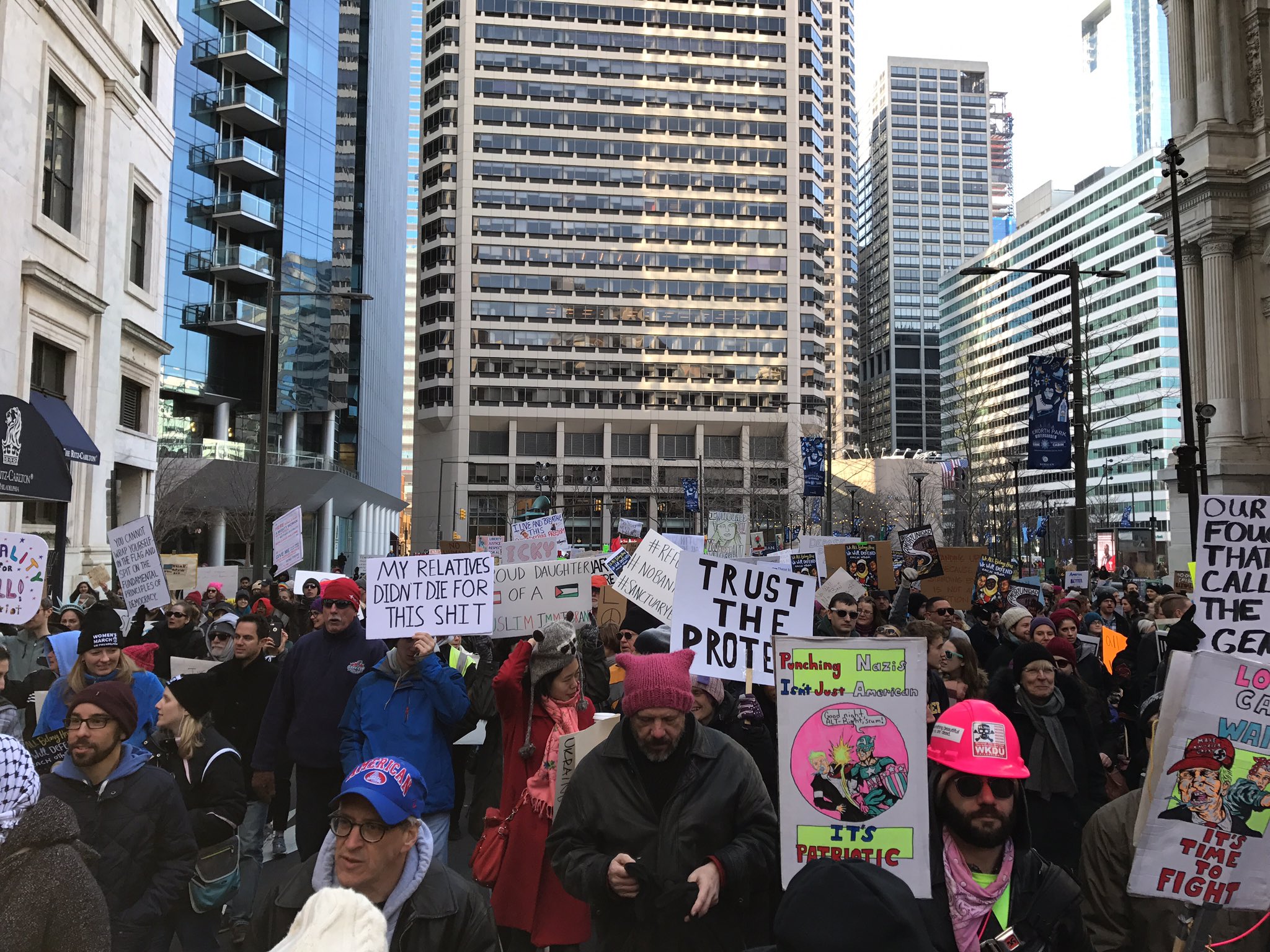 Philadelphia, PA (Photo: Twitter/@SierraClubPA)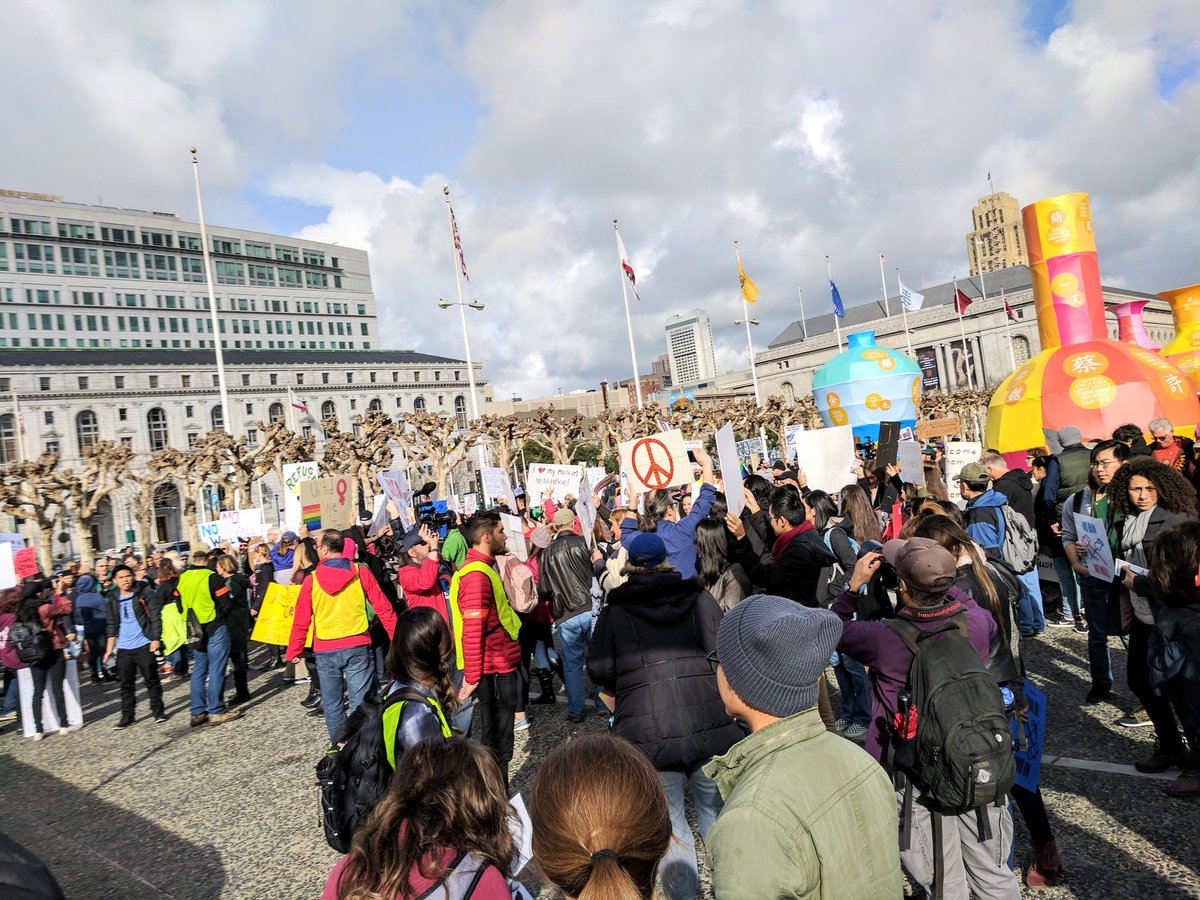 San Francisco, CA (Photo: Twitter/@anaulin)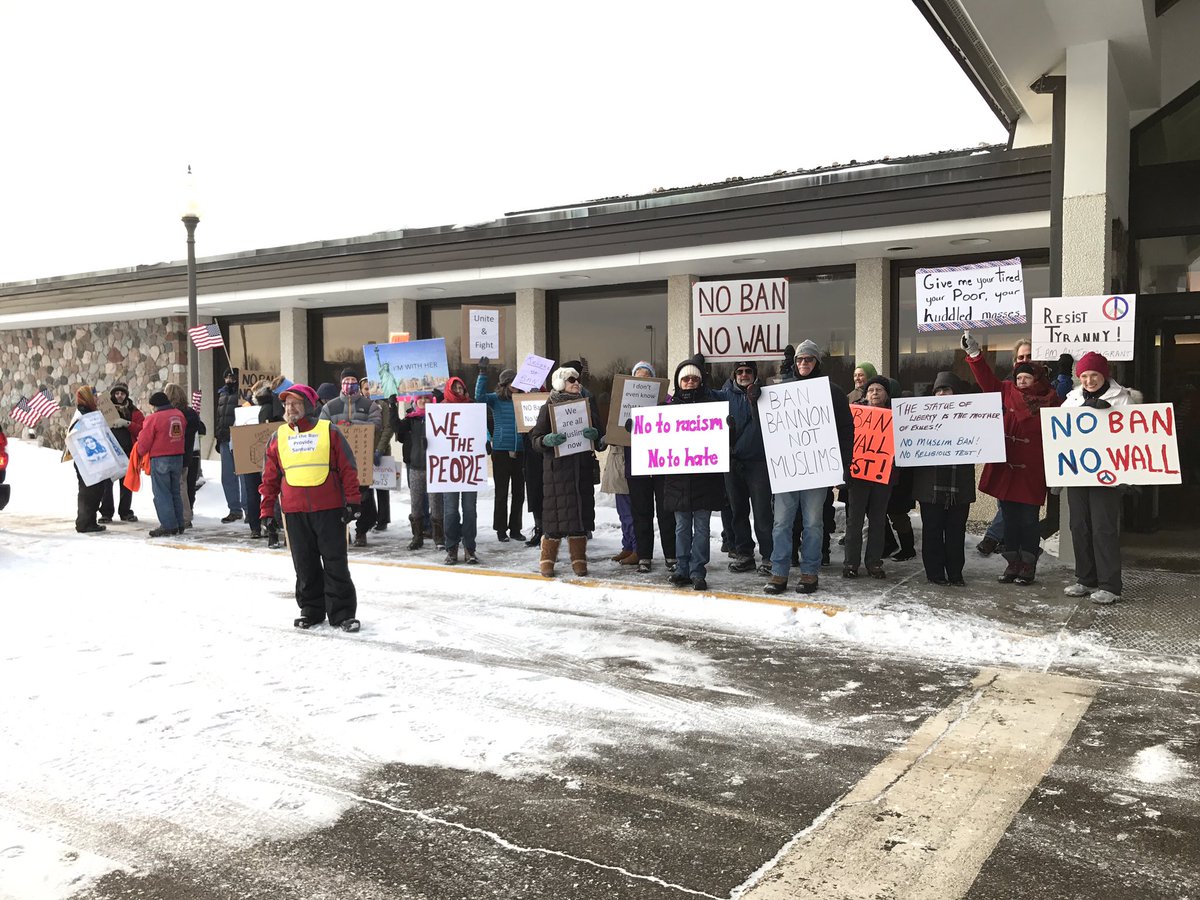 Rhinelander, WI (Photo: Twitter/@sarah_lukas)
Volunteers Needed... for revcom.us and Revolution
If you like this article, subscribe, donate to and sustain Revolution newspaper.