People Stand Up Against Trump's Anti-Immigrant Offensive with a "Day Without Immigrants"
Across the Country
February 16, 2017 | Revolution Newspaper | revcom.us
On Thursday, February 16, immigrants and their supporters boycotted work or school, closed their businesses, and marched in the streets across the U.S. in a "Day Without Immigrants" as an act of resistance against the Trump/Pence regime's war against immigrants and Trump's hateful, racist rants against people from other countries. Many people involved in the day wanted to show how important immigrant workers, including the undocumented, are to the economy and daily life of this country.
The call for the action spread on social media with the hashtag #DayWithoutImmigrants. According to the New York Times, "People planned for it in restaurant staff meetings, on construction sites and on commuter buses, but the movement spread mostly on Facebook and via WhatsApp, the messaging service. No national group organized the action." The director of an organization working with immigrant day laborers in New York City, said "It's like the Arab Spring. Our members were coming to us, asking what the plan was. Frankly, it kind of came out of nowhere."
It's not clear as we write how many people around the country took part in the day, and all the different places where people might have joined in the protest and the fuller scope of the different actions that people took. But in a number of cities, many businesses closed down for the day—especially restaurants, which are big employers of immigrant workers. Some closed down because most of the workers stayed away from their jobs for the day. Other restaurants and businesses were shut by owners and managers in solidarity with the day—including well-known celebrity chefs like Rick Bayless in Chicago and José Andrés in Washington, DC. (In 2015 Andrés had refused to open a planned restaurant in a Trump hotel in DC after Trump spewed out racist shit about Mexican immigrants.) Even some food concessions in the Pentagon were closed for the day because immigrant workers had stayed home. In Sunset Park, Brooklyn in New York City, a neighborhood where Mexican and Central American immigrants are concentrated, most of the taquerias and pastry shops were closed. The NY Times reported that at least in the city, parts of the nonunion construction industry, which relies heavily on immigrant workers, was shut down.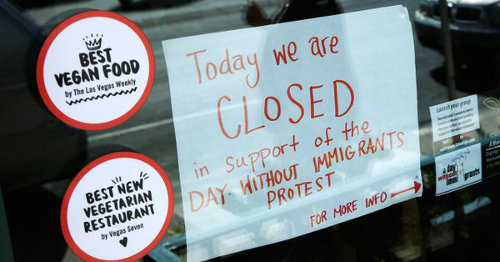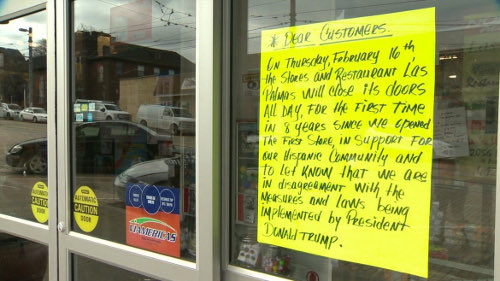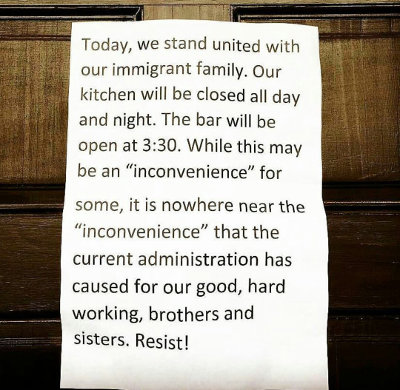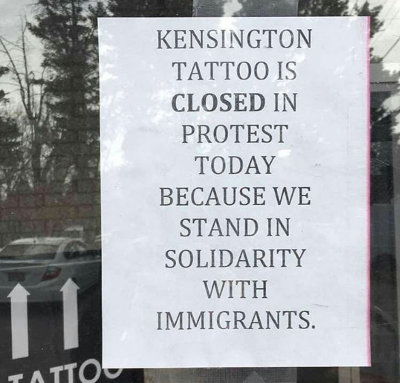 While many who took part in the day of protest were Latino, people of other nationalities joined. In the Midwood neighborhood in Brooklyn, NYC, almost all the Pakistani owners shuttered their shops as part of the day of protest. A bus driver, originally from Egypt, told the NY Times that he was not working on Thursday, like many members of his mosque—"Because of that crazy guy. Because I'm Muslim and I got a lot of family here. They can get separated, and it's not right."
In some school districts, large numbers of immigrant students did not show up for class. In Grand Rapids, Michigan, around 4,200 public school students—about a quarter of the total number of students in the district—boycotted classes for the Day Without Immigrants. Classrooms were reported to be no more than half full in Austin, Texas. At the Siler City Elementary School in rural North Carolina, which has a student body that is 65 percent Latino, 263 of the 662 students were absent Thursday. In Newark, New Jersey, students from Science Park High School who had ditched classes joined the protest in front of the county hall of records, chanting, "We are loud, we are clear, immigrants are welcome here."
The Davis Museum at Wellesley College in New York City took part in the Day Without Immigrants by removing or covering in black felt 120 works of art that had been created or donated by immigrants—about 20 percent of the museum's total display.
Thousands of Day Without Immigrants marchers shut down streets in downtown Chicago, and there were protests in the streets in Washington, DC; Grand Rapids and Detroit, Michigan; Charlotte, North Carolina; Phoenix, Arizona; Houston and Austin, Texas; Newark, New Jersey, and other cities. In DC, a Chilean immigrant who works as a real estate agent canceled his appointments and brought his 11-year-old daughter to join the march of hundreds. He had lived through the 1973 CIA-sponsored coup in Chile that overthrew an elected government and installed a fascist military regime—and he called what is going on now in the U.S. "déjà vu."
Revcom.us will update this short roundup of the Day Without Immigrants as we learn more. We encourage readers who took part in or know of other actions on the day to send in short reports, pics, and videos. Email to: revolution.reports@yahoo.com
Volunteers Needed... for revcom.us and Revolution
If you like this article, subscribe, donate to and sustain Revolution newspaper.