An Example to Follow
Jenny Heinz in NYC:
Wearing the "NO!" Everywhere
February 23, 2017 | Revolution Newspaper | revcom.us
2

We must manifest the power of NO! everywhere: on signs, billboards, walls, social media and the news. NO! In the Name of Humanity, We REFUSE To Accept a Fascist America must resound.
Jenny Heinz in NYC (in an undated picture at right, on the right) has set an important example and standard of principle, insisting on standing with humanity. The New York Times (NYT) reported that this month (February) she went to a performance at Lincoln Center, wearing the same sign as in the picture at right, fixed to the back of her jacket, "NO! In the Name of Humanity, We REFUSE to Accept a Fascist America—RefuseFascism.org." She said she has been wearing this sign everywhere since she got it at a protest in November.
She is a longtime Metropolitan Opera and New York Philharmonic subscriber, and has been to hundreds of performances at Lincoln Center over the past 60 years.
At Lincoln Center this time she was told she would have to remove the sign to enter. She chose to not remove it, and was barred from the performance. She told the NYT "At what point does one draw the line? We're talking about freedom of expression."
Stay tuned to revcom.us for more about this. The NYT article, including a picture of Jenny Heinz and her sign, are available here.
Top: Jenny Heinz (on the right) points to a RefuseFascism sign in the Farsi language.
Above: The same sign she has been wearing everywhere since November.
Download, print, and cut this stencil to decorate clothing, etc. with the NO!, to wear everywhere!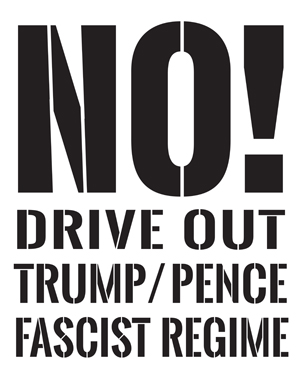 Read, Sign & Distribute The New Updated Refuse Fascism Call to Action:

Read the statement | Sign the statement | Download 2-sided Flier (8-1/2"x11" PDF)
Volunteers Needed... for revcom.us and Revolution
If you like this article, subscribe, donate to and sustain Revolution newspaper.