Trump Regime Memo Proposed Using National Guard for Mass Roundup and Deportation of Immigrants
February 18, 2017 | Revolution Newspaper | revcom.us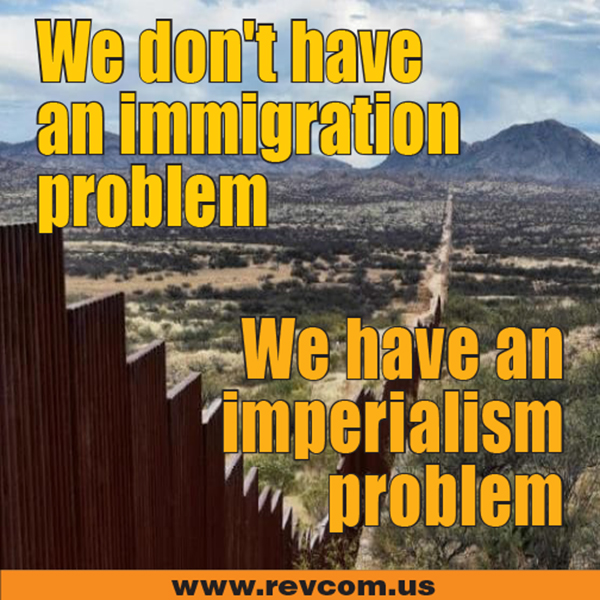 On Friday, February 17, the Associated Press reported on and made available a draft proposal from the Department of Homeland Security (DHS) for massive use of the National Guard as Immigration and Customs Enforcement (ICE) agents to round up and deport masses of immigrants in this country. (Associated Press articles are published and republished by more than 1,700 newspapers, and more than 5,000 television and radio broadcasters.)
The leaked memo proposed that the DHS enter into agreements with the governors of 11 states (the four on the Mexico border and the seven states that border them) to authorize their National Guard forces "to perform the functions of an immigration officer in relation to the investigation, apprehension and detention of aliens in the United States." The memo said, "Based on their training and experience, these men and women are particularly well-suited to assist in the enforcement of federal immigration law and augment border security operations..." (The DHS memo is available online here.)
Past presidents, including George W. Bush and Obama, have deployed hundreds of National Guard troops to shore up Border Patrol operations. But the DHS memo raised the specter of as many as 100,000 National Guard troops being mobilized, not just on the border but for mass roundups of immigrants beyond the border areas.
Spokespeople for the Trump/Pence regime condemned the Associated Press story, at first saying there was no such memo—and then claiming it was an early draft of the final memorandum. They said that the final DHS memo did not include a proposal to mobilize the National Guard for rounding up, detaining, and deporting immigrants. They gave no explanation for why the idea was rejected for the final version of the memorandum. And no Trump/Pence official ruled out the future use of the National Guard to round up immigrants.
A writer for the website The Daily Beast, Betsy Woodruff, reported that a former DHS official under Obama "suspects [the] memo was likely written by someone close to the Trump White House team, and who had detailed knowledge of the president's planned immigration executive orders—potentially a member of the transition team who worked on DHS issues." The name of General Kelly, chosen by Trump to head DHS, was on the leaked memo; Trump officials denied that Kelly had signed the draft proposal.
It has been widely assumed that in order for the Trump/Pence regime to carry out the mass immigrant roundups and deportations on the scale they have promised, they would require a huge increase in the number of ICE and Border Patrol agents—many more than the increase of 15,000 that Trump has already announced—and it would take years to hire and train a whole new army of stormtroopers. But what the DHS memo pointed to was the prospect of the regime calling up tens of thousands of National Guard troops to quickly boost the anti-immigrant forces.
Put yourself in the position of the millions of undocumented immigrants in this country at this moment. Feel your heart pounding as you think about hearing a knock at the door at 5 a.m. .., being stopped at a checkpoint as you drive to work and ordered to prove you are "legal"... suddenly being torn from your children, or watching your parents as they're being dragged into an ICE van. Think about being held in a detention center/prison indefinitely, or sent back to a country that you left—because U.S. domination messed things up so much that it was impossible to make a living there, or because the resulting violence had put your life in danger.
This nightmare is Trump's America. This we cannot allow. In the interests of humanity, the people must drive out this fascist regime.
Volunteers Needed... for revcom.us and Revolution
If you like this article, subscribe, donate to and sustain Revolution newspaper.