Meeting with FOP Leaders:
Trump Pledges "100% Support" for Murdering Pigs
March 31, 2017 | Revolution Newspaper | revcom.us
From readers: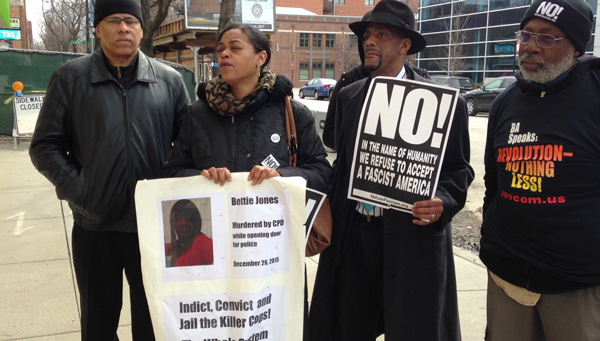 From left: Tio Hardiman of Violence Interrupters, International; Nataki Rhodes, of Civilian Police Accountability Council; Eric Russell, President of the Tree of Life Justice League of Illinois; Carl Dix, representative of the Revolutionary Communist Party. (Photo: special to revcom.us)
On March 28, Trump and the head of the Department of Justice (DOJ), Jeff Sessions, hosted national representatives of the Fraternal Order of Police (FOP), including the head of the Chicago FOP. The FOP is the largest police group in the country.
At the meeting Trump made it crystal clear he will back murdering pigs 100 percent. "I made a crucial pledge: We will always support … the incredible men and women of law enforcement. I will always have your back—100 percent. … Sadly, our police are often prevented from doing their jobs. … In too many of our communities, violent crime is on the rise. … These are the painful realities many in Washington don't want to talk about."
In response, a press conference was called on March 29 outside the FOP's Chicago offices by Eric Russell, President of the Tree of Life Justice League of Illinois. He was joined by Nataki Rhodes, an activist with Civilian Police Accountability Council; Tio Hardiman of Violence Interrupters, International; Carl Dix; and the Revolution Club, Chicago. Together they condemned Trump and Attorney General Jeff Sessions' meeting with the Fraternal Order of Police, including the President of the Chicago FOP.
Eric Russell stated, "We are here to express our absolute outrage that the Chicago Police Department, a historically corrupt and systemically racist institution would have the backing of the Federal Government in a climate when they are murdering Black and Brown people with impunity."
At the press conference Carl Dix said:
Trump said he's gonna send the feds into Chicago to fix the carnage. He can't fix the carnage like that because the system causes the carnage. What has our youth in the situation they are shooting and killing each other and also killing people caught up in the crossfire? Because they have been locked up in these inner city communities—no jobs, an educational system that's geared to fail them.

They have plans to send in the feds. Chicago Tribune articles talk about mobilizing the National Guard, putting concrete barriers around a neighborhood on the South Side. Having the Guard staff those barriers. Anyone going in or out has to show their ID. South African apartheid on the South Side of Chicago. ... This could make it impossible for Black people to stand up and do anything.

This is part of an overall fascist onslaught. They also talked about [at the meeting] collaboration between the police and the deportation squads. This has already led to ICE breaking into a house on the West Side of Chicago recently, shooting a man and arresting his son, both of them legal. ...

This is what they want us to knuckle under to and take. We're here to say NO. We're sounding the alarm. Our youth play a critical role here. You have to get out of fighting and killing each other. You gotta get out of that and get into the revolution. Because we gotta get rid of this system. A system that has committed horrors it has already perpetrated against Black people, against Brown people, against Muslims, against women. That is a system that is no damn good and Donald Trump has greater horrors on the horizon they are bringing down. We gotta get rid of Trump, drive him out of there but do it in order to get rid of this system, to get ready for revolution.
Volunteers Needed... for revcom.us and Revolution
If you like this article, subscribe, donate to and sustain Revolution newspaper.