Trump Has Let the Dogs Out!
White Supremacist Murders a Black Man in New York
March 26, 2017 | Revolution Newspaper | revcom.us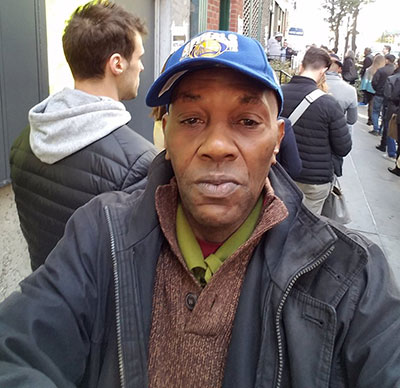 Timothy Caughman, from his Twitter account.
Timothy Caughman, a 66-year-old Black man, was stabbed to death on Monday night, March 20, by a white supremacist who traveled to New York City from Baltimore, Maryland, in order to murder Black men. Prosecutors are saying the 28-year-old murderer, James Jackson, told the police he had planned to go on a killing spree, killing as many Black men as he could. And, as though right out of the era of Jim Crow lynchings, they say Jackson particularly hated Black men who dated white women.
Jackson walked into a police station early Wednesday morning and turned himself in after a video of him was made public. So far, nearly all of the information available has come from the police, who say that Jackson came to New York to commit his crimes because it would get the most media coverage. He was quoted as saying "I've had this hatred for Black men since I was a teenager."
"What kind of world are we living in right now?"
Timothy Caughman had gone to college and worked with young people in Queens, New York, as part of a youth program. He was concerned with young people in the neighborhood. Caughman had struck up a longtime Twitter relationship with actress Shari Headley. When she heard the news, she tweeted: "My heart is heavy typing this. Timothy Caughman was a fan of mine since 1991. He only spread LOVE. His murder was senseless." She asked, "What kind of world are we living in right now?" On Saturday night, close to 100 people came together in the Baltimore community where the murderer lived for a vigil to honor Caughman.
But major media, including the New York Daily News, right away painted him as though he were the perpetrator. "He [Caughman] has 11 prior arrests, including for marijuana, assault, resisting arrest and menacing." The New York Post, not to be outdone, went even further. After telling its readers how Caughman managed to walk a block after being stabbed and made it into a police precinct for help—the Post continues: "Police sources said the career criminal was refusing to talk to police about the incident and acting combative before his death." Think about the fact that some fucking cop would tell that to reporters. And what fucking reporter would think that belonged in the article? This "career criminal" who was "refusing to talk to the police" and "acting combative" was about to take his last breath after being stabbed with a sword by a disgusting white racist! And what impact was that supposed to have except to diminish the outrage at this terrorist, cold-blooded murder by diminishing the value of Timothy Caughman's life, and therefore his death?
The Daily News writers weren't finished: "It wasn't the first time a bloodthirsty maniac traveled to New York to execute the innocent," they wrote. And then they proceeded to equate the murder of a Black man by a white supremacist with the killing of two cops by a Black man in December 2014. A piece by Fairness and Accuracy in Reporting that examined the coverage of Timothy Caughman's murder drew this conclusion:
This is a bizarre journalistic choice that appears to be some kind of attempt at "balancing" the coverage, suggesting that there could be a bit of score-settling going on: Yes, this black man was senselessly murdered by a white supremacist, but some other black guy killed cops two-and-a-half years ago, so....
Trump's regime has Timothy Caughman's blood on their hands
Donald Trump and his whole regime have Timothy Caughman's blood on their hands. For many racist monsters, Trump's "Make America GREAT Again" slogan has been a "dog whistle" that really means "Make America WHITE Again." It's not surprising that, according to Al Jazeera, there has been a 50 percent rise in hate crimes in New York City in the last year. Creatures are crawling out from under rocks to target their venom at immigrants, Muslim and Jewish people, Black people, women, and the LGBTQ community—emboldened by a fascist regime that glorifies everything from America's white past. One month earlier, a white gunman in a bar in Kansas shot and killed a man from India, Srinivas Kuchibhotla, and two others, after shouting "get out of my country." And two weeks ago, a man in Seattle shot Deep Rai, a Sikh man, saying "go back to your own country." Mosques and Jewish community centers have also been attacked and defaced.
Trump, the leader of this fascist regime, has not spoken—or tweeted—a single word about Timothy Caughman's murder by a white supremacist. He sent prayers and condolences via Twitter to the family and friends of Kurt Cochran, an American killed in a terrorist rampage in London. Not saying a word about Timothy Caughman wasn't just insulting, it was yet another message to his base, stoking violent terror against Black people.
One more reason, one more loud alarm signaling the urgency of driving out the Trump/Pence regime.
Volunteers Needed... for revcom.us and Revolution
If you like this article, subscribe, donate to and sustain Revolution newspaper.