From A World to Win News Service
Spanish Lifeguards: When Saving Lives Becomes an Illegal Political Act
April 10, 2017 | Revolution Newspaper | revcom.us
April 7, 2017. A World to Win News Service. Some Spanish lifeguards once patrolled a pristine Mediterranean beach not far from Barcelona. But simply sitting and watching the television news of people drowning a mere 15 metres from the shores of Greece seemed outrageous and unacceptable to them when these deaths were preventable. So in September 2015 they decided to act and set off for the Greek island of Lesbos. Initially swim fins and wet suits were their only tools to save lives.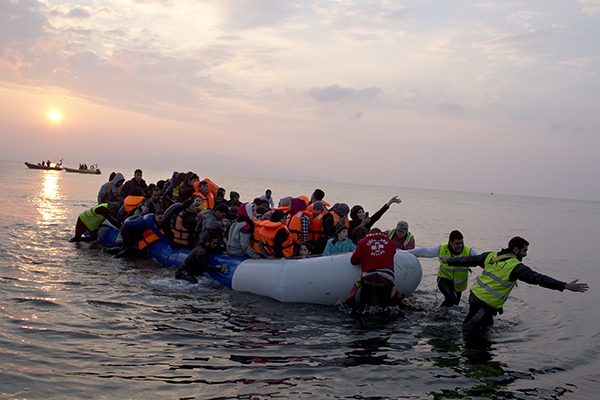 Some of the many volunteers who helped migrants and refugees at the northeastern Greek island of Lesbos, after crossing the Aegean sea, one year ago in March 2016. (AP photo)
They were joined by other lifeguards from various countries in Europe and worked alongside Greek fishermen to provide medical care and basic necessities to those they were able to save. But then Europe's governments began to take new steps to create a fortress Europe to keep out refugees fleeing the misery and war that they themselves helped to create. A clampdown began in Greece.
In January 2016, two lifeguards from Denmark and three firefighters from Spain were arrested in a harassment campaign launched by the Greek authorities against the many volunteers in Lesbos. "A preliminary investigation has been opened," a coastguard spokeswoman said, adding that the suspects were likely to be charged with "attempting to facilitate the entry of illegal migrants." The charge of people-smuggling can lead to ten years in prison.
Released after a few days in jail, the accused lifeguards said they had been treated like "terrorists" and held in a small, filthy cell. Other lifeguards were arrested and briefly held on bogus charges of stealing life jackets left behind by refugees. They had intended to use the life jackets as bedding. The police regularly issued parking tickets for the lifeguards' vehicles, which they'd parked while out trying to save people.
As Europe closed off the Turkey/Greece route and shut down search and rescue operations, exacerbating what was already a human catastrophe for migrants fleeing war and terror in their homelands, the Spanish lifeguards realized they needed to expand their rescue abilities. They shifted their focus to the coastline off Libya, where nightmarish conditions have created a surge in the flow of migrants. They set up a non-profit organization called Proactiva Open Arms and received generous contributions from individual donors. An Italian entrepreneur even donated his 30-metre luxury sailing yacht, the Astral, which was quickly refitted for life-saving.
On one occasion, working frantically from dawn to dusk, the Astral crew pulled overcrowded rubber dinghies and a leaky wooden boat crammed with hundreds of people to a port in Italy, saving 1,000 people fleeing oppression, including children and their parents. Four pregnant women gave birth while being towed to the port. The crew recounted poignant moments as those who survived tiptoed delicately over the lifeless bodies of those who did not. (October 5, 2016, Dailymail.co.uk)
According to UN spokesperson William Spindler, the number of people fleeing across the Mediterranean decreased significantly last year (1,015,078 in 2015, and 327,800 from January to October 2016). However, the death rate spiralled from 1 in 269 refugees in 2015 to 1 in 88 in 2016. On the sea journey trek between Libya and Italy, the rate climbed to one death for every 47 survivors. The Libya/Italy route is particularly perilous. There is a deliberate lack of robust search and rescue mechanisms from European governments, and people smugglers are using cheap inflatable rafts that sometimes don't last the length of the journey, or wooden boats crammed with people and susceptible to capsizing in the waves.
Despite the small size of the Astral rescue ship and the handful of full-time organizers and occasional volunteers, these heroic lifeguards are contributing to some of the most important humanitarian work in the Mediterranean alongside other NGOs like SeaWatch, Médecins Sans Frontières, and SOS Méditerranée. They have saved more than 140,000 people and continue their crucial work on one of the most dangerous paths to Europe. Their mission: "We do not want to lose one more life to the sea, neither do we want to allow the sea to silence the injustices that happen there."
But the drowning of thousands of people at sea is exactly what the European governments are counting on to prevent the arrival of these victims of the rapacious, unjust workings of the capitalist-imperialist system. Fabrice Leggeri, head of Frontex (the agency in charge of the European Union's external borders), blasted NGO rescue operations, claiming that saving lives is a "pull factor" attracting more people to Europe. He accused the NGOs of giving priority to rescue operations instead of cooperating with police against migrants. Coming from a police agency, this was a threat. Médecins Sans Frontières labelled the charges "extremely serious and damaging", stating that following this directive would mean letting people drown. (February 21 and April 5, 2017, TheGuardian.com) Saving lives means going up against these governments and, more, putting an end to the system that has produced and thrives on the conditions so many people all over the world find intolerable.
On March 17, 2017, A World to Win News Service (AWTWNS) announced its transformation into a more thorough-going tool for revolution based on Bob Avakian's new synthesis of communism. Read its "Editorial: Introducing a transformed AWTWNS" here.
Volunteers Needed... for revcom.us and Revolution
If you like this article, subscribe, donate to and sustain Revolution newspaper.