As the Planet Burns and Trump Fans the Flames:
People March in DC, Across the U.S. and Around the World to Demand Action on Climate Change
Updated April 30, 2017 | Revolution Newspaper | revcom.us

(Photo: Twitter/@mmpadellan)
As climate change confronts humanity with the looming danger of global environmental catastrophe, more than 150,000 took part in the April 29 People's Climate March in Washington, DC. And there were more than 300 "sister marches" across the U.S., from Chicago, Seattle, Los Angeles, New York and other larger cities to smaller communities like Kalama, Washington, and Ft. Myers, Florida. People marched in different countries across the globe, from Rio de Janeiro in Brazil, to Amsterdam in the Netherlands, Manila in the Philippines and many other countries. This was a week after the March for Science, when tens of thousands demonstrated in defense of science in DC, and hundreds of thousands in over 600 other locations throughout the U.S. and across the world.
On April 29, a broad range of people, of different ages and nationalities, marched in DC—from environmental activists to indigenous groups, unions, scientists, students, and many others. Actor/musician Eric Balfour tweeted: "RT if you are as proud as me of all the people standing up against #Trump and the #GOP. We won't let them destroy our planet." People carried all kinds of signs, often home-made—but among the most ubiquitous were "The oceans are rising and so are we!" and "There is no Planet B."
The threat of climate change was already becoming increasingly clear before the Trump election. In its first 100 days in the White House, his regime has put the foot on the gas pedal, further accelerating the climate crisis. Just in the days before the march, Trump signed an order aiming to expand offshore oil drilling in the Arctic and Atlantic Oceans, and the regime wiped almost all information about climate change from the Environmental Protection Agency website. The climate crisis is having devastating effects right now, especially in the poorest regions of the world—tens of millions driven from their homes because of extreme drought and other effects of climate change. Coral reefs and other ecosystems have already suffered enormous and even irreversible destruction. Even greater catastrophe, on a planetary level, is in store if the current trends continue. And the Trump/Pence regime is making its attacks on environmental protections and climate scientists one of the key ways they are asserting their power and rallying their fascist social base.
In the face of this, the resistance of the people is righteous and necessary. At the same time, the reality is that we are up against a fascist regime that is moving to consolidate its hold on power, not in a straight line but nevertheless very quickly and with reactionary determination. If they are allowed to consolidate power, it means unimaginable horrors for humanity and the planet we live on. That's why the message brought to the climate march by people from Refuse Fascism is so crucial: NO! In the Name of Humanity, We REFUSE to Accept a Fascist America! Drive Out the Trump/Pence Regime!
There is an urgent need for the struggle of the people as manifested in the People's Climate March—and in the Women's March, the protests against the Muslim ban and immigration raids, the March for Science and other actions—to continue... to spread, become more determined, and more sharply targeted at the Trump/Pence fascist regime.
See also:
The danger of global environmental disaster due to climate change has become clearer and clearer in recent years. Then came the Trump/Pence regime—and in their first 100 days, they've put this rush toward environmental catastrophe into overdrive.
Climate change is already having devastating impact on the natural world and people's lives. Arctic ice and glaciers are melting at an accelerating pace, contributing to rising sea levels. Coral reefs—home to an incredible variety of sea life—are dying. Extreme weather—record-high temperatures, longer-lasting drought, more powerful storms—are forcing tens of millions out of their homes to become "climate refugees."
There is overwhelming consensus among the world's scientists, reached through decades of careful research, that climate change caused by human activity is real—and that increased levels in the atmosphere of greenhouse gases (like carbon dioxide) produced by the burning of fossil fuels is causing rising global temperatures, which in turn have all kinds of effects that threaten life on earth. An environmental emergency looms over humanity and the planet as a whole.
In this situation, a regime of climate change deniers and anti-science lunatics now heads up the world's top economic and military power—with Trump, who has called climate change a "hoax," at the lead.

A Refuse Fascism contingent of about 150 people joined several thousand demonstrators at the People's Climate March in Wilmington (South Los Angeles, near Long Beach)—a mostly Latino community facing heavy pollution from the oil refineries. People in the march—retired people, environmentalists, people who were attending their first march ever, and people involved in local struggles around air and water quality—were outraged by the Trump/Pence regime's denial of climate change and disastrous environmental policies and searching for answers. We met students. There were 250 NO! signs in the march, calling for driving out the Trump/Pence regime. The Refuse Fascism contingent included 30 middle school students, part of a student environmental club that represents middle schools throughout LA County, as well as members of nurses unions and others. Their chants included "Danger, Danger, Fascists in the White House—It's up to us to Drive Them Out!" and "There is no Planet B: Oust the Trump Regime!"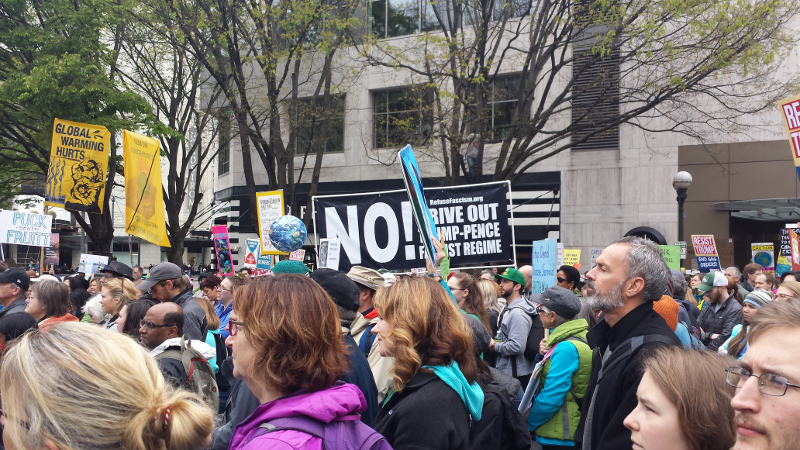 Seattle (Photo: Special to revcom.us)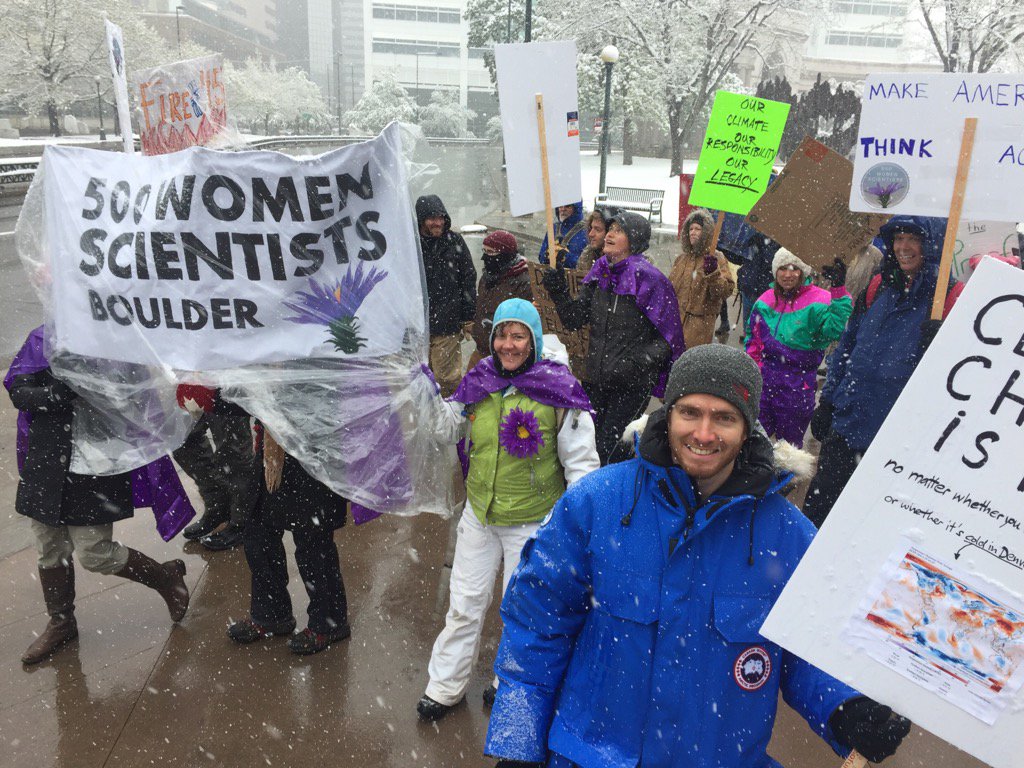 Boulder, Colorado (Photo: Twitter/@EatTheCrust)

Washington, DC (Photo: Twitter/@djuancoleon)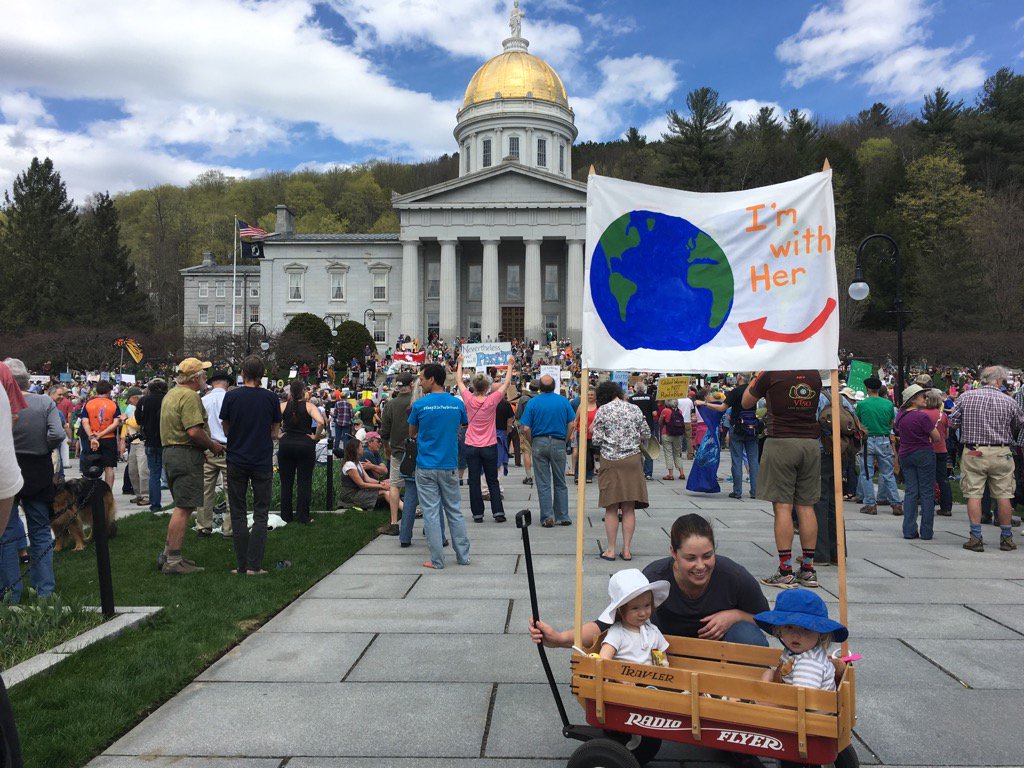 Montpelier, Vermont (Photo: Twitter/@NFlourish)

Manila, Philippines (Photo: Twitter/@jennytuazn)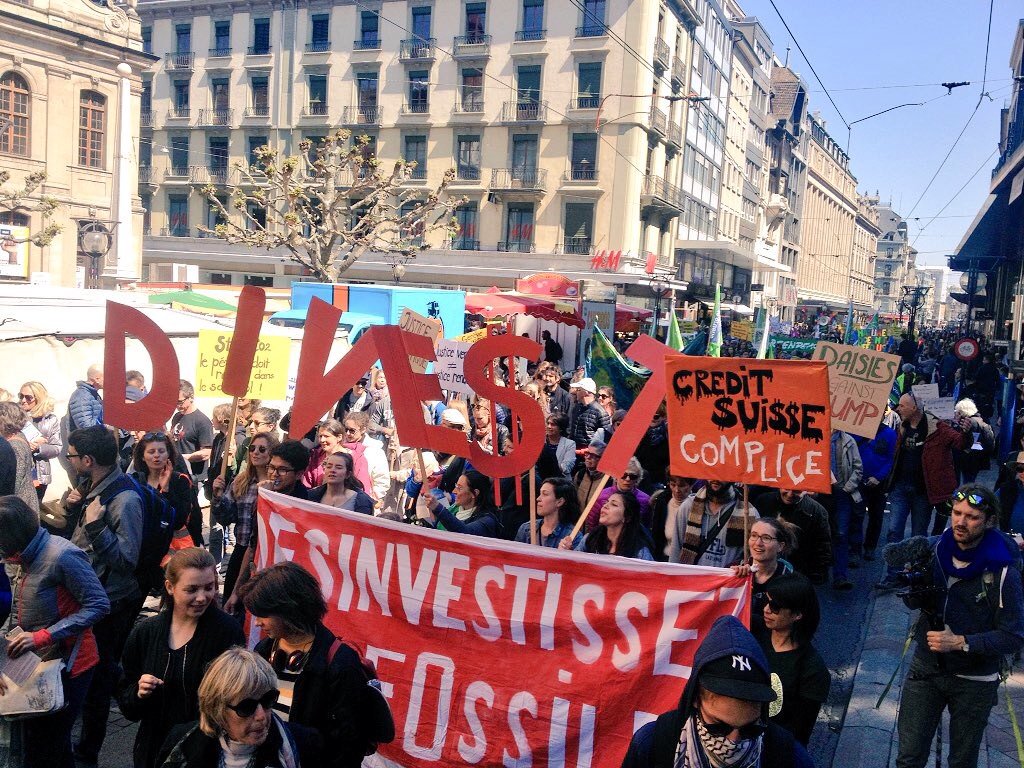 Geneva, Switzerland (Photo: Twitter/@as_trujillo)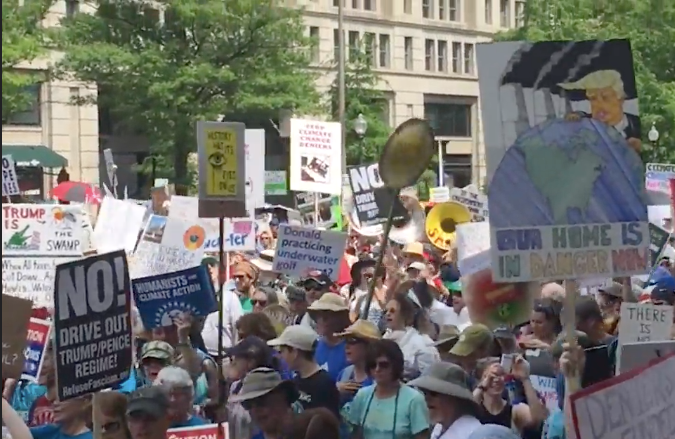 Washington DC.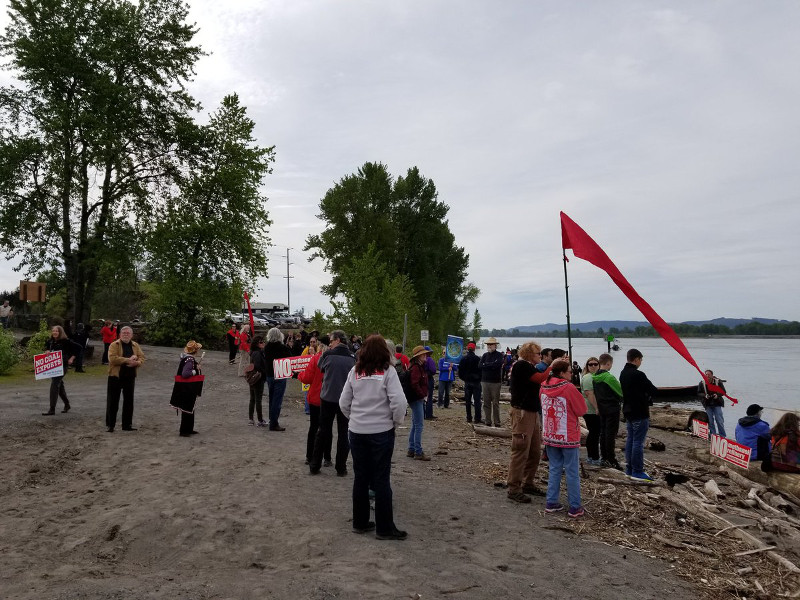 Kalama, Washington (Photo: Twitter/@NakMakFeegle)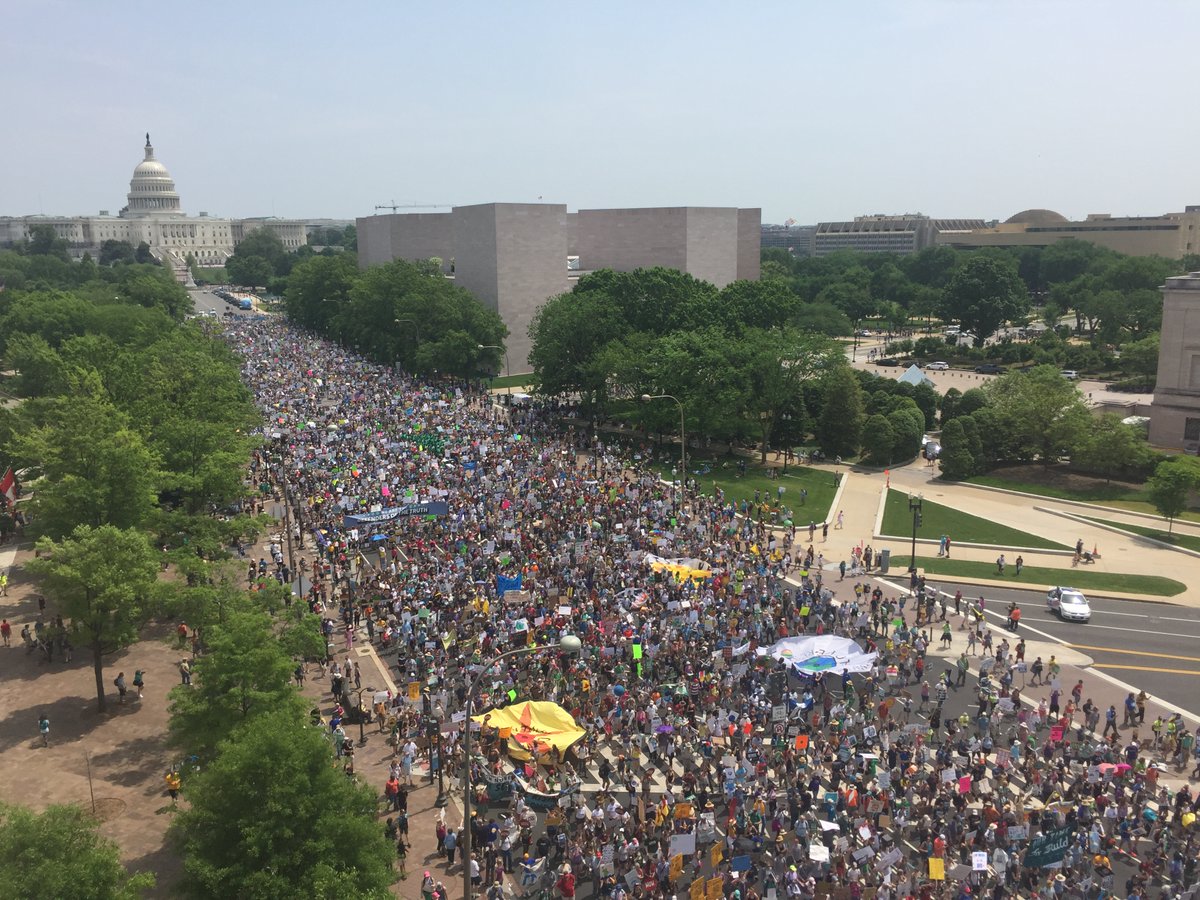 People's Climate March, Washington DC, April 29. (Photo: Twitter/@SierraClub)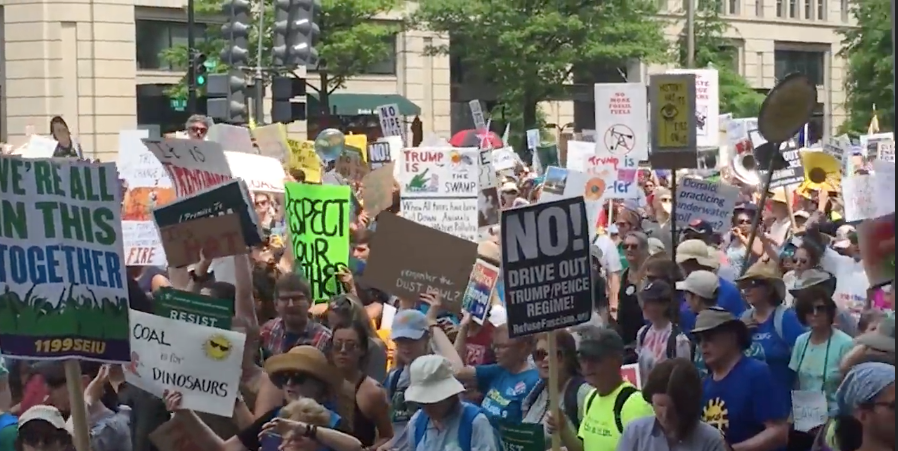 Washington, DC.
#ClimateMarchDC #NoPlanetB #NoFascistUSA #Bastaya pic.twitter.com/SMY29s2TPa

— #NoFascistUSA (@RefuseFascism) April 29, 2017
Refuse Fascism at the People's Climate March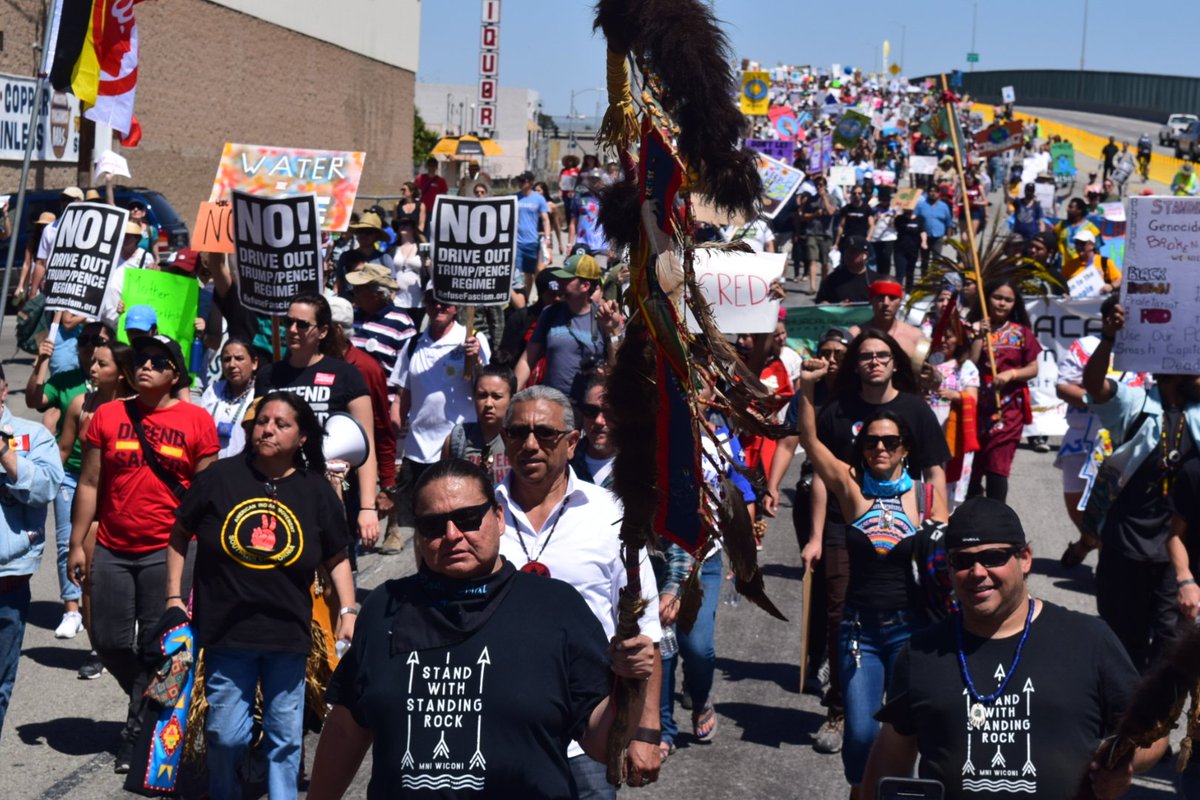 Los Angeles (Photo: Twitter/@Fightfor15LA)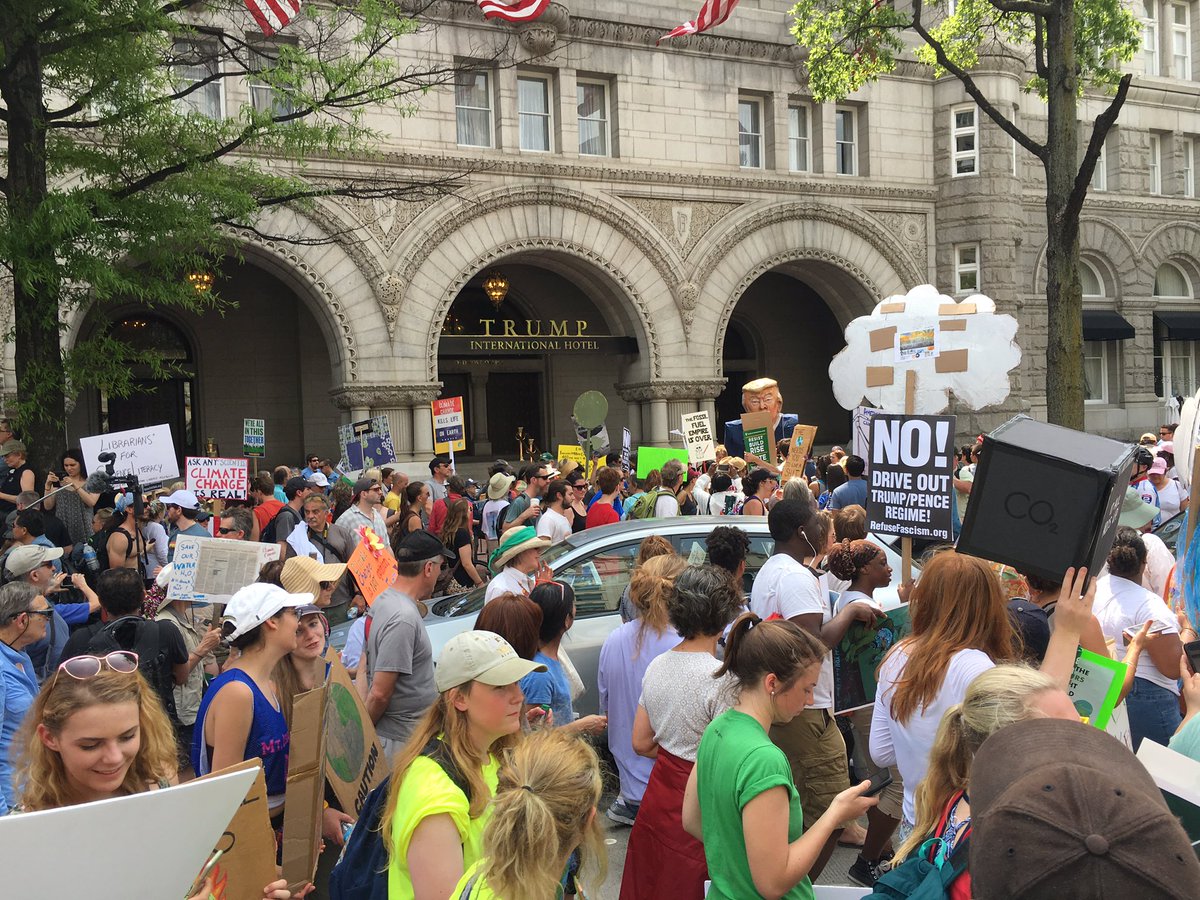 Trump Hotel, Washington DC. (Photo:Twitter/@TheYoungTurks)
#ClimateMarch at the Federal Plaza in Chicagopic.twitter.com/MNI6jnCMgx

— Resistance🇺🇸Angel (@AngelinaSnow007) April 29, 2017
Chicago, Federal Plaza.
People's #ClimateMarch in #Austin!!! pic.twitter.com/zjHJRtiEn5

— Stacy Guidry (@Stacy_Guidry) April 29, 2017
3,000 people from Austin and surrounding areas took part in the march in this city. Refuse Fascism Austin reported that many people approached their table to learn more, find out how to get involved, and voice their fears and concerns. Hundreds of marchers put on Refuse Fascism's NO! stickers and dozens carried NO! signs.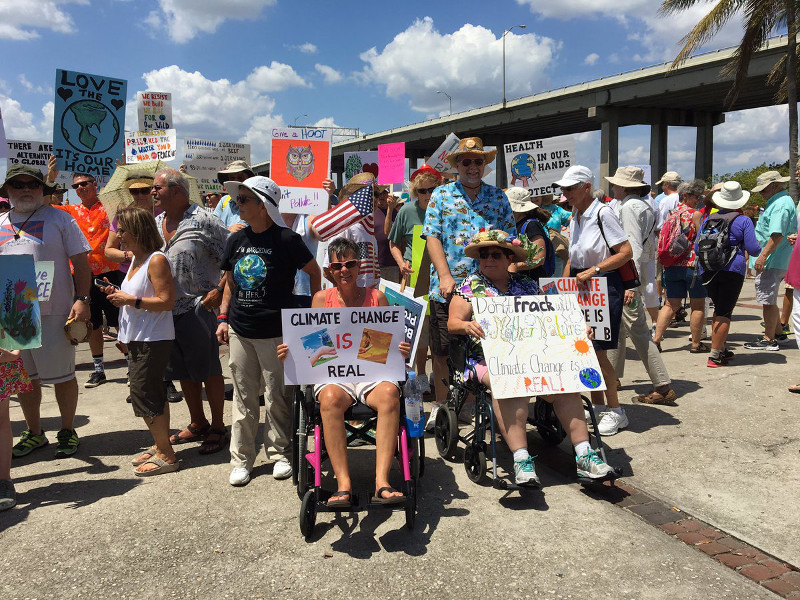 Ft. Myers, Florida (Photo: Twitter/@2FLgals)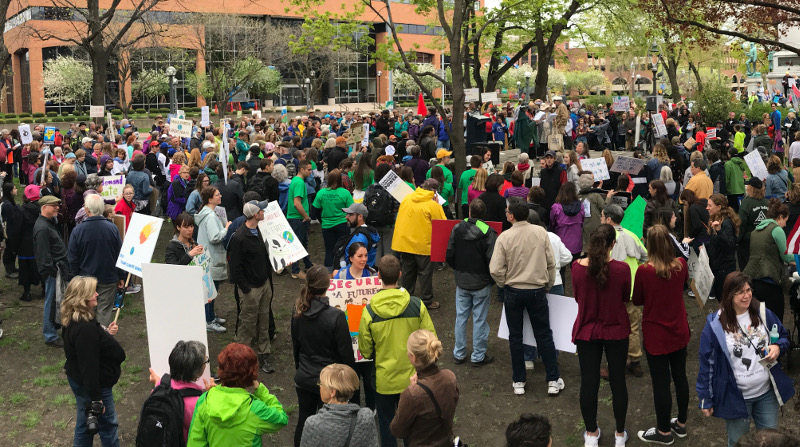 Rochester, NY (Photo: Allen Grieco)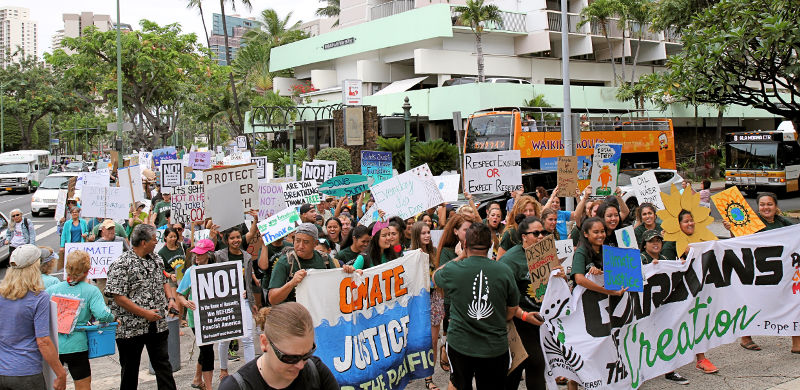 Hundreds gathered near the entrance to the busy tourist district in Honolulu, Hawaii, for the march. Students from Pacific Island nations joined climate activists, many coming from faith communities, to demand action to save the planet. Speakers spoke to the urgency of protecting the planet from consumerism, corporate greed, and capitalism. The World Can't Wait-Hawai`i spokesperson challenged the crowd to join the larger struggle to drive out the Trump/Pence regime. A Hawaiian nationalist challenged the crowd to support justice for indigenous peoples. An 11-year-old said people are being forced to emigrate from his island nation of Tokelau due to the rising sea level. As protesters marched the length of the world-famous Waikiki beach, tourists clapped, photographed and cheered.
#FloodTrump protest surges like the rising seas at #Trump Hotel – resisting his oily agenda of hate & #climate denial! #ClimateMarch pic.twitter.com/qigkJ6976X

— Collin Rees (@collinrees) April 29, 2017
Trump Hotel, Washington DC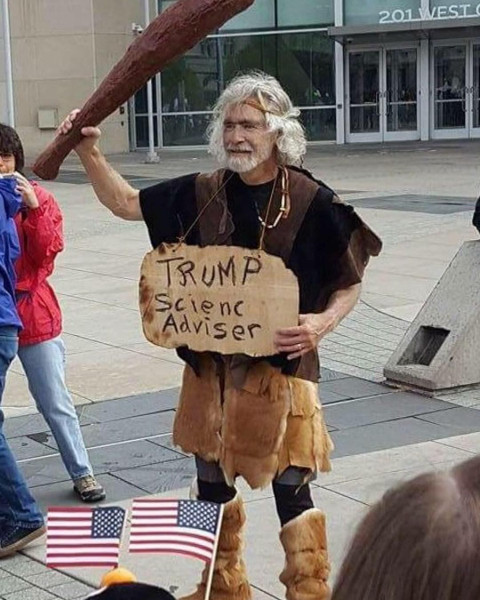 Bend, Oregon (Photo:Instagram/Deb_Leon)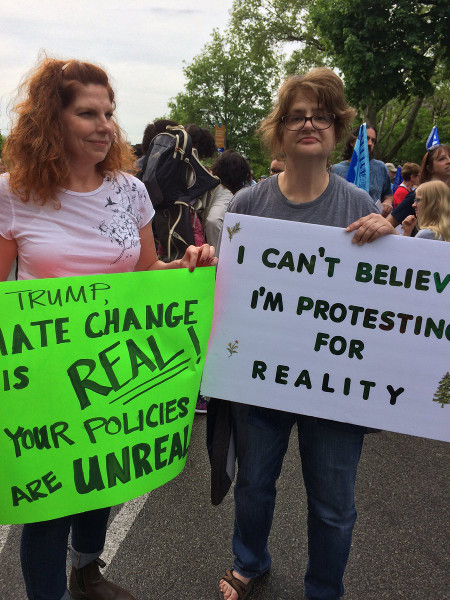 Pittsburgh (Photo:Twitter/@RevJanetEdwards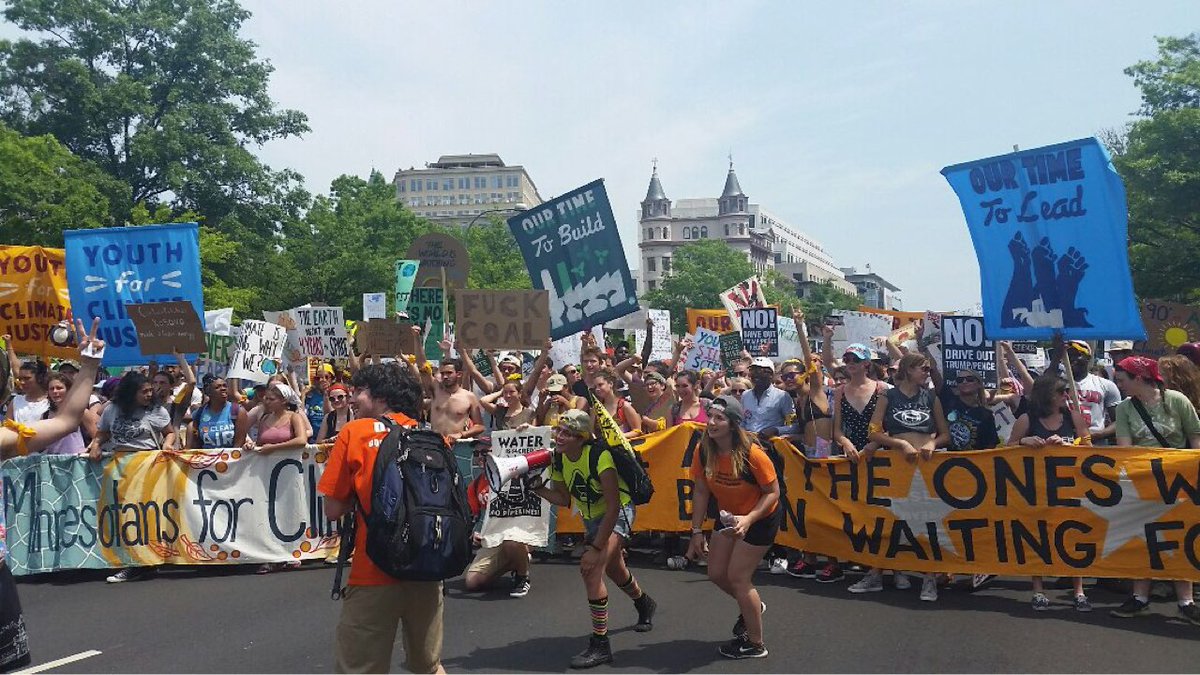 Washington, DC (Photo: Twitter/@Truthdig)

Paris, France (Photo: Twitter/@franifio)
Volunteers Needed... for revcom.us and Revolution
If you like this article, subscribe, donate to and sustain Revolution newspaper.