As Puerto Rico Boils in Crisis...
Unrepentant Freedom Fighter Honored at Puerto Rican Day Parade
May 31, 2017 | Revolution Newspaper | revcom.us
On June 11, the 60th National Puerto Rican Day Parade will step off on Manhattan's Fifth Avenue—and at the head of the parade will be Oscar López Rivera, a fighter for Puerto Rican national liberation who was recently released after 36 years in prison. López Rivera and the parade will be greeted by over a million spectators—Puerto Ricans and others who celebrate the rich culture and determined spirit of Puerto Rican people which has been forged over centuries in the face of vicious colonial oppression, at the hands of first Spain and then the United States.
In fact, even as people parade in New York City, Puerto Rico is erupting in resistance to the financial catastrophe imposed on the island as a result of U.S. colonial domination. (See "A History of Super-Exploitation and Vicious Domination: Bloodsucking, Blackmail, and Bullshit: The U.S. Forces Puerto Rico to the Wall" to understand the true roots, causes, and solution to this crisis.) Students have occupied the University of Puerto Rico, with hundreds sleeping in tents and guarding the gates on campus. Thousands of workers and others have struck and taken to the streets, sometimes clashing with police. These actions are a response to the closing of 190 schools, to the university having its government funding cut in half, to hospitals having their electricity cut off, to workers' and retirees' pensions and wages being slashed. This crisis is driving tens of thousands, especially educated people, to flee their homeland just to survive.
While the origins of this crisis begin with the colonial conquest of Puerto Rico, and while the Obama administration played its part in digging imperialism's claws deeper into Puerto Rico, things have intensified under Trump. Trump rails against a so-called "bailout" of Puerto Rico—referring to any measures to prevent a humanitarian disaster there. After Democrats claimed that they had squeezed out $295 million to sustain Medicaid payments for Puerto Rico until the end of the year, Trump's budget director, Mick Mulvaney, bragged that he had blocked this: "You had the Democrats crying out that they got $295 million for Puerto Rico.... We wouldn't give it to them."
So with all this, it is quite fitting and righteous that the organizers of the National Puerto Rican Day Parade designated Oscar López Rivera as "National Freedom Hero" and asked him to be at the head of the parade. López Rivera, 74 years old, had been held by the U.S. government as a political prisoner for nearly half his life under torturous conditions, for the "crime" of fighting for the liberation of Puerto Rico from U.S. domination. He was a leader of the Fuerzas Armadas de Liberación Nacional (FALN), which was part of a powerful struggle demanding independence and an end to the oppression of Puerto Ricans in the U.S. that erupted in the late '60s and the 1970s. The U.S. hunted down and arrested many FALN members, charging them with "seditious conspiracy" to overthrow the U.S. government. Rivera stood on revolutionary principle in the face of this. He denounced the trial as "a kangaroo court," declaring that "Puerto Rico is a colony by U.S. military conquest. Its people live under military rule, under genocide."
Sentenced to 70 years in jail, Rivera courageously turned down an offer of pardon in 1999 because he felt that the conditions attached to it amounted to renouncing the independence struggle. After another 17 years in jail, his sentence was commuted by Obama, and he was released in January.
The U.S. government labels López Rivera a "terrorist," saying that he assisted in armed actions in the U.S. López Rivera denied the specific charges, but righteously insisted that: "We are a colonized people, and according to international law, that says all colonized people have a right to struggle for its independence using all methods within reach, including force. That is a right."
Parade organizers have come under heavy attack for inviting López Rivera. Major corporate sponsors such as Goya foods, Coca-Cola, AT&T, the New York Yankees and the New York Daily News have canceled; politicians like New York Governor Andrew Cuomo and police and firefighters' organizations have announced they will not march.
The organizers are holding firm in the face of this, and it is clear that they have broad support among Puerto Rican people. One reflection of this is that 35 NYC Council members sent them a letter saying that "Oscar López Rivera represents the voice, tenacity and resolve of Puerto Rico and its people. As countless families continue to struggle in Puerto Rico's current fiscal crisis, Oscar is a reminder of the hope that has always anchored the Island.... Oscar's presence will lift people's spirits and bring attention to the challenges that must be immediately addressed on the Island."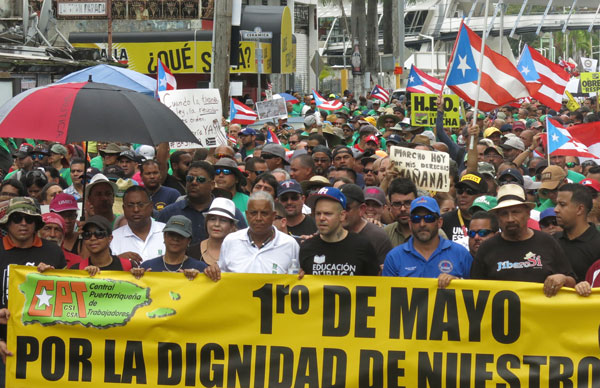 Students have occupied the University of Puerto Rico, with hundreds sleeping in tents and guarding the gates on campus. Thousands of workers and others have struck and taken to the streets, sometimes clashing with police.   Above, May 1st, 2017 march in San Juan, Puerto Rico.
Volunteers Needed... for revcom.us and Revolution
If you like this article, subscribe, donate to and sustain Revolution newspaper.