From the Front Lines With the Revolution Club—Chicago
The Revolution Club is on a mission to make a major advance in organizing forces for an actual revolution, impacting all of society by people getting out of killing each other, changing what they are living and fighting for, taking up the leadership of Bob Avakian, and getting organized for a real revolution. The Revolution Club has issued a proclamation declaring: This Summer in Chicago Will NOT Be a Bloodbath of Killing Each Other; This Summer Will NOT Be Free Rein for Police to Murder and Terrorize Black and Brown People; This Summer We Get Organized for Revolution to Emancipate All of Humanity.
To do this, the club is out there most every day, doing all kinds of different things, trying to learn as much as we can so we can transform more, so we can learn more and transform better, so we can learn still more... and on and on... till we make a breakthrough... and then go further still. We're struggling with people's ideas, straight-up... and we're leading them to struggle against the enemy. We're fighting to get to a situation where millions can be led to go for revolution, all-out, with a real chance to win.
At Summer's end: WE ARE NOT GOING TO BACK OFF OUR MISSION. Donations needed more than ever as the struggle in Chicago, this crucial concentration point between reaction and revolution, continues and intensifies.
ON TO $50,000!
---
November 2017
November 3, 2017
Every day the urgent need cries out for what Refuse Fascism has called for on November 4: massive sustained nonviolent mobilizations beginning with thousands, growing and continuing until the Trump/Pence Regime is driven from power. The Revolution Club, Chicago, has been going all-out to make November 4 a powerful beginning, and we just went to deliver a banner to Trump Tower that had been signed by youth from Chicago high schools and people in the South Side neighborhoods. This banner reads "Hey Trump, From those you like to Demonize: You and Your GANG in the White House Are the REAL Thugs and THREAT to Humanity. In The Name of Humanity We Will DRIVE YOUR ASS OUT!"... Read more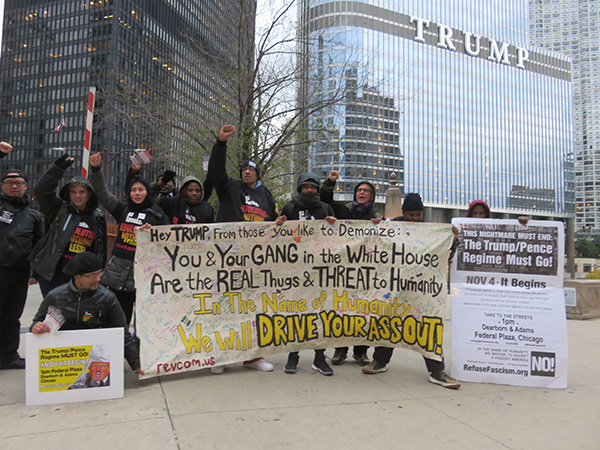 Updated October 22, 2017
October 27, 2017
October 30, 2017
Over the past week, the Revolution Club has been out at high schools, colleges, hubs, neighborhoods, protests and events... to reach thousands of people with the message: This Nightmare Must End, The Trump/Pence Regime MUST GO! Nov 4: It Begins, and to organize people to become organizers. The more we have grounded ourselves in the REALITY of the urgency to drive out this regime—the danger for humanity it poses and the potential powerful upsurge of millions who want to see it go—the more we have been able to compellingly make the case to others and call people forward to take this up themselves. We have put straight forward that America was never great and the Revolution Club is working for revolution to overthrow this whole system, and right now we have to get rid of the Trump/Pence Regime. We have called on people to step forward to help get the word out to millions NOW, and almost everywhere we've been, people have done that. We've worked to give people a vision of how the regime can be driven from power and struggled with people where necessary about acting in the interests of humanity and how people like themselves acting now can be felt throughout society and draw forward thousands and millions more. And we've worked to bring forward people in the face of and in response to repression on various levels. As we've gone along, we've more and more promoted the new talk and Q & A from BA, hosting some collective showings and doing some showings with individuals.
At a South Side high school where police attempted to intimidate students
Watching the New Bob Avakian Talk with High School Students and Getting Organized for Nov 4
Transportation Hub Becomes Organizing Center for Nov 4
---
Late Summer Diary - September 28, 2017
Fighting the Power, and Transforming the People, for Revolution... In the Heart of Chicago
The Revolution Club keeps fighting to bring forward something new and revolutionary in Chicago. We're still learning, still fighting... and want to share some scenes of that.
A month ago, fresh off the heels of being on the frontlines in Charlottesville, Carl Dix gave a talk on "Trump's Violent Reassertion of White Supremacy, the Threats of Genocide, and What Must Be Done NOW!," providing important leadership. The 50 or so people there really felt the urgency of the current situation and engaged his talk in a serious way. Almost nobody left until the place we held it at began turning out the lights.
Off of his talk, the Revolution Club hosted a well-attended discussion of the statement from the Central Committee of the Revolutionary Communist Party, "HOW WE CAN WIN, How We Can Really Make Revolution." People were getting clearer on what is meant by an actual revolution. They were seriously grappling with what would go into actually being able to defeat a very powerful adversary in an all-out struggle for power, and what would be the right conditions to begin that all out struggle.
Meanwhile, the Revolution Club was out in different neighborhoods, engaging with people in a mass way and one-on-one. We were leading people in struggle against the crimes of the system, organizing people into the revolution, and in some ways presenting as an alternate authority. In one neighborhood, we had a number of encounters leading people to post up and blow the whistles when police were stopping people for no reason. People in the neighborhood joined in and together with the Revolution Club did not back down until the police either backed off or left. In one instance, police got their revenge on the Revolution Club members by arresting three of them in front of our organizing center.
In a West Side neighborhood, we joined together to protest with the family of a teenager who had been killed by a vigilante fireman. In the wake of his funeral, where a preacher blamed him for his own death, the Revolution Club issued a polemic, "We Say: BULLSHIT!", boldly taking on the way religious thinking chains people down, and have begun getting it out there and in other neighborhoods.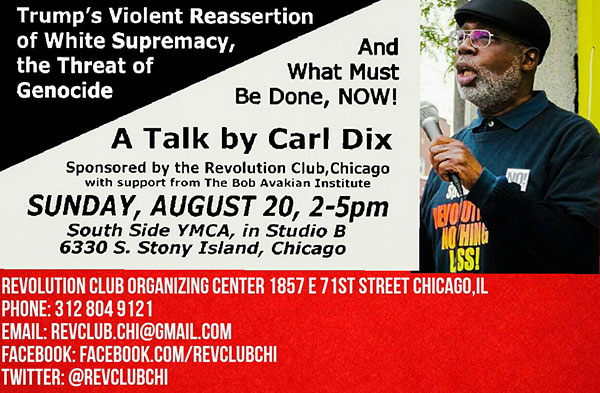 Joey Johnson and the RNC16 at the Republican Convention,
July 20, 2016. Photo: special to revcom.us
 "Underline that...": Taking Comrade Niko's Statement to the People
The Revolution Club took up the fight to defend the RNC 16, the Revcoms who burned the American flag when Trump was nominated at the Republican National Convention in July 2016 and were now facing prison. The week before the felony charges on two of the RNC 16, Niko and Bo, were dropped (VICTORY!), we hosted a program at the Revolution Club Organizing Center that featured a powerful statement from Comrade Niko. Niko was one of the first volunteers to come to Chicago to take up the Revolution Club's mission to bring forward forces for revolution who are right now being killed off by police or killing each other. His statement addressed big questions about what is worth sacrificing for, how people who face prison or death all the time for bullshit need to be living for revolution, and that he has seen that the world doesn't have to be this way because of Bob Avakian. This statement was both very heartfelt and substantial.
Niko's statement became an important tool in leading people to start becoming leaders for this revolution. We read this with people to focus up ideological questions, and people working with the club took it up themselves to use with others. It was posted up in different neighborhoods. This became one way people took up working to bring people to the showing of the DVD of Bob Avakian's talk BA Speaks: Revolution—Nothing Less! hosted by the Revolution Club.
One example of this was talking with a man who has run with the club on and off about how to bring the revolution to people. He said a common response he gets is, "what's in it for me?" or "why should I risk something for this?" We happened to be right next to a light pole with the statement from Comrade Niko taped up. We read a portion of it that really gets at those questions, and proposed he read it with others. He said "this is really good. But..." then he went on to say a lot of people have a way of talking about things where they don't really listen. That people will read that, dissect it, and take from it what they want and not really hear what's being said. He said you need to be able to cut through that and get people's attention.
We looked back at Niko's statement on the pole and read, "I see there are lots of people, a lot of Black youth, putting your life on the line for bullshit. Why can't you put your life on the line for something much more—emancipating humanity?" He said "Yes, that's what I'm talking about, that's it." Then he asked if we had a pen so we could underline that part. He said he talks to people in that spot often and would bring people over to the pole to show them the underlined part. We continued talking about why he needs to get into BA and watch the full showing of Revolution—Nothing Less!, and get other people to do that too. We looked back at the pole and pointed to another phrase from Niko, "I have this understanding from BA of how the world can be different, and to act on that understanding, to bring others forward...." He said, "underline that one too."
"OK, OK, let's do it!" Boldly Posing Another Way Than the Dog-Eat-Dog
We went to different neighborhoods getting the word out about the showing of the film BA Speaks :REVOLUTION—NOTHING LESS! and finding new ways to involve people in making revolution. At one corner, some of the guys caught up in the life talked with us about the revolution and about BA. One of them who was more serious said he couldn't come because he would have to cross into opposition territory. We said it was time to break down those boundaries, to put on Revolution—Nothing Less! T-shirts and walk together to where the film was being shown.
On the day of the film showing, five of us walked over to the corner in our T-shirts. We had a crew that was a combination of core Revolution Club members, a man who has started to run with the club, and two younger guys, one very new to the revolution. The three newer people all have had some involvement or connection with the gang life in other neighborhoods.
It took two tries to explain the significance of what we were doing. To have people crossing through these boundaries with the Revolution—Nothing Less! shirt on, coming to watch the BA Speaks DVD, would be taking a huge risk because of all the dog-eat-dog shit this system has them caught up in. But it would also be a huge advance in showing there's another way besides this dog eat dog shit. That what we are doing by going over there, in this way, is representing people getting out of that and into the revolution. That there's a way out of this system's madness, and a way to work today so people can actually connect up with the leadership we have for this revolution.
This second time the younger guy froze for a sec and had to shake himself loose. It was sinking in that he is from a different neighborhood. He spun around once and said out loud to himself "OK, OK, let's do it!"
When we got there, some of the people who had seemed more serious walked off to avoid us, one told us on the phone, "I gotta do me and make money." Some others stayed and tried to dismiss us, and the younger guys in the team were getting worked up because they thought because they weren't in their own area one of the guys was taunting to escalate a fight. But we stayed firm and the older guy on our team, who lives in another neighborhood, helped keep the younger guys focused on why we were there and why we needed to handle the situation in the way the revolution handles it, not being provoked into bullshit but challenging people to get out of the way this system wants us living and to get with the revolution.
We didn't accomplish our objective of getting this guy to come to hear BA Speaks. But there was something important here: Bringing together this grouping of people, giving everybody a sense of how what we're doing fits into making revolution, and together asserting revolutionary authority aiming to change people and not being bound by what people are stuck in. Even in this neighborhood where the club is more known, people looked at the revolution differently as we rolled through. This was because we had this force working together that really represented something different... and because we looked damn good in our Revolution Nothing Less !T-shirts.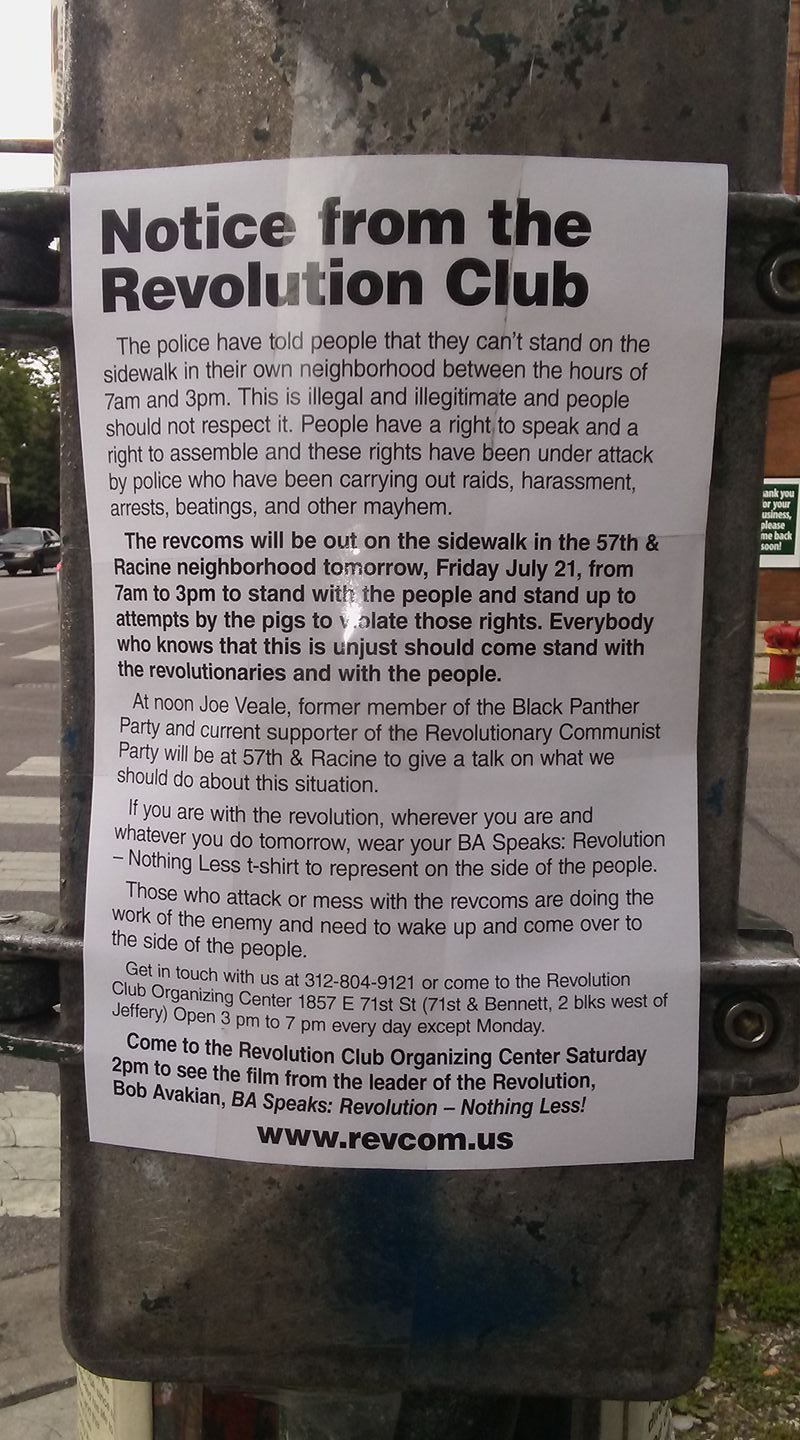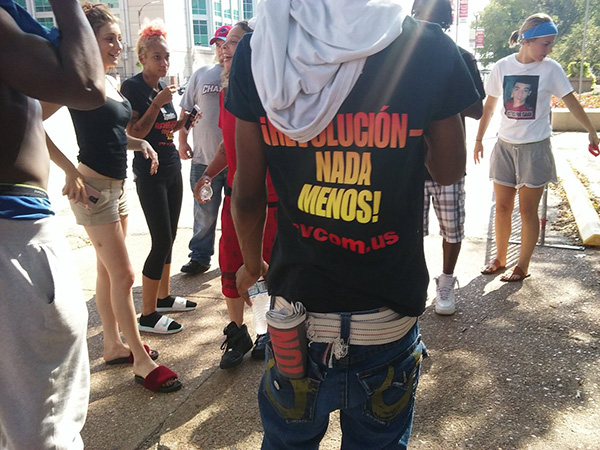 BA Speaks: Revolution—Nothing Less!
We did a lot in the short time since Charlottesville—including traveling two days to see the solar eclipse in southern Illinois, as well as stepping in to speak to the death of Kenneka Jenkins and everything that raised about how women are treated in this society. But not least, we decided we needed to screen the entire 6+hours of Bob Avakian's epic speech, Revolution-Nothing Less! We made this a key part of our work going out to people to get into this leader, what he has brought forward, what that has to do with how people can themselves become leaders for this revolution that humanity so urgently needs.
The MC kicked things off with a brief introduction of the film, of Bob Avakian, and announced, to loud applause, that BA will be speaking in person at UC Berkeley in April 2018. The film comes on, projected onto a screen and hooked up to a good sound system, and BA begins to speak. Then, people were in for the journey, the whole 6+ hours with only one ten-minute intermission. There was coffee, snacks, a light lunch, and no reason to be anywhere else. About 20 people came to see the film (in addition to the core Revolution Club organizers). Some watched all or most of the film, some watched an hour or two. It was noticeable how closely people were paying attention and listening. People who watched the whole thing were really engaged the whole time, literally sitting on the edges of their seats well into the last hour of the film.
One woman (who said she couldn't stay the entire time) commented (after she DID stay the entire time) that she really appreciated BA's honesty, telling people straight-up about what they are getting into and the risks involved in making revolution. One man we had just met the day before came right at the beginning, leaving after the first hour only to come back later with three more people who all came in and watched another hour of the film. A woman who had marched with the Revolution Club during the Bud Billiken parade asked how education would be handled in the New Socialist Republic of North America.
During the break, a woman was running some Black cultural nationalist stuff about how this wasn't for her, people just need to know themselves and know their history, and it seemed she was maybe fishing if she could pull anyone else away from being serious. But people actually knew why they had come so that didn't have much pull at this time. Later on, there was also a guy who came who had a more political nationalism he was arguing for, but he had to admit he agreed with a lot of what he heard from BA, and that "BA really does have a blueprint... But he's white!" Both of them responded differently to being challenged by what they saw from BA speaking, but also how the Revcoms, including Black Revcoms, took on nationalism, and with substance fought for the leadership we have in BA.
In building this we set out to make the showing of the film, and the leadership of Bob Avakian, a mass question in several neighborhoods and more broadly, even as we worked to get with many particular people about their role in coming and organizing other people to come. This fed into how seriously people looked at coming to this film showing, how seriously they took the need to get deeply into BA.
BA's talk, and the way people were organized to come hear it, had an effect on everyone, new and old. It was an important engagement which there is a solid basis to grow from, both in people joining the Revolution Club and taking responsibility for the revolution in a serious way, and in expanding out more widely with spreading the word of the leadership we have.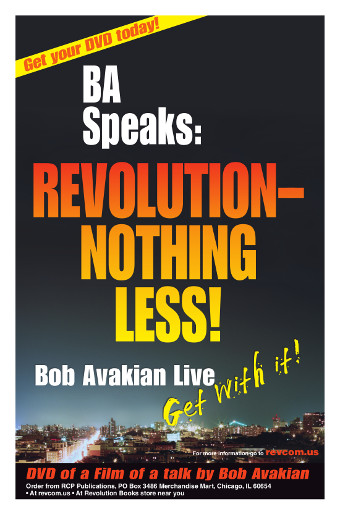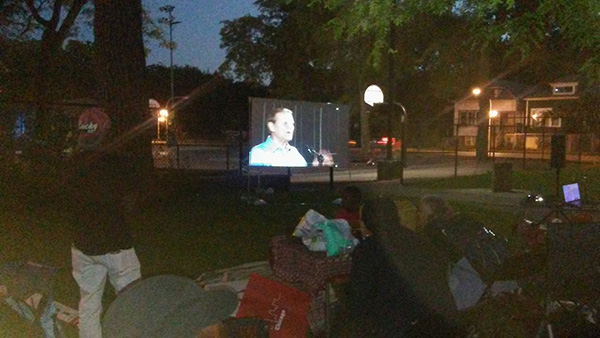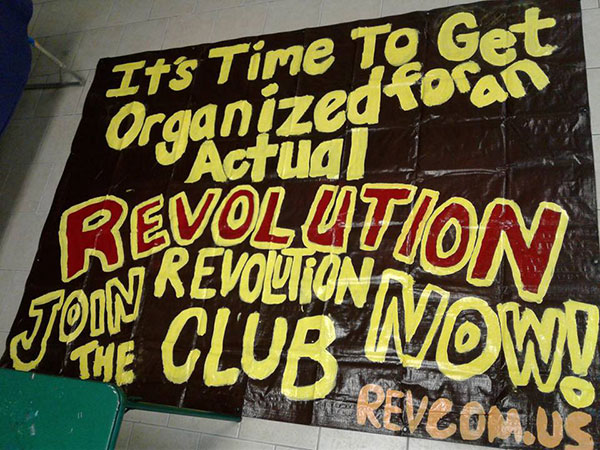 Drive Out Trump/Pence
We didn't accomplish all our aims for the summer. But we are learning as we fight, and we are getting ready to really rip this fall... especially around the November 4 date when "it begins"—thousands, leading to millions, in the street to drive out this fascist regime.
See you there!
---
August 2017
by Joe Veale | August 22, 2017
August 28, 2017
The Revolution Club, Chicago made posters about the Eclipse of 2017 to put up on walls in some South Side neighborhoods together with news of the revolution.
---
July 2017
---
June 2017
---
May 2017