From RefuseFascism.org
A Model For Us All: Dragged Out For Demanding Trump and Pence Must Go!
By Samantha Goldman | July 25, 2017 | Revolution Newspaper | revcom.us
On July 25th Trump held a fascist rally in Youngstown, Ohio. Several courageous individuals disrupted inside during the rally, parting the sea of red-hat-wearing thugs and puncturing through the xenophobia and racism. Three individuals held banners that read "Trump and Pence Must Go! Refusefascism.org" and chanted, "Humanity First! NOT America First!."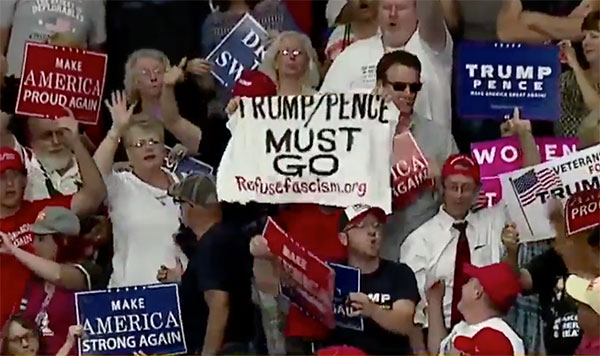 Brave resister raises banner "Trump/Pence must go" at July 25 Trump rally in Youngstown.
One of the participants in this action is an organizer with Refuse Fascism in Cleveland and the other two are members of Junto Unsilenced, a Columbus, OH based group that is committed to "fighting against the mendacity and fascism that has pervaded our government." One of the men, John, had the banner grabbed several times by modern-day Brown Shirts and was dragged out by police. He was unwavering and continued to stand up and proudly hold the banner. Video of his heroism went viral, providing hope and inspiration to thousands, and was picked up by many media sources putting the demand that Trump and Pence Must Go and refusefascism.org to millions.
I contacted John the next day during my car ride back from protesting Trump in Youngstown, since I wasn't able to meet him while I was there. I wanted him to know how important what he did was, that he was a hero, and also to discuss how we can spread this type of determined resistance as part of building a movement to drive out the Trump/Pence regime.
I think we have a lot to learn from John. For John, the act of standing up to this xenophobic, racist, fascist and all his shock troops was not a complex decision nor does he see it as a great sacrifice but something that he felt compelled to do for all of humanity.
He had heard about the Trump Rally and the local plans of the Democratic club counter-protest but, according to John, he "wanted to do something more productive." Rallying around healthcare didn't feel commensurate to what is needed when Trump whips up his fascist base six blocks away. So he started thinking about what else he could do to bring a "pro-humanity" message to this Trump rally. Then on Saturday he met Refuse Fascism organizers who traveled to Columbus to protest Vice President Mike Pence. They brainstormed about what they could do to intervene on the scale that the times call for. That's when the idea of and plans for disrupting were set into motion.
John shared with me that Junto Unsilenced regularly unites with others to ensure emergency responses when fascists have a public platform, so joining with Refuse Fascism to do this wasn't out of the ordinary. He has done sit-ins in a senator's office and put his body on the line before. That said, he hadn't done anything quite like this–going in the middle of a Trump rally, chanting and unfurling a banner. When we were discussing how he decided to go in he replied, "I had never had the chance to get that close before. We are always scheduling rapid response and this seemed like the next step." I asked him what inspired him. He was quick to give a one word reply "ADAPT" (a national disability rights advocacy organization that organizes direct actions). John explained that seeing, "people in wheelchairs putting their body on the line for their lives and the lives of others being carried out for refusing to leave was inspiring."
The outrage and disbelief that John feels towards the Trump regime felt close, even though we were now miles apart. "Trump is a moron. We shouldn't have a leader that is so ignorant. He is less educated than an 11-year-old. It is so outrageous he is doing campaign rallies. Completely unprecedented." To be honest, John didn't read the banner before he stuck it down his pants. He doesn't "make those kind of things" and trusted that the message would be "anti-fascist, anti-Trump, and pro-humanity."
He firmly believes that Trump and Pence must go: "It's all I think, it's all we should think." John started thinking about impeachment proceedings the minute Trump was elected and continues to believe that removing him from power is very possible. When I asked him what went through his mind, how he didn't give up or bend to those grabbing the banner or dragging him, he stated, "I knew what they were going to do. Try to do. I made up my mind. I was going to keep holding it up."
In John's voice there was pride and joy and a little exhaustion. He laughed a little when thinking about how far this has spread but steered the conversation away from his personal feelings. When I asked him about the chant, sharing how powerful I thought it was, that it broke through the toxic chauvinism and summed up so clearly what we are fighting for, he said, "Putting humanity first is the cornerstone of what my group is doing. This is a positive thing. I am pro-humanity and against all of his crap. I'm for equality, Black lives matter, and nobody being excluded. What Trump is doing is disgusting."
John is a humble man, a father who works from home. He doesn't see himself as the hero I do. Throughout our conversation he mentioned his fellow Junto Unsilenced member and the tremendous courage and determination she has. He believes he is in a unique position to travel and protest because of his flexible work schedule and his co-parenting relationship with his ex. He understands that not everybody can drop everything on a minute's notice and take the risks he has, but hopes more will. John believes everybody has a role to play even if you can only make phone calls or share things on Facebook. Even to start there it is a good thing. When we ended the phone call he was already thinking ahead of what is next and will be continuing to be collaborating with those in Refuse Fascism Cleveland in terms of spreading and acting on the demand Trump and Pence Must Go.
Volunteers Needed... for revcom.us and Revolution
If you like this article, subscribe, donate to and sustain Revolution newspaper.