Harvey Day 5: Massive Flooding; Poisonous Leaks: Curfews; Broken Levees
August 29, 2017 | Revolution Newspaper | revcom.us
Harvey continues to wreak havoc on the Texas Gulf Coast, and has now begun to inflict serious damage on Louisiana as well. The official death toll has risen to 14, including 6 members of one family who were in a van swept away by raging flood waters. Shelters have been set up all over Houston for people whose homes are unlivable, and thousands are being bussed to Austin, San Antonio, Ft. Worth, and Dallas.
Now the storm is starting to drop deluges of water on Beaumont and Port Arthur, Texas, and Lake Charles, Louisiana. Massive flooding is highly likely to erupt in those areas. And even if the rain begins to ebb in Houston, flooding will continue as swollen rivers and bayous continue to pour water into the metropolitan area. More importantly, after this flooding ends, the devastation and destruction it has caused will continue to plague incalculable numbers of people long after the immediate crisis has passed.
A snapshot of some occurrences of the past 24 hours:
Houston mayor Sylvester Turner ordered a midnight to 5:00 am curfew. He said this is to prevent looting. As of this writing, the official tally of people arrested for "looting" in Houston since the flooding began is 14. There is no "looting" problem. Police chief Art Acevedo said the curfew will enable the police to better go after "lowlifes". While literally thousands of dwellings have been destroyed, flooded vehicles are on every freeway and numerous roads, and nothing close to a reckoning of missing people has been accomplished, Acevedo announced that the HPD is curtailing its "search and rescue" missions. He continued that "his officers would begin pulling back from nonstop search-and-rescue missions to focus on what the Houston Police Department does best, which is going after criminals and keeping the people of Houston safe ...". Numerous suburban cities and industrial towns across the Houston area have also announced curfews. Over 10,000 National Guardsmen are in the area, in part, to assist in enforcing these curfews. There are, at least, tens of thousands of people who have been made homeless in the past five days, and there is not enough shelter space for them. Now the police have been ordered to prowl the city for people committing the crime of trying to survive while destitute.
A poisonous leak forced authorities to announce a "chemical emergency" at the mouth of the Houston Ship Channel, where it meets Galveston Bay. Residents of several small cities at the confluence were instructed to shelter in place, shut off their air conditioning, and close doors and windows after a pipeline or chemical leak. Authorities claimed the problem "was contained within several hours, without injury." The leaked chemical, which apparently was hydrogen chloride gas, is described on its data sheet as causing "severe respiratory tract, eye and skin burns. Harmful if inhaled. May cause target organ damage, based on animal data."
Also, Exxon-Mobile announced that flood-caused damage at its enormous Baytown refinery released an "unbearable" chemical smell over parts of Houston. Heavy rains caused a storage tank to sink, and released "unusually high emissions, especially of volatile organic compounds, a category of regulated chemicals". A little ways east, in Beaumont, damage to another Exxon-Mobile refinery forced it to release "1,312.84 pounds of sulfur dioxide, well in excess of the amounts allowed by the company's permits".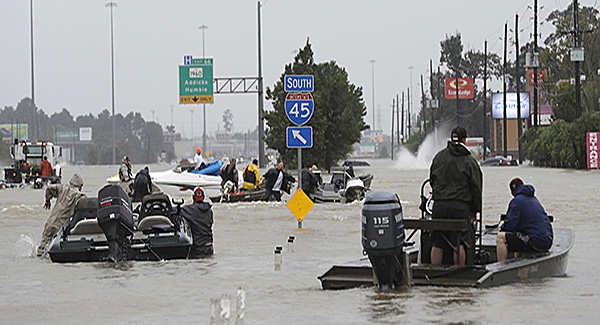 Volunteers rescuing people from flood waters.
Despite these acute threats to public health, at least 18 hospitals have been forced to close and evacuate patients in Houston alone, including the county hospital. This is having an enormous impact on the health and lives of people in intensive care, recovering from surgeries and other conditions, pediatric patients, and others. In addition, many of these people arrive at other facilities needing emergency care because of the ordeal of their transport. And of course, the thousands rendered homeless and living in shelters have far fewer hospitals that they can possibly get admitted to. A city that boasts of having the largest, most modern medical center in the world is proving incapable of meeting the challenge of the crisis caused by Harvey.
Floodwaters in the Addicks Reservoir in west Houston went over the top of the reservoir for the first time in its 70 year history. This triggered what a local TV station called an "uncontrolled release of Harvey's floodwaters into nearby neighborhoods that may be underwater for weeks." A few hours later, officials in Brazoria County just south of the reservoir said a levee along some lakes had been breached by floodwaters. They put up a sign telling people still there to leave immediately. Their message "GET OUT NOW!!"
This system is not, and cannot, meet the needs of the people during this crisis. The demands published in Revolution need to get out in Texas and everywhere. As the first of them reads: At the government's expense: People must be housed and cared for until they can safely return to their homes; hotels, convention centers, and other buildings must be provided to people in need of shelter; there must be free communication for people to contact relatives. Immediately, there must be emergency medical care and measures to prevent massive epidemics and needless deaths. There must be no arrests for so-called looting. There must be emergency relief—people must be immediately provided with water, food, medicines, and other basic needs FREE OF CHARGE.
Volunteers Needed... for revcom.us and Revolution
If you like this article, subscribe, donate to and sustain Revolution newspaper.