New York City, November 4

November 4: Thousands March in Two Dozen Cities to Demand "This Nightmare Must End: The Trump/Pence Regime Must GO!"
Updated November 6, 2017 | Revolution Newspaper | revcom.us
Sights and Sounds of November 4 From Around the Country
(Except where noted, photos on this page are Special to www.revcom.us)
New York City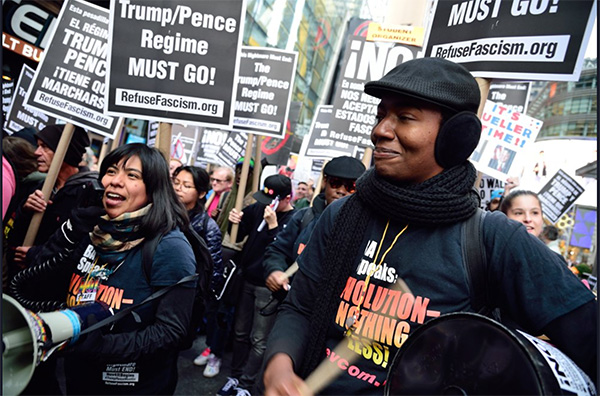 Photo: Credit: @EinoSierpe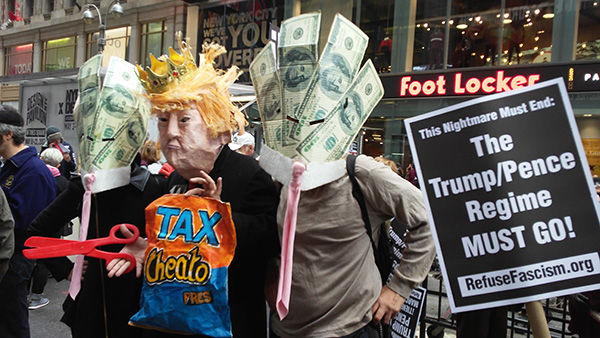 San Francisco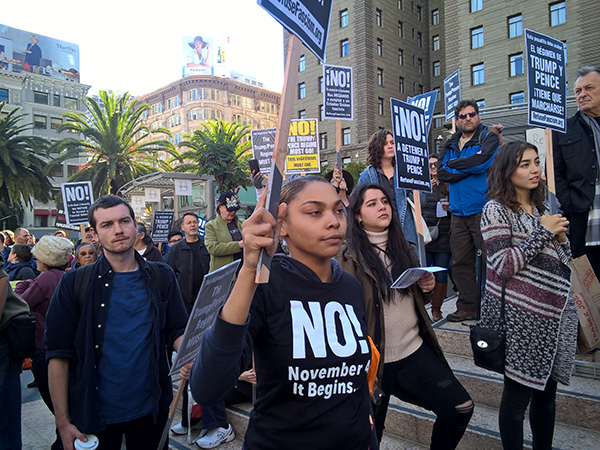 Chicago
Taking a Knee
Los Angeles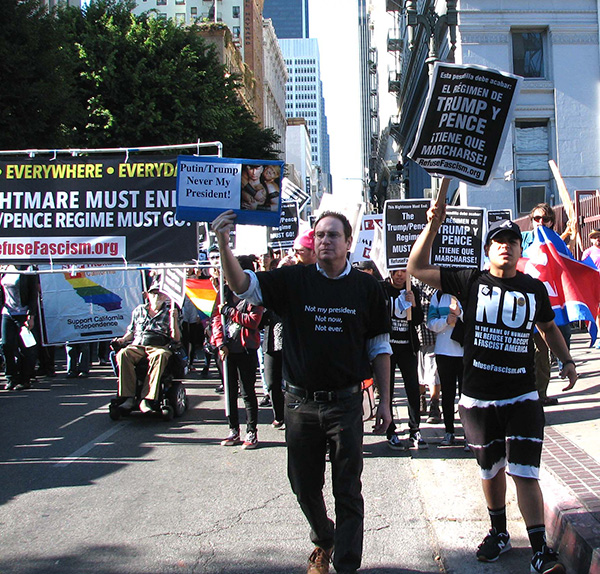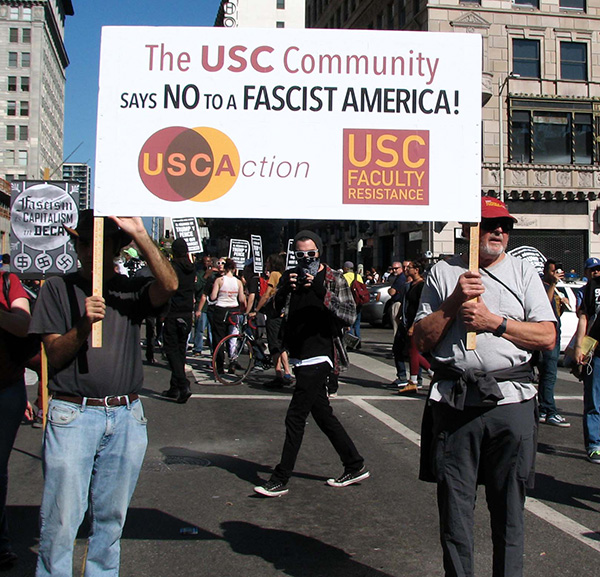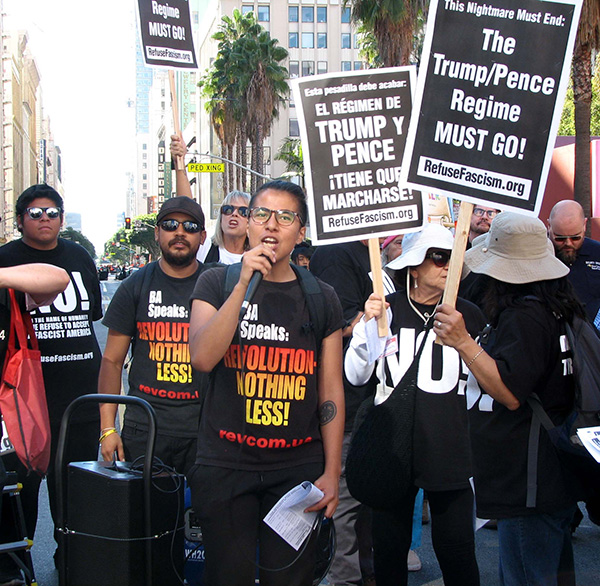 Revolution Club in Los Angeles
Seattle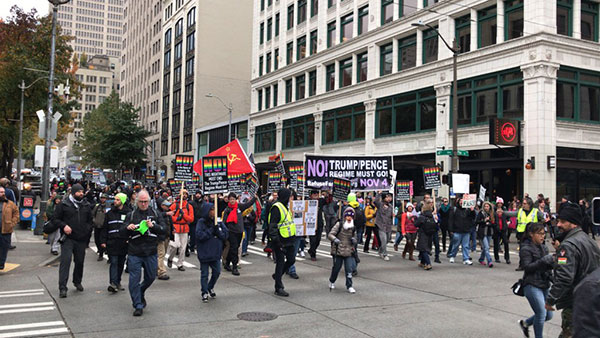 Photo: @cass_ingles
Hawaii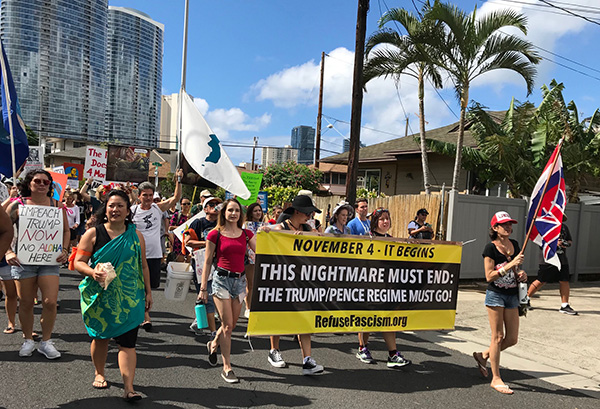 Portland, Oregon

Cleveland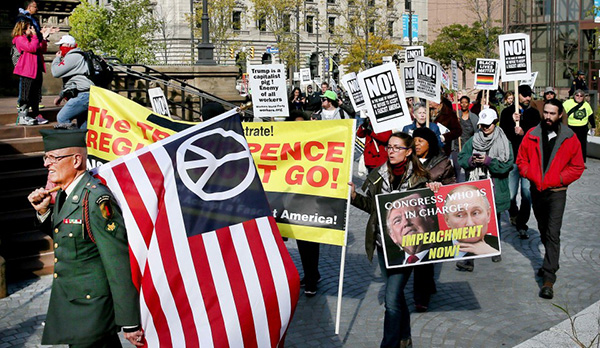 Austin, Texas: People in TX came out today despite being surrounded by fascists.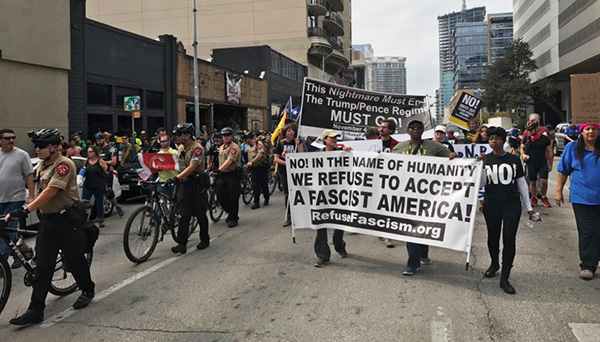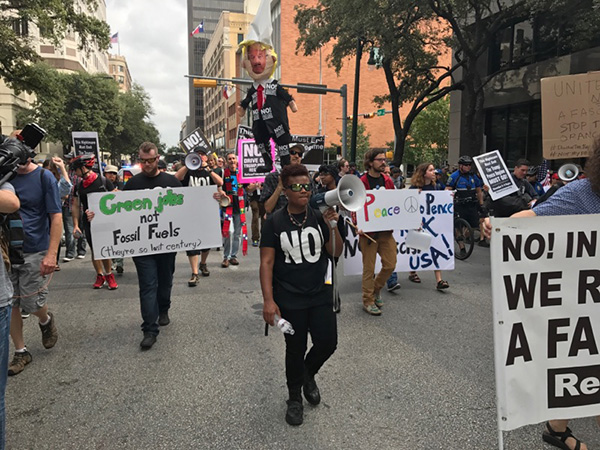 Detroit
Atlanta
Several thousand people in two dozen or more cities marched today in demonstrations called by Refuse Fascism around the slogan This Nightmare Must End: The Trump/Pence Regime Must GO! From a high of 1,500 in New York at its peak, to the 45 people who marched defiantly in the face of over 200 armed fascists in Austin, Texas, to the several hundred in Chicago who marched to drums in the cold November rain...to hundreds on a defiant and spirited march in Los Angeles... hundreds in San Francisco who, defying the city's denial of permit for the protest, rallied in the middle of busy downtown and then marched for miles through neighborhoods… a core of people, a critical mass, emerged who want to see this regime go—NOW. People who are acting, with a real sense of community and purpose, as the Trump/Pence regime continues forward with one fascist outrage after another—including the heightened danger of nuclear war, highlighted by Trump's trip to Asia and continuing threats against North Korea. And they went up against the unconscionable attempts by the media to minimize and white out the movement to drive out the regime--and the vile, violent threats by fascists leading up to and on the day of the November 4 protests.
Also important were the people from the arts, from the clergy, from political movements who spoke or sent messages to the rallies. These include: Eve Ensler, playwright, The Vagina Monologues; Dorothy Reik, president, Progressive Democrats of the Santa Monica Mountains; Perry Hoberman, media artist, associate research professor, USC School of Cinematic Arts; Rev. Gregg Greer, Chicago; Father Lawrence Lucas, Black liberation theologian, longtime Harlem activist; Father Richard Estrada, Church of the Epiphany, LA; Rev. Tom Carey, Church of the Epiphany, LA; Immortal Technique, hip hop artist; Salman Aftab, American Muslim Task Force on Civil Rights & Elections, Chicago; Arturo O'Farrill, musician; Rev. Frank Alton, St. Athanasius Episcopal Church, LA; Cindy Sheehan; Graywolf, director AIMSoCal (American Indian Movement, Southern California); Isabel Cardenas, Salvadoran-American activist and an initiator of Refuse Fascism; Father Luis Barrios, Holyrood Church/Iglesia Santa Cruz and John Jay College, City University of New York; Bob Bossie, Catholic priest and long-time activist; Rev. John Beaty, Akron Interfaith Immigration Advocates.
Now all this must mushroom, and quickly. As the fundraising email sent out the night of November 4 by Refuse Fascism said, "Trump is on his way to Asia as we write you and the whole world is holding its breath. Nobody knows exactly what new outrage will greet us tomorrow or the day after... but we do know there will be one, be it to women, the rule of law, the rights and dignity of Black people and historically oppressed peoples, the environment, immigrants, Muslims, LGBTQ, or the very notion of the truth... or all of those. There remains a real urgency to this moment."
Over the next two weeks, there will be continuing protests in different cities—and on November 11 and 18, days of national demonstrations called by Refuse Fascism. What began on November 4 needs to go to a whole new level, opening the way for the thousands to grow to hundreds of thousands and to millions, acting on a unifying demand: the Trump/Pence Regime Must GO!
Stay tuned to revcom.us every day for news on this movement. And go now to watch, and spread, both the video speech by Bob Avakian, THE TRUMP/PENCE REGIME MUST GO! In the Name of Humanity, We REFUSE to Accept a Fascist America. A Better World IS Possible, and the question/answer session from that speech, which provide the best single grounding in the importance of this movement... and how to tackle the key questions before it.
Statements to Rallies for November 4
Andy Zee delivered in NYC the November 4 Keynote speech, "Who will end this nightmare? WE WILL". Andy Zee is an initiator of RefuseFascism.org, and the spokesperson for Revolution Books in New York City.
Father Lawrence Lucas, author, lecturer, Black liberation theologian, chaplain at Rikers Island prison, longtime Harlem activist:
Congratulations to the leaders and all involved in the November 4th beginning to end the Trump/Pence nightmare. Hope it wakes up millions of Americans including many sleeping and/or duped clergy. With You
Salman Aftab at Refuse Fascism rally in Chicago
Dorothy Reik—President, Progressive Democrats of the Santa Monica Mountains:
In the name of humanity, Progressive Democrats of the Santa Monica Mountains will not accept a Fascist America!
Decades ago the United States fought and helped defeat the Nazis in Europe. But even then there was support for Nazis and for Fascism in the United States. Anti-Semites like Henry Ford and Walt Disney thrived and the companies they built still prosper. And under the radar the Nazi movement made its plans, infiltrating the Republican Party on the local level, funding fascism-loving think tanks, and working under the radar until they could assume the reins of power. Now they have succeeded beyond their wildest dreams. They have taken over most of our states, elected their followers to federal office in the House and Senate and gotten their judges appointed on all levels and now even to the Supreme Court! One of their own now sits in the Oval Office and another sits next door as Vice President! And they will fight to protect their power. They are turning us against one another and their militarized police increase our anger instead of tamping it down. J20 inauguration protestors are facing 70 year prison sentences while the White Nationalist Nazi thugs who beat a Black anti- fascist protestors have not even been charged—but their victim has! WE MUST FIGHT BACK. ON THE STREETS, IN THE STATE HOUSES AND IN THE HALLS OF CONGRESS. WE MUST TAKE BACK OUR STOLEN ELECTORAL SYSTEM! WE MUST END VOTER SUPPESSION AND GERRYMANDERING. WE MUST VOTE IN 2018 AND 2020―THE YEAR THE NEW ELECTORAL DISTRICT LINES WILL BE DRAWN AND A NEW PRESIDENT WILL BE ELECTED! WE MUST PROTEST THE MAN WHO SITS IN THE WHITE HOUSE NOW WHEREVER HE GOES. TODAY IS THE BEGINNING OF THE END OF THE TRUMP/PENCE FASCIST/RACIST REGIME. POWER TO THE PEOPLE.
Rev. Gregg Greer, President, Freedom First International, At Chicago Refuse Fascism Rally

Eve Ensler Message of Support Read in NYC
Message of support for Eve Ensler for #Nov4ItBegins.
Trump and Pence Must Go!
Join us in 20+ cities today https://t.co/cVmiL2ZaE9 pic.twitter.com/DCKjEMlRBa

— #NoFascistUSA (@RefuseFascism) November 4, 2017
Video: @RefuseFascism
Perry Hoberman of Refuse Fascism explains how today will "start the process of driving out" the Donald Trump regime in Los Angeles
Perry Hoberman of Refuse Fascism explains how today will "start the process of driving out" the Donald Trump regime in #LosAngeles pic.twitter.com/fO1su95XPw

— Wes Woods II (@JournoWes) November 4, 2017
Video: @JournoWes
Sunsara Taylor, one of the MCs of the New York protest, a co-initiator of Refuse Fascism, and writer for www.revcom.us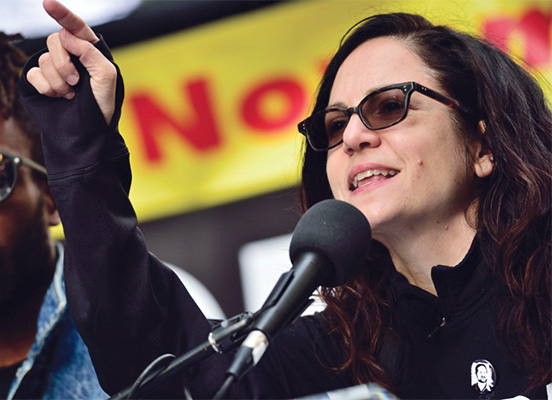 Photo: @EinoSierpe
U.S Veteran who went to Iraq, powerfully calls on Past, Present and Future Members of the Military to join this movement to DRIVE OUT THE TRUMP/PENCE REGIME!
@ImmortalTech says "Human rights are at an all-time low because people can't seem to even decide who is human & who is not."
.@ImmortalTech says "Human rights are at an all-time low because people can't seem to even decide who is human & who is not."#Nov4ItBegins pic.twitter.com/2NFzLWa8SI

— #NoFascistUSA (@RefuseFascism) November 4, 2017
Video: @RefuseFascism
Noche Diaz at Refuse Fascism rally in Chicago
Rev. John Beaty, Co-convener of Embracing Justice and Peace; Member of Akron Interfaith Immigration Advocates; Retired United Methodist Clergy active in Grace United Church of Christ of Loyal Oak in Norton, Ohio:
My Fellow Americans,
This is why I believe that both Trump and Pence are not fit to be President and Vice President of the United States of America:
They have lied to the American people. They claim to be for the American worker, but have done everything they can to withhold fair wages, and not to honor our right to protect ourselves by collectively bargaining with our employers. They have claimed to represent the forgotten citizen, when they have tried to take away our right to healthcare, our right to breathe clean air, to drink clean water, to eat food that is not poisoned with pesticides and cancer producing additives, to know what they are doing in collusion with megabillionaires, mega corporations, megabanks, and mega polluters.
They have promised to make America Great Again, but they are destroying the America that is struggling to be a beacon of freedom, prosperity, inclusiveness, kindness, fairness, and equal justice for all.
They prey upon people's fear, anxieties, and prejudices to divide us from one another and to provoke us to violent conflict.
They are utterly corrupt with secret deals with shady foreign and domestic influences that enrich the favored few at the expense of the unfortunate many.
They seem hellbent on destroying our climate, our environment, our wildlife, our national parks and monuments.
They are enhancing a system of taking from the many poor and giving to the richest few of our citizens.
They are criminalizing and incarcerating blacks, Hispanics, Muslims, the poor.
They are encouraging the most zenophobic, racist, misogynistic, homophobic elements of our society.
They are taking money from needed programs and spending it on unnecessary walls, prisons, weapons.
They are threatening the Constitution of the United States in a lust for power, privilege, and partisanship.
They are talking like fascists, looking like fascists, acting like fascists, entertaining white nationalist neo-Nazis in the highest echelons of government.
Do you think they just might be fascists?
This Nightmare Must End! The Trump/Pence Regime MUST GO!
This is my belief!
Trump/Pence regime must go! Join the thousands peacefully gathering & marching in US cities today to demand an end to this clown show

— Tom Morello (@tmorello) November 4, 2017
Philadelphia
refuse fascism march in philly now going up walnut street pic.twitter.com/jnojM0XIrP

— Joshua Scott Albert (@jpegjoshua) November 4, 2017
Video: @jpegjoshua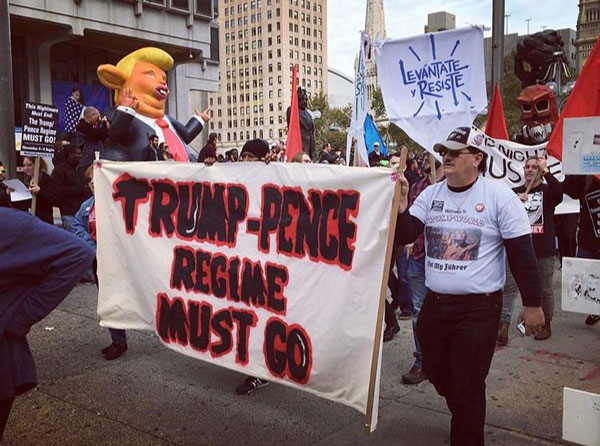 Photo: @yomitgmb
Photo: Refuse Fascism Philly
Volunteers Needed... for revcom.us and Revolution
If you like this article, subscribe, donate to and sustain Revolution newspaper.