What You Can Do To Make a Real Difference
Updated May 19, 2018 | Revolution Newspaper | revcom.us
Be part of bringing the most serious answers to the most urgent questions to tens and hundreds of thousands, and ultimately millions.
This talk from Bob Avakian (BA) provides a scientific understanding of the roots of this fascist regime—in the history of the U.S. and the deeper roots in the system of capitalism-imperialism. He does so with passion, humor, humanity, and a deep sense of history. He cuts into the deepest, most agonizing questions, first in the speech and then in a wide-ranging Questions and Answers.
If more people watched this talk, it could change today's political equation. But far too few have seen this talk, or even know about it. You are needed to be part of changing this.
Send us your ideas and experiences at: revolution.reports@yahoo.com.
Get deeper into Bob Avakian and the New Communism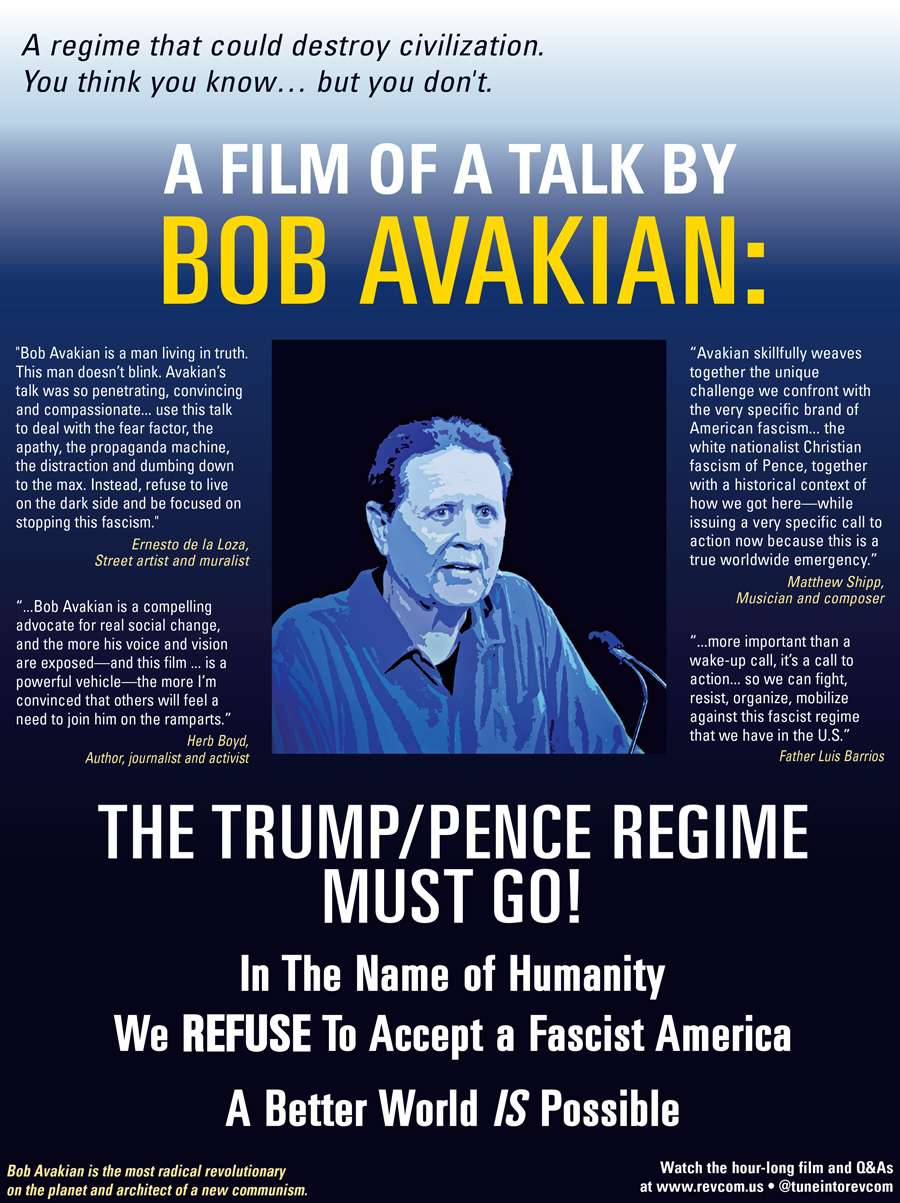 Click to watch the film now
Donate towards promotion of this film
Make a splash on social media
There are LOTS of ways you can be part of having an exponential impact via social media to put this needed talk before people throughout society. Be part of challenging and changing people's thinking through the direct engagement with this important talk. And integrate social media into all of our plans.
Organize others
Go to film showings taking place across the country (see below for scheduled showings), or schedule your own.
Ask everyone to follow on social media @tuneintorevcom, and to promote the film on their platform and tag @tuneintorevcom (for more on this, see here).
Do a short video about the talk, or video others. Post them to social media and send to @tuneintorevcom, and email to: revolution.reports@yahoo.com
Distribute palmcards and other materials about the film and BA.
Be part of organizing a showing on your campus or spreading the word.
Invite the Revolution Club to speak to your group or organization, in your classroom or dorm.
Invite businesses, community centers, etc. to put up the poster of the film.
Speak to community organizations, social clubs, barbershops, community centers, local businesses or organizations, about hosting a showing.
Show the film in classes, religious congregations, with friends, and more.
Call people you know NOW to invite them to any screening in your area, or talk with them about the urgency of them seeing this.
Who Must See This Talk?
Volunteers Needed... for revcom.us and Revolution
If you like this article, subscribe, donate to and sustain Revolution newspaper.