"This is my second time out with the Revolution Club and this is not my last time. This is it for me, I know where to come, I know my place."
—participant at an anti-July 4 picnic
Calling Out America's Crimes, Getting Into Revolution and Building Community: Anti-July 4 Picnics Rock!
| Revolution Newspaper | revcom.us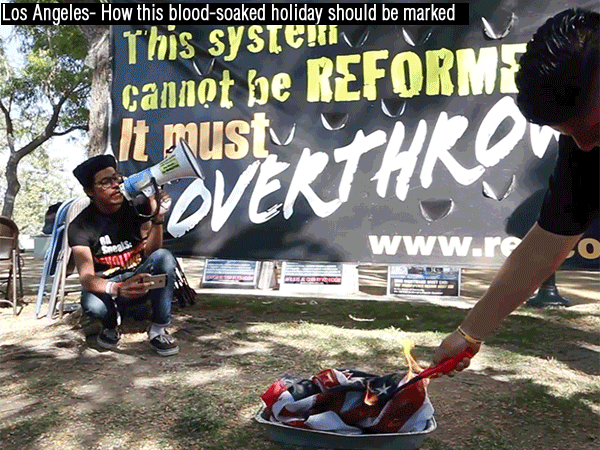 The "America Was Never Great" picnics on July 4 marked a real step forward for the movement for revolution. Several hundred people in four cities came out to mark the day the way it should be—calling out America's great crimes and getting into the revolution. The spirit of Bob Avakian's quote on "imagining a world without America" (BAsics 1:31) ran through it all—as did a collective sense at the core of the picnics that we ARE building a movement for an actual revolution. New members of the Revolution Club in Los Angeles received badges, new supporters everywhere put on the T-shirts, and the sense of something growing and dynamic—even if still in a very beginning way—was everywhere.
New York City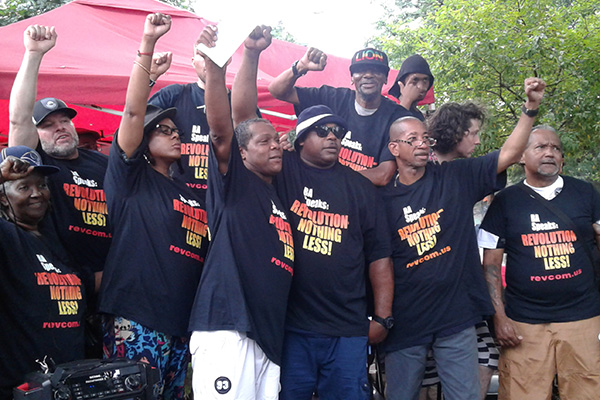 At Harlem's Marcus Garvey Park, over 100 people came out for an afternoon of agitation, spoken word, song, and getting into the revolution. A good number were meeting the revolution for the first time. Others had recently run into—or run with—the revolution. Even with pigs outrageously hovering nearby, people joined in throughout the afternoon.
The Revolution Club opened with a fiery welcome: if you hate what America does here and around the world, you're in the right place! A Club member held up HOW WE CAN WIN—How We Can Really Make Revolution and said: "This system has no right to exist and this tells you how we can finally put an end to this system." BAsics 1:31 and 3:1 were read, bringing alive the need for revolution.
Carl Dix followed: "Some people say tearing children apart is un-American. It's not un-American—it's as American as apple pie!" He told people: "I'm here to recruit you into the revolution," then invited everyone to break into smaller groups and wrestle with how new people can step into the revolution, contribute in meaningful ways, and overcome the obstacles this system puts in their way.
After 30 or 40 minutes, the discussion was still going strong. People suggested ways to spread the revolution—and raised different ideas about the revolution itself. One revolutionary summed up: "The revolution isn't separate from your life; you can do things for the revolution as you're going through your life. Simple things like taking a picture of a poster and sharing it on Instagram. Giving out BA palm cards, getting in a discussion and sharing how it went. Staying in touch with revcom.us."
It felt important to put the problems of the revolution before people this way. You couldn't say the questions posed were resolved by any means, but people got to know each other, gained a deeper sense of what this revolution is about, and felt a beginning, but tangible, sense of community and connection.
Abiodun Oyewole, a founding member of the pathbreaking spoken-word group The Last Poets, welcomed people to the second half of the picnic with a reading of his powerful poem "Rain of Terror" beginning, "America is a terrorist!" Refuse Fascism delivered a passionate call to be in the streets on July 7.
Then, standing on the American rag and holding up the BA Speaks: REVOLUTION—NOTHING LESS! T-shirt, the Revolution Club said: "When you put on this T-shirt, you're representing something real, even if you're doing it in a beginning way... Who is going to come up here and put on one of these T-shirts right now and represent for the revolution?"
When the first person stepped forward, applause broke out, and it grew as several others quickly followed. Eight people put on the shirt for the first time. Talking with some afterward, it was clear the basic message of revolution had resonated. Some had been drawn in these past weeks after hearing revolutionaries agitate on street corners in Harlem, coming across a block party at Revolution Books, or joining their contingent at Pride.
A middle-aged Black man told revcom: "I've been oppressed all my life and I finally found a way out... This is my second time out with the Revolution Club and this is not my last time. This is it for me, I know where to come, I know my place.... My first time was on 125th Street in Harlem... I heard a young lady speaking on an orange bucket... It startled me and I stood there for two hours, and I started helping her give out some of her pamphlets... It caught me when she said Donald Trump had kids in concentration camps, because I have kids, and she said he was stealing babies away from their families and this government was corrupt. I knew this government was corrupt, but I didn't know how to go about changing it. But now I have people with me... It felt good, real good [to put the shirt on]. I don't think I'm going to take it off today. It felt good to be part of a team, everybody striving for one goal... that all people should live under good humanity... I'm fighting for the rest of my life."
Afterward, a woman artist felt inspired to give a beautiful rendition of John Lennon's "Imagine." It felt especially fitting. [back to top]
New York City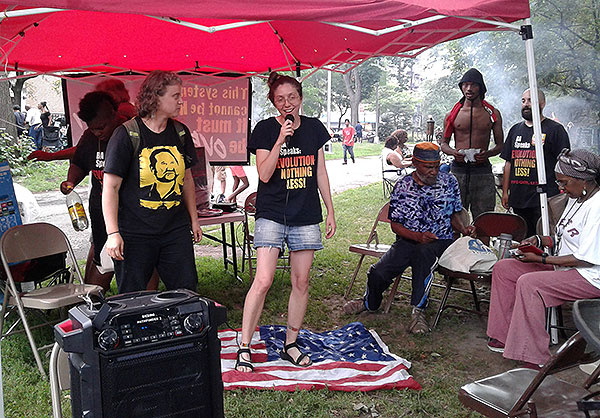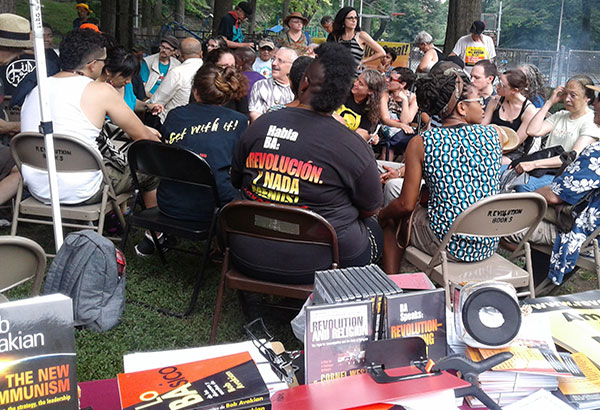 Chicago
Our picnic drew a diverse mix of 40-45 people to a Lake Michigan beach on Chicago's predominantly Black Southeast Side, not far from the Revolution Club's Organizing Center. A young white woman came alone via train and Uber from a town about 40 miles away. A Latino family met only days before came from the Back of the Yards neighborhood. A Black woman, who had bumped into a picnic the Revolution Club held four years ago, came with her family from Indiana after getting a text the day before. She said she had been looking for something like this to do on the 4th of July. One supporter of the club came "dressed for the occasion" with an American flag attached to the bottom of each of his sneakers. With every step he took he was desecrating the red, white and blue. A young couple who had met us at our picnic on Memorial Day came after having put up posters in their neighborhood for the revolution. Some people who were in the park also joined in including a crew of Black teens who participated in the flag burning ceremony at the end of the program.
In our picnic, we had been aiming to keep the program tighter and shorter in order to focus more on aspects of the picnic that could involve newer people in the revolution. One way we did this during the program was that everyone who came to the picnic was handed a printout of one of the cases of the revcom's American Crimes series, and after playing the clip from BA on "What to the slave is the fourth of July: from the past to the present" and reading the BAsics 1:31, we called on people to come up to the mic and read their American Crime case. This was a moving way that involved people and got people realizing the scope of what it means to say "America Was Never Great." One newer person, after reading their American Crime case, commented about realizing how much America has gone around the world to destabilize other countries and being very glad that on this day this is what people here were coming together to talk about.
One Club member did a powerful performance art piece entitled "Have You Ever Been To Vietnam" and another on the red, white and blue. Maya from the Club talked about her own legal case and the series of recent attacks on the Revolution Club by the police and how the authorities don't want "you" hooking up with the revolution and she talked about HOW WE CAN WIN—How We Can Really Make Revolution (HWCW). Jazz musician Ted Sirota of Degenerate Artists Against Fascism told people about Refuse Fascism and called on people to participate in the July 7 protests.
At the end people were encouraged to take selfies standing/kneeling on the American flag and to gather around the grill to burn several smaller American flags. Then new people came together in a circle, and a representative of the Revolution Club told people about two problems the revolution faced, and asked them to be part of working on solving them: 1 is that many people don't even know about the revolution, and 2 is that many people who are supportive of the revolution don't see how they could be part of it. So the Revolution Club rep asked people how they found out about the revolution, why they came to the picnic, and what they thought they could be part of doing to work on the revolution. We read some of HWCW together to start it off, and then went in a circle. People had a number of different things to say about how they ended up there together, and most people were seeing that it would be meaningful if they contributed to solving that first problem by spreading materials and posters so many more people could even know about the revolution. This did help give people more of a sense of spreading the word as a meaningful part of working on a larger process of revolution, and at least got people thinking about how people like them could be part of it (even if people were very new and unsurprisingly had difficulty thinking of many different ways to take this up). Most came off this with assignments around how and where to spread the word about the revolution, and some got Revolution—Nothing Less! T-shirts. [back to top]
Chicago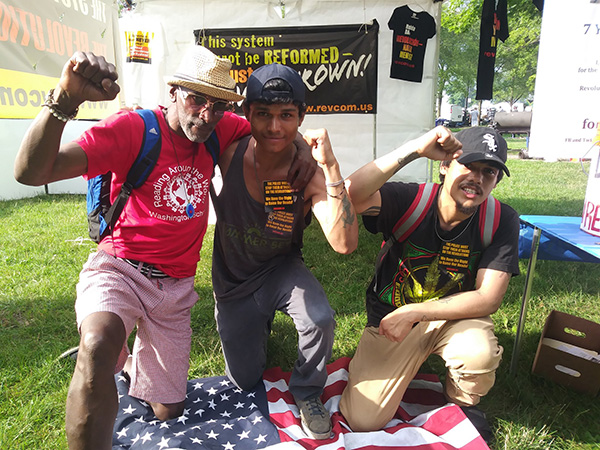 Oakland
Great ANTI-4th of July picnic today in Oakland! Many people barbecuing and walking around Lake Merritt spotted our signs saying "Anti July 4th Picnic—America Was Never Great." People took selfies with the signs and got copies of HOW WE CAN WIN—How We Can Really Make Revolution. A Revolution Club member stood on the stars and stripes, and invited people to dance on it with her. Some people danced on the flag, some stepped carefully around it. A group of young women carrying American flags trailing on the ground hung out briefly. About 40 people stayed for significant parts of the afternoon, spreading blankets out, sitting on the grass, browsing the Revolution Books booth's selection of literature. The Bob Avakian Institute had a TV set up for people to watch BA's recent talk about the roots and dynamics of Trump/Pence Amerikkkan fascism and what to do about it. Volunteers made a bunch of delicious food, including a new guy who showed up with homemade Ethiopian food!
After about an hour of hanging out, eating, and getting to know each other, we kicked off the program. We started with some agitation about the real history and reality of this country, why this system must be overthrown, and why people are in the RIGHT place on this 4th of July. Then we played the clip from Bob Avakian on "What to the slave is your fourth of July?" A few people read poems. Someone read a piece she had written that morning on "What to the children of the world is your fourth of July?" A young woman new to the Revolution Club read a poem about this system: "'Countless Schemes' for killing off Black people." Another young woman in the Club read a poem about the horror for immigrants on the border and the fight for a world without borders.
Several other people came up to stand on the flag and speak out, starting with the father of a young man who was murdered by police in Richmond. Someone else who works with the Revolution Club spoke powerfully on police murder and why this system can't be reformed and must be overthrown, calling on young people to hook up with the Club. A woman from Mexico spoke in Spanish about the terror against immigrants, the parallels with Nazi Germany, and why we have to drive the Trump/Pence regime out of power. Someone from Refuse Fascism called on everyone to come this Saturday to the nationwide demonstration demanding, "The Trump/Pence Regime Must GO!" Finally the Revolution Club read the Points of Attention and called on people to run with us, to the join the Club, and gave everyone ways they could be part of the revolution, including by donating! There was a good spirit of new people taking responsibility in beginning ways for the revolution, representing for it and spreading it to others. A number of people stepped up in meaningful ways to cross the threshold from being a spectator to being an active participant in the revolution!
We picked a great place for the picnic. Not only was it a beautiful spot right on Lake Merritt, there was a constant flow of people passing by, many of whom stopped to listen and picked up HOW WE CAN WIN—How We Can Really Make Revolution. When we were agitating about the many crimes the U.S. has committed here and around the world, a Black woman stopped to interject that we shouldn't forget to talk about the Chinese Exclusion Act. A number of people sat down to watch clips from BA's film, and everyone got a great introduction to the leadership we have for this revolution listening to BA's powerful revolutionary message in response to Fredrick Douglass' famous speech. [back to top]
Los Angeles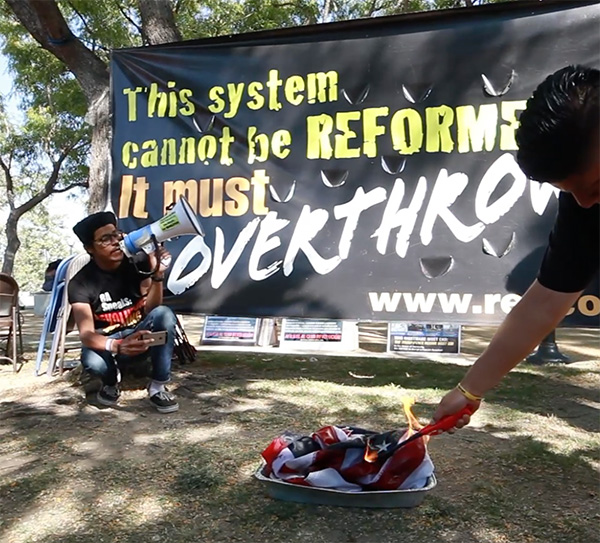 The Revolution Club, LA held an Anti-4th of July BBQ in South Central. Many different people came to the picnic—young and old, and from many different strata. At least 60 people attended what was a very lively and spirited BBQ. There was lots of great food, and company to match. There was music, and dancing, and celebration. But this BBQ was celebrating something else.
The Revolution Club welcomed people to the BBQ and gave a short presentation a couple times throughout the BBQ, drawing heavily from the pamphlet HOW WE CAN WIN—How We Can Really Make Revolution (HWCW). We played the clip of BA on "What to the slave is your fourth of July?" and the "What if" clip from the film REVOLUTION AND RELIGION: The Fight for Emancipation and the Role of Religion: A Dialogue Between Cornel West & Bob Avakian. Someone spoke on the crimes of the United States and the horrors it still unleashes today. And we made sure to make a pitch for funds trying to draw from HWCW. There was a "patch ceremony" where new members of the Revolution Club came up and said a few words about why they are joining the Revolution Club and why others should as well. There was an open mic, where various people from the picnic came up and stood on the U.S. flag and said why they came. And when we burned the american rag, people celebrated.
People came for many reasons. Some felt that this isn't a time for celebrating, given everything that is happening right now with immigrants, but think that America could change and become better. Some very much agreed with us that America was never great and could never become great. Everybody to some degree or another was interested in revolution, even if some in very contradictory ways. Some people brought food, some brought donations. People picked up literature, bought REVOLUTION—NOTHING LESS! T-shirts, visited The Bob Avakian Institute booth.
The BBQ also had an effect on the people around us. Many different people related to us. Some people came in right off the street and walked up to the BBQ from seeing our flyers posted up around near the park. Others in the park came over to see what we were all about. We took the opportunity to get into it with them and talk about why we were having this BBQ and HWCW. [back to top]
Los Angeles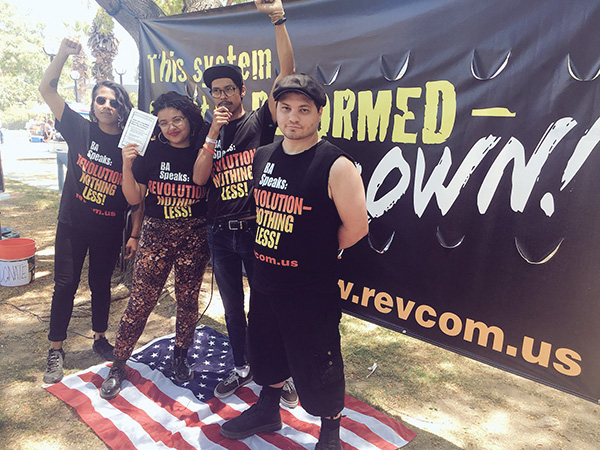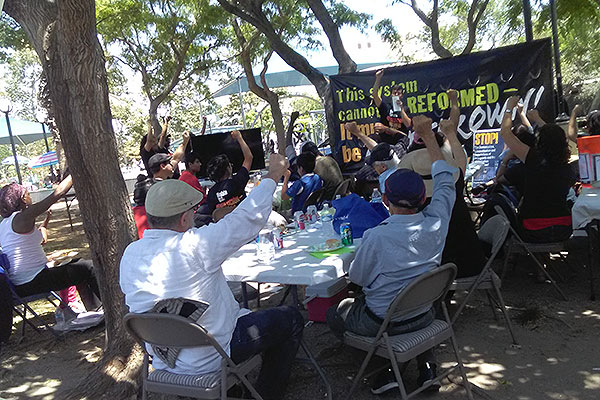 Volunteers Needed... for revcom.us and Revolution
If you like this article, subscribe, donate to and sustain Revolution newspaper.