The Michael Slate Show on KPFK, July 13, 2018, interview with Rev. Frank Wulf and Ramona Toliver of the Faith Task Force of Refuse Fascism.
"The faith community must find its voice, to say
'No! There cannot be a fascist America.'"
| Revolution Newspaper | revcom.us
From The Michael Slate Show:
Q: We're coming together to talk about a lot, and there's a lot to talk about, but there's an event coming up which is extremely important. It's initiated by the Faith Task Force of Refuse Fascism, and it says, protests must continue and grow, in the name of humanity, stop terrorizing immigrant children. Frank, what are you talking about here?
Frank Wulf: What's going on here is that faith has played a major role in the politics of the United States. It's done this for years, and as often as not, faith has been used to justify absolutely appalling policies. One of the most recent of those, of course, is the separation of children from their parents, and then subsequently the incarceration of families together, and there's a whole mess around the "no tolerance" policy of the Trump administration. Faith has been used as a tool to justify these kinds of abhorrent policies over the years, and we are feeling a really important need. For those of us who are part of the faith community, who do not believe in these kinds of policies, and who believe in justice, and who believe in the kind of world where everyone can live safely and fairly and justly together, that we need to start speaking up. We can't just simply remain silent and allow the kinds of policies that we're seeing done in the name of faith to continue to be done. We've just got to stand up and say "No!" as much as anyone else has to stand up and say "No!"
We've seen times in the past where the religious communities remained silent, where fascist forces begin to rise to power. That's what happened in Germany in the 1930s and we've seen it in Italy at that same time, and we've seen it in other places around the world where the church has maybe not said "Yes" to fascism, but it has also not said "No!" So because of its failure to stand up and make a clear "No!" it has in some ways made itself very complicit. So we're saying we've got to be part of helping the faith community to find its voice, to say "No! There cannot be a fascist America." And that we're going to join in the struggle to make sure that the Trump/Pence regime must go. We have to do it because we are called by our faith to love our brothers and our sisters as we love ourselves. And we can't do that and allow the kinds of things that are happening in the name of the Trump/Pence regime to continue. So we're having this event on Sunday, to help bring the religious community of Los Angeles together around that, and to talk very seriously with one another about how we as a faith community can become involved in the struggle to bring an end to this fascist regime and to say "No!" at this time.
Q: Ramona, what brought you into this, and what's the importance of this?
Ramona Toliver: I got involved in this because I grew up in the South, in Virginia, a child of the Civil Rights Movement, and as a child, I saw the role the religious community played in righting so many wrongs back then. And I kind of actually stayed on the outskirts of becoming politically involved in any way through my adult life. But when we got to the point where I was listening day after day about the atrocities against the Muslims, and against the LGBTQ community and against women, it was like, wait a minute, I should join in with the people who are taking a stand.
And coming from a faith background, my father was a Baptist minister, and having seen what went on in the Church, it was like, let me approach this from a point that's meaningful to me. So when I met Frank and some other religious leaders, and I said, there is power in numbers. And we don't want to go along any longer in the religious community with the silence means consent perspective. Because actually if you don't speak up, you are giving consent to what is happening. I just felt like the time is now to try not just within my religious community, but to take action to pull all of the different religious communities together. Because there is strength in numbers. So as part of the group, our idea was, let's have events that would allow the different groups to come together, to explain things from their perspective, and to figure out what we can do. Because we don't need hundreds of people. We need millions of people to stop the wrongs that are being done under this administration.
Q: In this country, religion is being cited by and used as a cover by some of the most heinous people ever in the history of the country. You have Jeff Sessions, talking about biblical scriptures to justify all their deviant behavior and twisted beliefs. Let's talk about that. Because people can see various people of faith coming together, and then you see somebody like Sessions and Trump, all of these people who are actually upholding and mobilizing a vast Christian fascist organization.
FW: You know, Jeff Sessions and I actually share a religious tradition. He's United Methodist just as I am. And I don't say that with a great deal of pride, obviously. Jeff Sessions cited the 13th Chapter of Paul's Letter to the Romans as a place that calls for us to obey the laws and to obey the powers. And it's amazing when you stop and think about it, that for those of us who call ourselves Christians, and not all of us in the Faith Task Force do, but for those of us who do, we follow Jesus, who was actually convicted, tortured, and executed as a criminal because of what was perceived as opposition to the status quo and opposition to the laws of the land and the powers at that particular time. So at the very core, the very heart of our faith is resistance to the tyranny of the powers, in particular to the Roman Empire at that time. And I would say that that resistance continues up to the present day.
Now the people like Jeff Sessions, who are in power at the moment, and who are calling for us to give in to the call to follow wherever the Trump administration leads, and to embrace whatever religious kinds of interpretations they bring, they've got something to gain, to accomplish their goal, in citing scripture in a particular way. But I think we have to be clear, we have to be faithful to our faith traditions, which are not primarily calling us to simply bow down and to give in to the call to fascism, that are not calling us to violate the fundamental principles of our faith—and all religions have similar fundamental principles, and the fundamental principles being to love our neighbors as we love ourselves, that's key. You see that again and again and again. If you read even deeper in the scriptures of the Christian tradition, the Book of Leviticus, chapter 19, which is also the Jewish tradition, says that we should love the immigrant as we love ourselves because we too were immigrants at one particular time, and that we should treat them as citizens.
So there is an alternative, a competing narrative within the scriptures, one that calls us to stand up for right over against what is wrong, even when what is right is not popular, even when it's not part of what those in power are wanting us to do, and to be willing to suffer the consequences of standing up and opposing the unjust policies of governments like the Trump/Pence administration.
So that second narrative is not a narrative that is well known at this present time in history. We tend to hear the fundamentalists, the Franklin Grahams, these kinds of folks who are telling us that the scripture means one thing, and it's closing down any real thinking about what the scriptures really say, and as a consequence, it's forcing us into the belief that to be a true Christian, to be a true Jew, to be a true whatever, that we have to follow wherever this government is leading us. I don't think that's a real interpretation of scripture. And we have to engage that conversation.
Follow-up questions by Refuse Fascism...
Q: How do you see the current moment—the horrible things going on at the border to immigrants, Trump adding another fascist to the Supreme Court, etc., and the potential for thousands to take this up?
RT: The racism is rampant and the hate crimes are up and soon everyone will know someone affected by this. They need to be stopped and there is potential, because when people feel strongly enough about something they can take action. Instead of fear, and instead of waiting for others to solve the problem, when people realize and feel strongly enough they can and will take up the cause.
Q: Why do you think that people of faith have the potential to "Stay in the Streets" and how do you see the role that people of faith can play in motivating not just the religious communities but all kinds of people?
RT: We are in the religious community but we know others and we need to reach out to others who are not. What is happening and what to do should be on everyone's lips—it has got to be constant and it has to be everybody. Because whatever people call this—fascism, or something else—it is happening.
Q: What resonated with you, and what made you decide that RefuseFascism.org's approach to the Trump/Pence fascist regime was something that you wanted to be a part of?
RT: People were being taken away—fathers right in front of their children—by ICE last year and now. ICE was doing this in front of schools for example, where fathers and mothers were dropping off their children. This reality resonated with me—that is one thing that motivated me, maybe the #1 thing at the beginning—families being torn apart by the Trump regime. Also, the Muslim Ban. When the Muslim ban started, I thought "this is not the end of the story, it is the beginning of the story..." And then there are all the other actions the Trump/Pence regime has taken—including tearing up democratic rights and replacing them with one-man rulership. I care what is happening to everyone, Muslims, LGBTQ—everybody. With regards Refuse Fascism, I agree we cannot wait until the midterm elections, we have to act now. The Trump/Pence regime is replacing what has existed in the U.S. with a situation where everyone is going to suffer.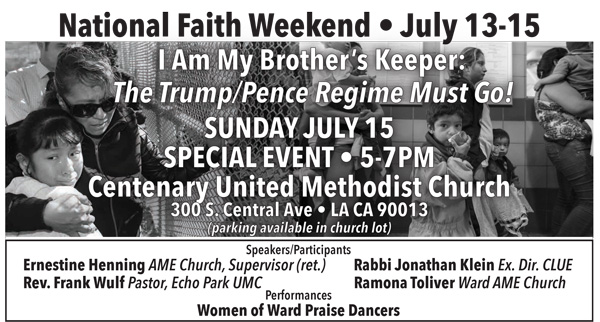 I Am My Brother's Keeper:
The Trump/Pence Regime Must Go
Sunday, July 15 at 5 PM–7 PM
Centenary United Methodist Church
Downtown Los Angeles
300 S Central Ave
Los Angeles, California 90013
Read more. | Facebook Event

Volunteers Needed... for revcom.us and Revolution
If you like this article, subscribe, donate to and sustain Revolution newspaper.