From Refuse Fascism.org
Handmaids to Pence in Philly: The Regime Must Go!
| Revolution Newspaper | revcom.us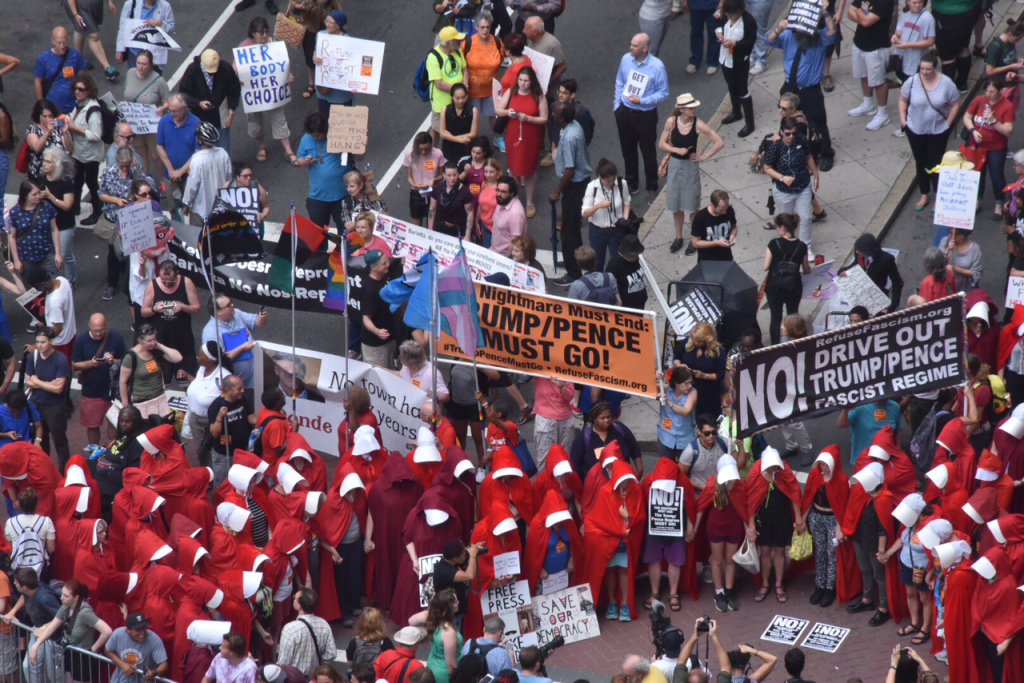 On Monday, July 23 vicious theocrat/Vice President Mike Pence went to Philadelphia. Refuse Fascism initiated a protest to send the message through word and deed we refuse to accept a fascist America. This nightmare must end! The Trump/Pence Regime Must Go!
Pence is one of the most dangerous reactionary figures in modern history. Not only has he instituted the most anti-women, anti-science, and anti-LGBTQ policies while Governor he has dutifully supported and been instrumental in every Trump policy since they made their unholy, "holy" alliance to bring Christian Fascism to to the heart of this regime. He is a key figure in ushering in a theocratic society right out of the Handmaid's Tale. A Christian Fascist, he has made it his life mission to terrorize women and the LGBTQ community and people of color. Read RefuseFascism.org Indictments of the Trump/Pence Regime.
It is only fitting that Pence was confronted by 100 women dressed as handmaids, along with hundreds more protesters. The handmaids were a visual representation of Pence's end game of women totally stripped of their rights and humanity.
It was a protest that broke into mainstream media, both in Philadelphia (print and online), and nationwide. The story was syndicated by the Associated Press and printed – among other places – in the Hollywood Reporter – a publication with a readership of millions who follow, or are involved in the entertainment industry.
The protest projected the values of respect for all of humanity and the world we want – in stark contrast to the hate and bigotry of the Trump/Pence fascist regime. And part of building a movement to drive out this regime the only way it can be: through people taking to the streets and refusing to go until the regime is removed.
The protest was co-hosted by Refuse Fascism Philly, Philly Up, NOW Philly Chapter, and DelCo NOW.

Volunteers Needed... for revcom.us and Revolution
If you like this article, subscribe, donate to and sustain Revolution newspaper.