As the Trump/Pence Regime Whips Up Fascist Mobs: Federal and State Laws Target Anti-Fascist and Other Protesters
| Revolution Newspaper | revcom.us
At a time when vile, dangerous white supremacist/neo-Nazi mobs are being backed and incited from the highest offices of the land through Trump's tweets, KKK-style speeches, and other actions, the government is stepping up efforts to use laws against anti-fascist protesters. In June, Republicans introduced a bill in the Judiciary Committee of the House of Representatives called the "Unmasking Antifa Act of 2018." The bill would punish anyone who "injures, oppresses, threatens, or intimidates any person" while "in disguise, including wearing a mask" with fines and an up to 15-year prison sentence.
"Antifa" refers to a range of anti-fascist and anti-racist groups with varying viewpoints, who act in different ways to defend against and take on fascist and white-supremacist goons, in the streets and on social media. Many Antifa identify themselves as anarchist in some way. In a piece on The Intercept website, writer Natasha Lennard pointed out that "anti-fascist demonstrators frequently wear masks for fear of harassment and retaliation from white supremacists" and that "while anti-masking laws are not uncommon and have often been used in the past to arrest leftist and anarchist protesters, the weight of sentencing proposed in the new bill raises the stakes considerably..."
As the name "Unmasking Antifa Act" makes clear, this bill doesn't make even a pretense of being "even handed" in relation to the racist Nazi thugs like those who rampaged in Charlottesville last year on one side, and people who get out into the streets in outrage against those fascist fucks, on the other. And if this fascist bill becomes actual law, it will no doubt be used more broadly against people protesting against the fascist regime and various injustices and crimes of this system, beyond those identified with Antifa.
Shortly after this bill was introduced, federal prosecutors dropped felony charges against the last of the J20 defendants—about 200 protesters who faced long prison sentences after mass arrests on Trump's Inauguration Day in Washington, DC, for simply being part of a demonstration during which some alleged destruction of property took place. The attempted political railroad of the J20 defendants was not only a vicious act of revenge against the righteous protests on the very first day of the Trump/Pence regime—it was a major escalation of fascist repression, with ominous implications. As part of this, the government demanded detailed information on visitors to a website that was used to organize the protests, and the site's web hosting provider said complying with the order would have meant handing over information on about 1.3 million visitors.
Most of the J20 defendants worked together to defend themselves against the outrageous attacks by the government and won wide support. The defeat of their political railroad was a victory. But the government has by no means given up the drive to go after protesters through the laws and courts. Aside from the federal "Unmasking Antifa" bill, there has been a major rise in anti-protest laws at the state level—targeting things like demonstrating in large groups, wearing masks, and disrupting oil pipelines and other infrastructure, or protecting drivers from liability if they hit someone during a protest. The National Lawyers Guild reported earlier this year that 58 such bills had been proposed in 31 states.
Not all these bills have become law, but many have. For example, one signed by the Oklahoma governor in May dramatically increased fines and jail sentences for protesters who "trespass" on property containing "critical infrastructure facility"—including fossil fuel facilities. The new law is clearly aimed at environmental protesters in this state, which is a center of the oil and gas industry. Individual protesters convicted under the law could face up to a $100,000 fine and 10 years imprisonment—and organizations found to be a "conspirator" could be fined as much as $1 million.
These draconian laws are aimed at greatly ramping up potential punishment against those who step out to protest—and threatening and intimidating potential protesters. They are part of intensifying steps in the U.S. toward the fascist suppression and criminalization of all serious dissent and protest. This is where things are rapidly heading—and it underscores the necessity and urgency of tens of thousands, and then millions, stepping out to defy this fascist onslaught as part of a massive political movement to drive out the Trump/Pence regime.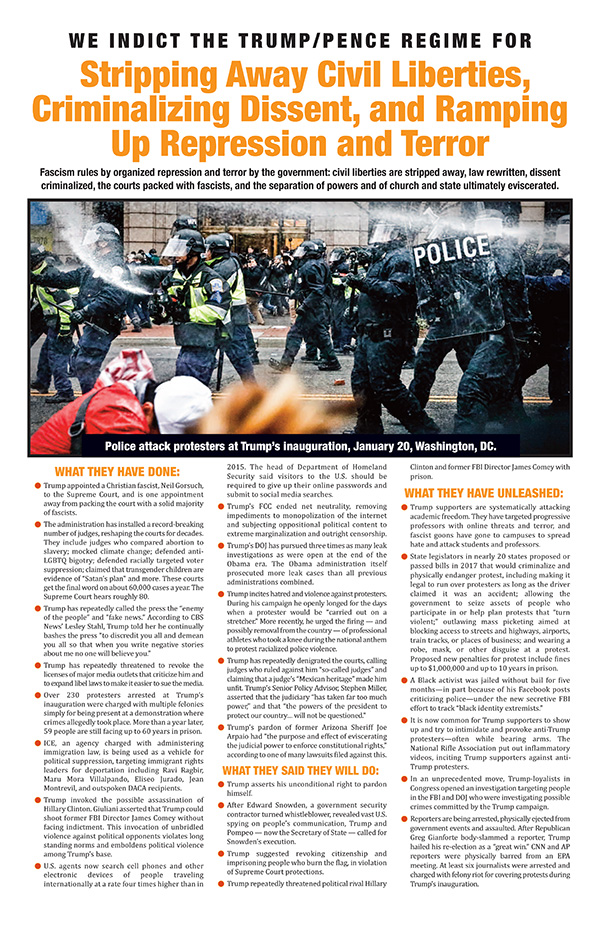 Read more about Refuse Fascism Indictment here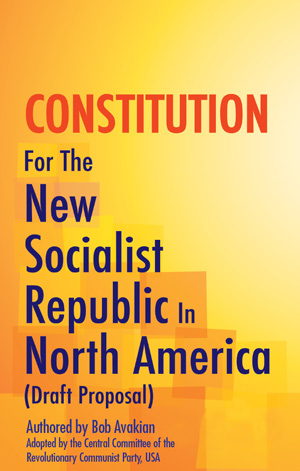 Volunteers Needed... for revcom.us and Revolution
If you like this article, subscribe, donate to and sustain Revolution newspaper.