Protests in All 50 States Across the U.S. Demand: #StopKavanaugh
| Revolution Newspaper | revcom.us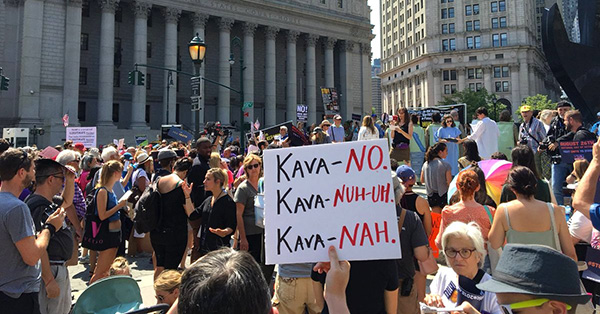 New York City. Photo: Special to Revolution/revcom.us
On July 9, Trump announced the nomination of Brett Kavanaugh—a confirmed and longtime fascist—to replace Anthony Kennedy on the U.S. Supreme Court. This is a major step in the courts in this country being put more firmly in the hands of the fascists, part of how the "new order" of fascism is more directly and strongly asserting itself.
On August 26, people took to the streets across the country to oppose Kavanaugh, demanding a STOP to his confirmation. There were protests in large cities like New York, Chicago, Los Angeles, San Francisco, Atlanta, and Philadelphia. But people came to express their outrage and opposition to Kavanaugh in many smaller cities as well, like Alexandria, Virginia; Peoria, Illinois; Eugene, Oregon; Des Moines, Iowa; Great Plains, Oklahoma; and Anchorage, Alaska.
Organizers of the "day of action," NARAL Pro-Choice America, MoveOn.org, and community groups across the country, said 75 organizations had planned 180 events in all 50 states. They said: "There's no doubt: Kavanaugh would rule to gut Roe and criminalize abortion, gut health care, attack voting rights and LGBTQ rights, slash environmental protections, and further damage workers' and immigrant rights. If the Senators vote to confirm Kavanaugh, they would cement into place the worst and most dangerous of Donald Trump's policies for generations to come."
As we wrote when Trump announced the nomination:
The nomination of Brett Kavanaugh to the U.S. Supreme Court is often described by liberal pundits and Democratic Party leaders as threatening to "restrict women's right to abortion" and "erode our civil rights and liberties." This is wildly underestimating the danger. Kavanaugh's outlook and legal positions are to a great degree in line with the Trump/Pence fascist regime and its campaign to "Make America White Again," and in particular with the Christian fascist hostility to women being treated as full human beings, and their objective of implementing Christian theocratic rule.

As the fifth pro-fascist vote on the nine-member Court, Kavanaugh would, if confirmed, tip the highest court in the land into a compliant tool of fascist transformation. For this reason, the fight to block Kavanaugh's confirmation—which to be meaningful has to be waged as part of driving the whole fascist regime from power—is one of life-or-death urgency for women and LGBTQ people; for Black, Brown, and other oppressed people; and for all who hope for a brighter future for humanity and for the planet we inhabit.
A lot of the people who came out to the August 26 protests are particularly concerned about and want to fight against the fact that if this fascist ends up on the Supreme Court, he will join with other fascists on the court and be able to overturn the 1973 Roe v. Wade decision that made abortion legal in the U.S. The reality is that there have already been increasing levels of legal restrictions on abortions, and in large areas of the country, women have to make extraordinary efforts and travel long distances in order to get an abortion—but overturning Roe would be a whole new leap. Many protesters carried signs from Planned Parenthood and NARAL saying "Protect Safe, Legal Abortion" and "Don't Criminalize Abortion."
At the New York City protest, many women spoke openly about their abortions and the importance of their right to make that choice, while condemning the "shaming" of women who have had abortions that is all too common today. People also expressed outrage at many other aspects of what the fascist Trump/Pence regime is doing. One speaker in New York was the woman who climbed the Statue of Liberty in early July to protest the separation of migrant families on the border, and she challenged others to act in ways that are necessary to change the course of events in this country. A protester in Chicago carried a sign that read: "We believe Black Lives Matter, No Human is Illegal, Love is Love, Women's Rights Are Human Rights, Science is Real, Water is Life. Injustice anywhere is a threat to justice everywhere."
At a number of protests, women spoke out against the woman-hating misogyny of Kavanaugh by dressing up as women in The Handmaid's Tale—the Margaret Atwood novel and current Hulu series that imagines the kind of future that these fascists are working to bring into being, in which women are totally subservient to men and are looked at as servants and breeders.
So-called "pro-life" anti-abortionists organized counter-protests in a few cities. In Chicago, these reactionaries were exposed and confronted. Revcom.us received a report from a reader that said, "Midway through the anti-Kavanaugh rally, the Revolution Club and others confronted an Illinois 'right to life' youth group, #justice4life, that came marching with drums and chanting into the back of the rally. They wore 'I am the Pro-Life Generation' T-shirts and some held pro-Kavanaugh signs. They have been organizing and hope to get a 'pro-life' Supreme Court member. Once it was clear who they were, perhaps 1/3 of the rally turned away from the stage and confronted them with chants, 'Right to life is a lie. You don't care if women die' and blew whistles drowning out their chants. Many followed them until they left."
Many, if not most, of those who came out to these protests have the dangerous illusion that we can get rid of Trump and his regime by voting and relying on the Democrats. It was very important that Refuse Fascism mobilized to join demonstrations around the country, uniting with people's righteous outrage while also putting forward the need for, and organizing new people to take up, truly determined political struggle of masses of people to STOP this confirmation and drive out the whole fascist Trump/Pence regime.
The Revolution Club was also out in force in a number of cities, contributing to this fight from the perspective of the need for an actual revolution to overthrow this system, as concentrated in the statement from the Revolutionary Communist Party, HOW WE CAN WIN—How We Can Really Make Revolution. They boldly agitated about the real source of the problem and organized people into the movement for revolution.
On this page are initial photos and tweets of some of the protests. Check back for updates. We encourage readers to contribute to this by sending reports, photos and videos to revolution.reports@yahoo.com.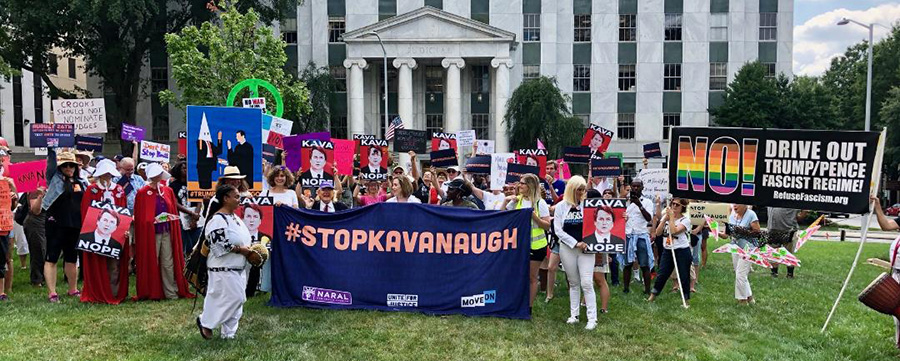 Atlanta. Photo: Special to Revolution/revcom.us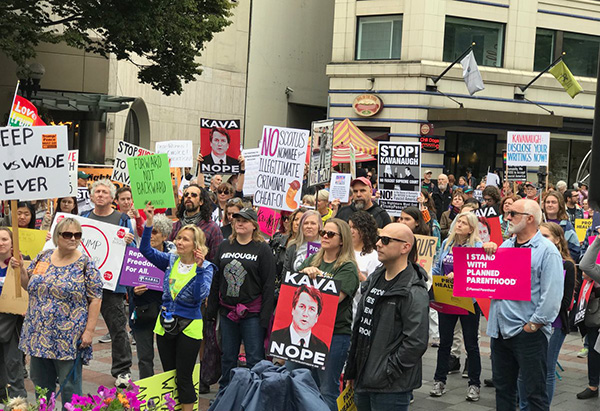 Seattle. Photo: twitter/@RadRevSusan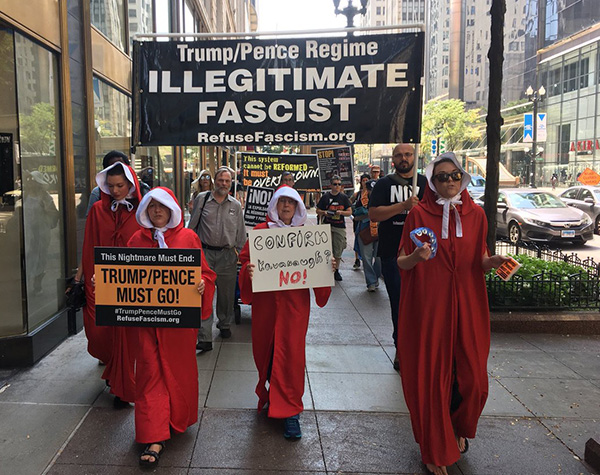 Chicago. Photo: twitter/@mccuellar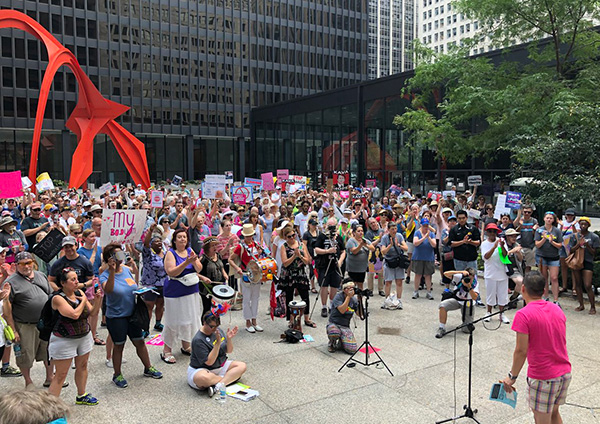 Chicago. Photo: twitter/@mccuellar

Cleveland. Photo: Special to Revolution/revcom.us

Los Angeles. Photo: Special to Revolution/revcom.us

Los Angeles. Photo: Special to Revolution/revcom.us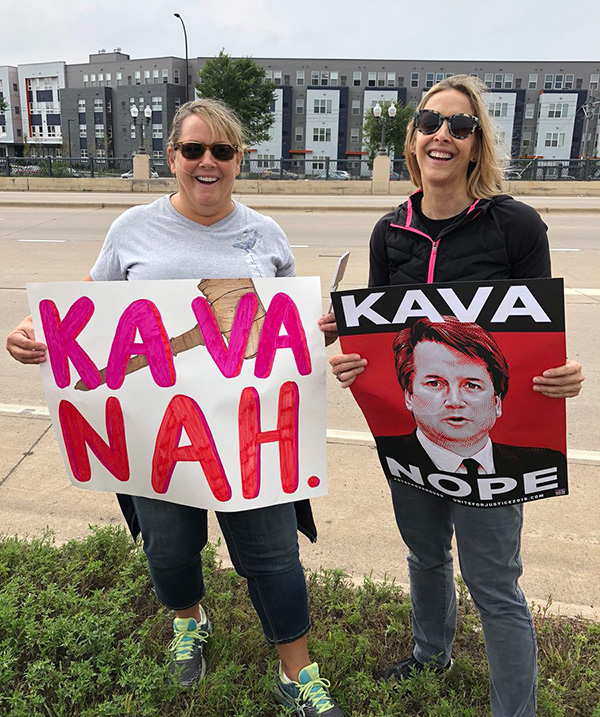 Minnesota. Photo: twitter/@krispyk

New York City. Photo: twitter/@IvanPer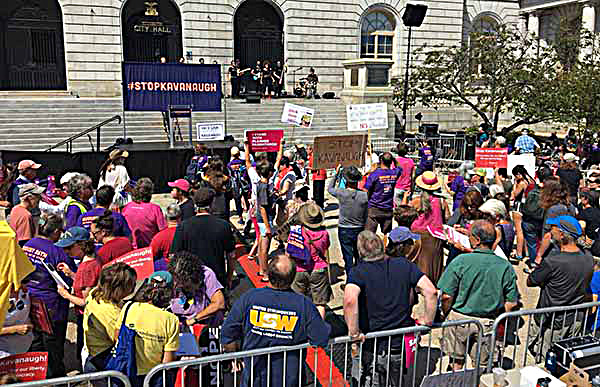 Portland. Photo: twitter/@TaylorWGME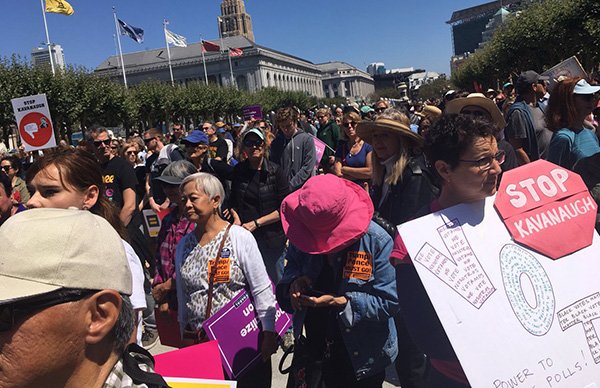 San Francisco. Photo: twitter/@NicoleKowalski5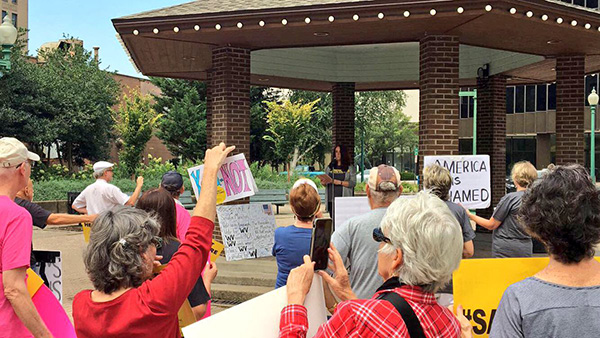 Planned Parenthood, West Virginia. Photo: twitter/@NARAL

Volunteers Needed... for revcom.us and Revolution
If you like this article, subscribe, donate to and sustain Revolution newspaper.