Revolution Club at the San Francisco Climate March:
"The Capitalist System Is Destroying Our Planet—Revolution Is the Solution"
| Revolution Newspaper | revcom.us
From the Revolution Club Bay Area
September 8—30,000 climate marchers arrived at Embarcadero Park, San Francisco, Saturday morning to the "Rise for Climate, Jobs & Justice" march. Signs from many different political views highlighting the environmental crises we face colored the streets and sidewalks. Revolution Club Bay Area, together with a small yet mighty force from Revolution Club Los Angeles, fused to organize ranks into the movement for revolution, influencing the masses to be in favor of this revolution, while also building for the upcoming Revolution Books Berkeley special preview screening of a film of a new talk by Bob Avakian, Why We need An Actual Revolution And How We Can Really Make Revolution—3 pm Sunday, September 23.
As a result of the agitation and chanting, three people came forward to put on "Revolution—Nothing Less!" T-shirts, in the prep area of the march. Just before the march began, Revolution Club members took formation and began to weave through an eager crowd, preparing to march. After weaving through the crowd, four more people came forward to drum and carry the banner which read, "The System Can Not Be Reformed! It Must Be Overthrown!" The backside of the banner was deliberately tailored to include the fifth stop on climate change and read, "The Capitalist System Is Destroying Our Planet—Revolution Is the Solution".
In addition to the fact that there were both marchers and spectators who took up Revolution Club chants, some reporters and marchers were compelled, on their own accord, to say that Revolution Club had the best chants, the best rhythms, and were the loudest. The formation line in front of the banner represented a revolutionary force with conviction, with members handing out materials to enthusiastic bystanders.
The conclusion of the march allowed people to engage with outreach booths, including Revolution Books Berkeley. Refuse Fascism Bay Area was also there. Large art projects were being painted on the streets for aerial photographs, but the city unfortunately power-washed them away immediately afterwards. These projects were meant to convey aspects of indigenous culture while advocating for environmental protection. Revolution Club seized the opportunity to march in formation one last time while chanting and handing out materials to those painting and socializing.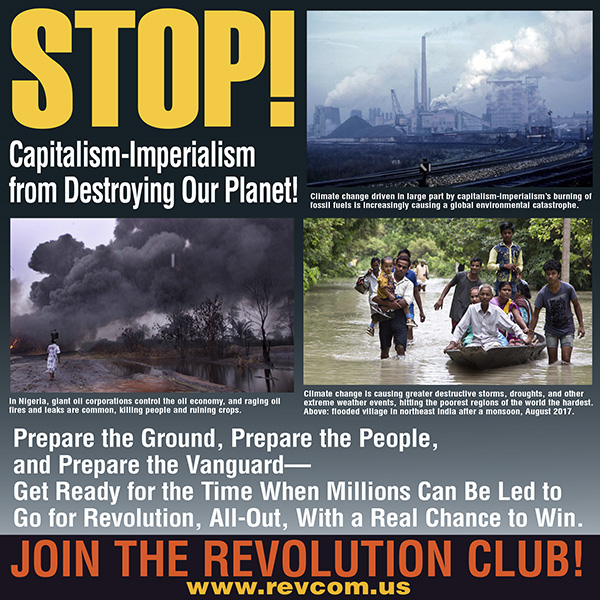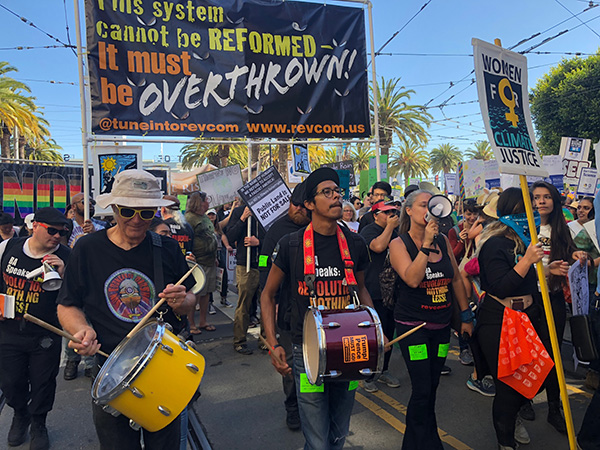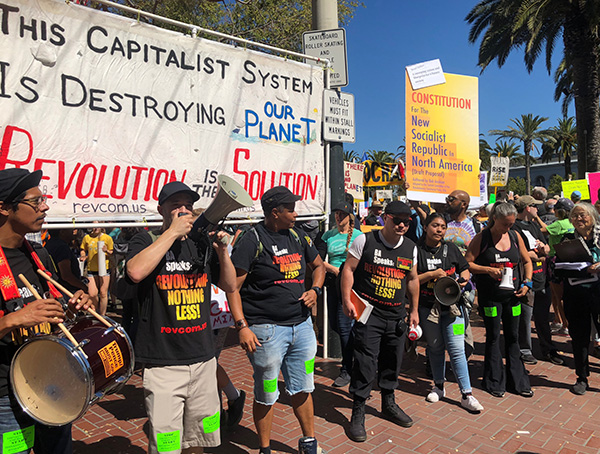 Volunteers Needed... for revcom.us and Revolution
If you like this article, subscribe, donate to and sustain Revolution newspaper.