India: "Provocative Speeches" Lead to Arrests, Escalation of Fascist Repression
| Revolution Newspaper | revcom.us
Editors' Note: This news report is based on edited excerpts of A World to Win News Service article from August 31, 2018.
On August 28 the Indian police raided homes in cities across the country and arrested five activists and intellectuals under the Unlawful Activities (Prevention) Act (UAPA). The UAPA allows the government to hold someone for six months without any specific charges. Those arrested are law professor Sudha Bharadwaj; Gautam Navlakha, former political editor of the widely respected Economic and Political Weekly, an intellectual and political journal with international reach; Varavara Rao, the well-known 78-year-old poet and founder of the Revolutionary Writers Association; human rights activist Vernon Gonsalves and activist and lawyer Arun Ferreira. Over the years, the arrested have led lives that put them at the forefront in fighting caste oppression against Dalits ("untouchables," considered the bottom of the caste hierarchy), the communal hatred and persecution of Muslims and the theft of Adivasi (tribal) lands.
Rationalizing this escalated repression, the Hindu fundamentalist government alleged that those arrested made provocative speeches at a well-attended conference promoting the rights of Dalits on December 31, 2017, part of a celebration of the 200th anniversary of Bhima Koregaon, a victorious battle fought by Dalits against a Brahmanical (upper) caste. Those who believe that India should be ruled by a Hindutva (fundamentalist) interpretation of the Hindu religion and uphold the age-old caste system as part of this abhor this annual celebration where Dalits attempt to step out of the humiliating position they still occupy in Indian society. Stone-throwing Hindu fanatics attacked a 300,000-strong march, resulting in one death. After this attack, thousands of Dalit protestors shut down parts of Mumbai. While two of the Hindutva attackers were charged at the time by sections of the local police, the government then turned to accusing these five individuals and others with "instigating caste violence" through "provocative speeches." Lawyers and supporters of those arrested dispute the accusations and charges.
Prime Minister Modi, who is known for whipping up the most backward religious sentiments and fomenting attacks on Dalits and Moslems in the name of "defending" the Hindu religion and caste supremacy, was formally accused (although not convicted) of being behind a mob attack that killed 2,000 Moslems in the state of Gujarat in 2002, when he headed the state government there. He is a member of a group called the Rashtriya Swayamsevak Sangh (RSS), which is considered the ideological parent of Modi's party, the Bharatiya Janata Party (BJP). Some prominent RSS figures have openly expressed admiration for Adolf Hitler and call for ethnic cleansing to purify the "Hindu nation." As Prime Minister since 2014, Modi has unleashed a Hindu chauvinist lynch mob mentality throughout India. To take just one example, he turned a blind eye when self-styled "cow protection" vigilantes attacked Muslims and Dalit caste members accused of selling beef. (The caste system assigns Dalits the duty of disposing of the corpses of animals, including cows that have died of natural causes; cows are held sacred by the Hindu religion.) They were beaten, tortured and forced to eat cow dung. Directly, or indirectly with his silence, Modi has encouraged such atrocities, including the lynching of Muslims alleged to have been involved in killing cows or eating beef, and his government has generally condoned these kinds of activities, with their perpetrators enjoying immunity.
A previous round of raids and arrests of participants and speakers at Bhima Koregaon took place in June 2018. Police ransacked homes, humiliating family members and seizing books, laptops, computer drives and mobiles (cell phones). Accusing those arrested in June and August with having links to the banned Communist Party of India (Maoist), which has been waging armed struggle against the Indian government for several decades, government prosecutors are alleging that a section of these arrestees are (and labeling them as) "urban Maoists" (using the term "Naxalite," which derives from the origin of the Maoist rebellion in Naxalbari in the late 1960s), spreading "rebellious thoughts" and being part of an anti-fascist united front which sought to influence the Bhima Koregaon anniversary commemorations. Prosecutors also claimed to have discovered a letter about an alleged plot to assassinate Prime Minister Narendra Modi involving those arrested, no evidence of which was submitted formally in court. A former Indian Supreme Court justice called this accusation preposterous and nothing short of government-sponsored terror. Defense lawyers for the accused have pointed out the lack of any evidentiary connection between Maoist activity and what took place at Bhima Koregaon.
Many activists and intellectuals in India see the charges against the five representing a new round of government attempts to crush opposition to rising Hindutva fascism by creating a climate of fear, claiming to find "a subversive in every lawyer and terrorist in every intellectual." Protests against the arrests of these five and those arrested in June have been held in Mumbai and Delhi as well as other cities across India. Broad sections of the progressive Indian intelligentsia have rallied against these attacks and the overall continuing escalation of state repression which has accompanied recent targeted assassinations of secular intellectuals by Hindutva fascist forces.
The world-renowned novelist and activist Arundhati Roy gave the following statement to one of India's leading newspapers: "The events that are unfolding are being fueled by an intent to do away with democracy and turn this country into a Hindu state. It is an overt statement of intent, now. This, potentially, is more serious and more dangerous than the Emergency [an extremely repressive period in the 1970s]. This time, it is the state itself that is unleashing a law and order problem on minorities, on Dalits, Christians, Muslims and Leftists and anyone else who disagrees—through its proxies in the media, its murderous vigilantes and hate-speech vendors. Everyone who disagrees with a particular ideology is being criminalized, incarcerated or assassinated by shadowy right-wing killers. In the 'big picture,' the arrests of lawyers, intellectuals and Dalit activists—and the lack of arrests of lynchers and hate-criminals—are a part of a relentless ideological attack on the letter and spirit of the Indian Constitution… While killers are being garlanded and protected by people in high places, anybody who speaks up for justice or against Hindu majoritarianism is being made into a criminal. What is happening is absolutely perilous. In the run-up to elections, this is an attempted coup against the Indian Constitution and all the freedoms that we cherish."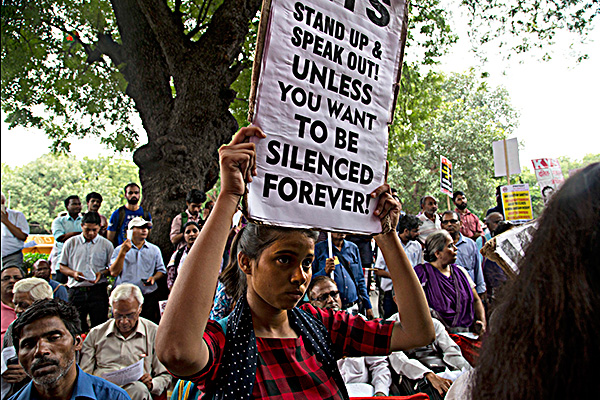 Photo: AP
After the arrest of five activists and intellectuals, thousands of Dalit protestors shut down parts of Mumbai.
Photo: AP

Volunteers Needed... for revcom.us and Revolution
If you like this article, subscribe, donate to and sustain Revolution newspaper.