"We are not some shooting target"
Pigs Who Murdered Stephon Clark Walk Free…Sacramento Rocked Again with Protests and Student Walkouts
| Revolution Newspaper | revcom.us
From a reader:
Hundreds of students took to the streets of Sacramento on Thursday, March 7 to protest the refusal of Sacramento County District Attorney Anne Marie Schubert to indict the pigs who murdered unarmed Stephon Clark1 a year ago. The Sacramento Bee described the protest as "a boisterous and at times angry four-hour march to the state Capitol." The students chanted "Cops can't stop the revolution" and "Whose streets? Our streets!"
The students walked out of Sacramento City College and Sacramento High School, where Clark was a student. They took over the city streets, blocking traffic, as they wound their way to the steps of the Capitol, where Joshua Robinson, a City College student, read a letter to the city calling the DA's decision (not to indict) "a shame on her office" and "a stain on the city."
The Bee reported that Robinson "said the two officers should be fired for failing to 'de-escalate before recklessly firing 20 shots in the dark at Stephon Clark,' and demanded authorities drop charges against the 84 protesters who were arrested after a march in East Sacramento Monday night."
Robinson, in speaking of a long history of gun violence against Black youth, referred to the fact that the Black Panther Party had been fighting this 50 years ago. The Bee article pointed out that "The march (today) comes 52 years after the Black Panthers made national news for marching to the state Capitol armed. Leader Bobby Seale of Oakland read a statement calling for the public to take note of legislation that intends to keep communities of color 'disarmed and powerless' while 'racist police agencies throughout the country are intensifying the terror, brutality, murder and repression of black people.'"
This was the fifth consecutive day of protest that is rocking the city since the Sacramento County DA made the ruling on Saturday not to indict the cops who murdered Clark last March 18. Then on Tuesday, California Attorney General Xavier Becerra said that he would not file charges against the murdering pigs. That night, at the Sacramento City Council meeting, an angry crowd shouted down council members and local leaders, forcing the council members to flee the room and shut down the meeting.
At the march, Sheku Baryoh, a Sacramento City College Student, told the press, "Police have to answer to us. We are not some shooting target. I'm [not a shooting target] because I'm a Black person."
Yashar Yisrael, who attends Sacramento Charter High School, joined the march with his friends. He said, "Stephon Clark could have been any of us. We want to show this is something that relates to us."
Thursday's student walkout was organized by campus chapters of the Black Student Union, who demanded that the DA resign and the murdering cops be fired. They also called for the DA to expunge prior cannabis-related criminal convictions for all Sacramento citizens, pushed for a more diverse faculty at Sacramento Charter High School, and said they want Sacramento City Unified, Twin Rivers and Natomas Unified School Districts to end their contracts with school resource officers (cops) who are stationed on K-12 campuses in the region. They also marched in support of California Assembly Bill 392, which attempts to put limits on the definition of "justifiable homicide" when a cop kills someone.
These are righteous protests that must continue until these killer cops are jailed.  But there is more that must be demanded. As the revcom.us article "#Stephon Clark. Say His Name!": Sacramento Pigs Shot Unarmed Stephon Clark Six Times in the Back! put it:
How many more times will we have to listen to pigs—and this whole system that backs them—"justify" their utter depravity toward Black, Latino, and Native American young people by saying "we thought he had a gun"? This time, once again, there was no gun. These police killings, over and over again, are not accidents. They are not the result of "lack of training" or "bad policies." Why do they get away with it almost every time? Because they are doing what they are supposed to do as armed protectors of the system that rules over the people.
Enough Is Enough! Time's Up for This System! No More!
---
1. See revcom.us articles on the police murder of Stephon Clark here and here. [back]
"Police murder... and the murderous logic of this system's election game."
by Bob Avakian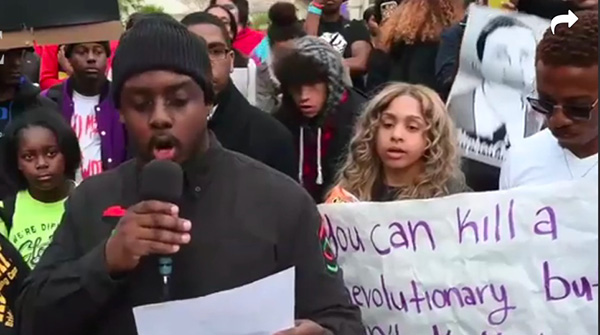 Students walked out of Sacramento City College and Sacramento High School, where Clark was a student.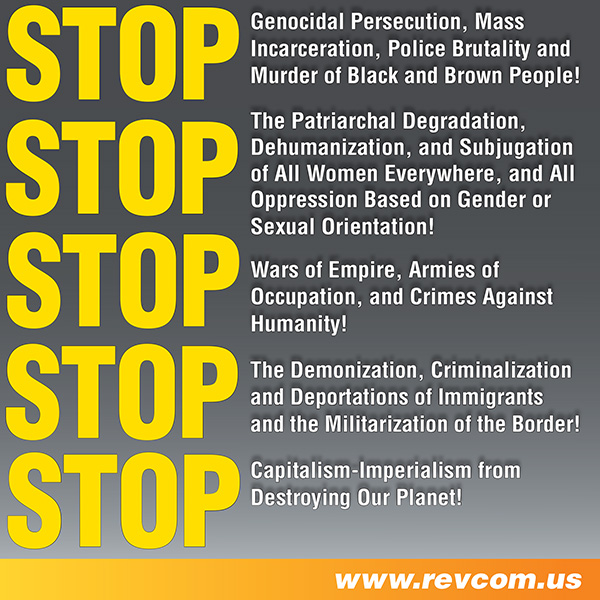 Volunteers Needed... for revcom.us and Revolution