Check It Out:
Climate Change, the Torture of the Immigrants by the U.S., and a Whole Different—and Far Better—Answer to These Horrors
| revcom.us
We urge our readers to check out two recent articles in the mainstream media. The article "How Climate Change Is Fuelling the U.S. Border Crisis," from The New Yorker magazine, shows how the climate crisis—largely created and driven forward by the workings of the capitalist-imperialist system—has been pushing immigrants out of their homes to make the dangerous journey to the U.S. The main forms of this system's oppression are bound together by a thousand chains. And an opinion piece by a migrant from Honduras, "We Fled the Gangs in Honduras. Then the U.S. Government Took My Baby," from the New York Times, shows the effects of the heartless policy pursued by U.S. imperialism, and the Trump/Pence fascist regime in particular, toward the victims of this crisis.
These articles shed some important light on the horrors caused by this system, in particular the environmental emergency that is a big factor in the refugee crisis (and threatens the very future of humanity and other life on earth) and the cruel, deadly repression by the U.S. against immigrants. The system that rules over us now has NO answer to these and any of the other problems confronting humanity and causing the needless suffering of billions worldwide.
But as the Constitution for the New Socialist Republic in North America, authored by Bob Avakian, brings alive in very concrete ways, a radically different state power proceeding from the interests of humanity can go to work on these problems in real ways. We urgently need a revolution to overthrow the capitalist-imperialist system and to bring the new socialist state into being. For more on HOW such a socialist state would approach and tackle the questions of the climate crisis, immigration, and relations with nations formerly oppressed by the U.S., go to these sections in the Constitution for a New Socialist Republic in North America: Article I, Section 2B, The Environment, p.21; Article II, Section 3H, Immigrants, Citizenship and Asylum, p.60; and Article I, Section 2E, International Relations, p. 37.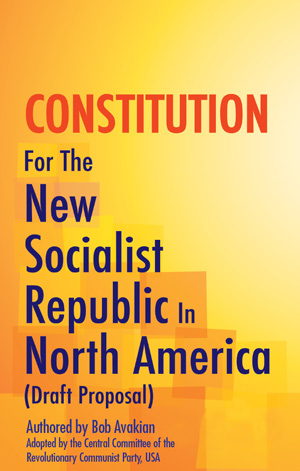 Volunteers Needed... for revcom.us and Revolution