Cheers for Megan Rapinoe:
"I'm not going to the fucking White House"
| revcom.us
Back in January, Megan Rapinoe, the co-captain of the U.S. women's national soccer team, told a reporter if the U.S. team wins the Women's World Cup "I'm not going to the fucking White House."
Rapinoe has been one of the few white athletes who have knelt during the national anthem in support of Colin Kaepernick's kneeling during the anthem to oppose the murder of Black people by the police. The U.S. Soccer Federation made a rule, after Rapinoe knelt, that the athletes must stand during the anthem. In response, Rapinoe has refused to sing or put her hand over her heart, and has stood motionless when the anthem has been played during the World Cup, as a way to continue her protest.
Now that the U.S. team is in Paris at the World Cup, she was attacked by Donald Trump, who tweeted that she was disrespecting the country, the White House, and the flag. Rapinoe doubled down on Thursday, saying, "I stand by the comments that I made about not wanting to go to the White House, with the exception of the expletive—my mom would be very upset about that." And she called Donald Trump a "racist and misogynist."
Ali Krieger, Rapinoe's teammate, came to her support when she tweeted, "In regards to the 'President's' tweet today, I know women who you cannot control or grope anger you, but I stand by @mPinoe & will sit this one out as well. I don't support this administration nor their fight against LGBTQ+ citizens, immigrants & our most vulnerable."
As of this moment, Rapinoe, who is one of the best players in the world, is tied for the lead in number of goals scored in the World Cup.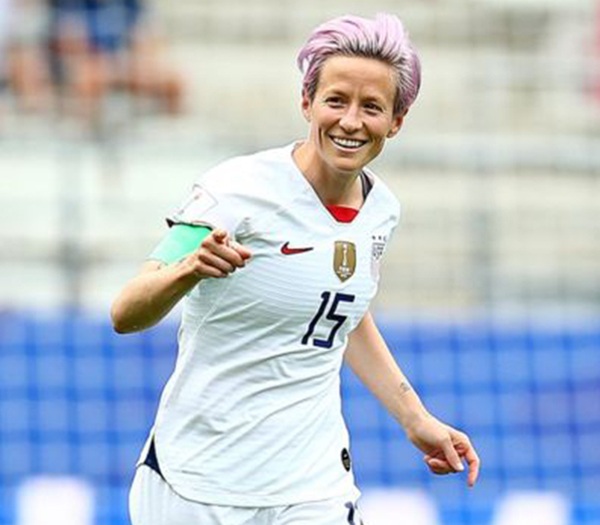 Megan Rapinoe

Volunteers Needed... for revcom.us and Revolution