LAPD Infiltrated Refuse Fascism,
Defendants Demand All Criminal Charges Be Dropped
"It's RIGHT to sound the alarm against fascism"
| revcom.us
For immediate release
July 19 2019
Contact: Refuse Fascism 323-946-1742 or 323-574-3997
What: Interviews/Evening of Conscience in Support of Defendants
Free the #Freeway9 and #UCLA5 It's right to sound the alarm against fascism!
When: Sunday July 21, 5:00 pm
Where: Immanuel Presbyterian Church Wilshire & Berendo, LA
Interviews available.
The LA Times reported today about the LAPD's suppression and surveillance of members of Refuse Fascism and the Revolution Club in the cases of the #Freeway9 and #UCLA5.
These are people facing criminal charges for blocking the 101 Freeway in the Fall of 2017 and for disrupting Steve Mnuchin at UCLA in the Spring of 2018. These actions – for which the defendants are facing years in jail and several thousand dollars in fines – were aimed at sounding the alarm against the Trump/Pence Fascist regime, responding to a call from RefuseFascism.org for a movement of millions to drive this regime from power through mass, sustained, nonviolent protest in the streets.
The first trial of two of these defendants, Chantelle Hershberger and Miguel "Alex" Antonio, ended in a mistrial in mid June. Eight of the jurors refused to convict. But the prosecution is aggressively moving ahead, and trial is set to begin as early as July 25 with a pre-trial hearing set for Monday, July 22 at 8:30am at the Metropolitan Courthouse.
Hershberger, from Refuse Fascism LA, said today, "LAPD Chief Michael Moore acts as if he had no idea that there was an unconstitutional investigation into Refuse Fascism. This is ridiculous. The LA City Attorney brought a total of 56 charges against me and 10 others for the combined cases at UCLA and on the freeway, all brought simultaneously in August 2018 – months after the actions for which we were charged took place. This was a coordinated, political persecution against the kind of protest that we need to be seeing throughout society." She continued, "The LAPD investigating itself for violating our civil liberties is a farce. They need to drop all the charges against me and my fellow Refuse Fascism and Revolution Club members. With the Trump/Pence regime consolidating a fascist America, sounding the alarm against this in the ways we did was righteous and right."
Antonio added, "These cases concentrate what's needed right now: protest where thousands and then millions of people step beyond the bounds of meaningless politics-as-usual. They also show why this system, including the Democratic Party, cannot be relied on to stop this fascist onslaught. Even more, they are part of the problem: where the Democrat city attorney office in LA is greasing the skids for fascism by criminalizing, surveilling and persecuting the people who are actually trying to stop Trump and the existential threat to humanity that this regime represents. The actual lives of people mean nothing to them. They show in living color how, despite their differences with the fascist Republicans, the Democrats, a machine of massive war crimes and crimes against humanity, are far more concerned about holding this monstrous system together and keeping people in line than they are about preventing the consolidation of fascism."
Coco Das, a spokesperson for Refuse Fascism said, "Millions of people want this to stop. But stopping Trump and Pence will take more than wishing something would change, or voicing our outrage on social media. People will have to step outside of their comfort zones. They will have to put something on the line – getting in the streets in sustained, non-violent mass protest to demand 'The Trump/Pence Regime Must Go! In the name of humanity, we refuse to accept a fascist America.' It's not enough to hate what's happening: choose what side you're on, or history will choose for you."
#
Coco Das, national spokesperson for RefuseFascism.org
Chantelle Hershberger, one of the #Freeway9 and a member of Refuse Fascism, LA
Miguel "Alex" Antonio, one of the #Freeway9 and a member of the Revolution Club, LA; part of the Get Organized for an Actual Revolution National Tour
Previous coverage:
LAPD informant infiltrated left-wing activists during Trump protests, records show
Los Angeles Times, James Queally, Staff Writer July 19 2019
Los Angeles police spied on anti-Trump protesters
The Guardian Sam Levin in Los Angeles July 19 2019
LA police embedded informant at 2017 church protests against Donald Trump
San Francisco Examiner July 19, 2019
Por protestar en Los Ángeles contra la separación familiar, los acusan de conspiración
La Opinion Jacqueline Garcia June 25, 2019
Alex Hernandez and Chantelle Hershberger go on trial in what they view as a fight against fascism
Pasadena Weekly Posted by Coco Das, Jul 18, 2019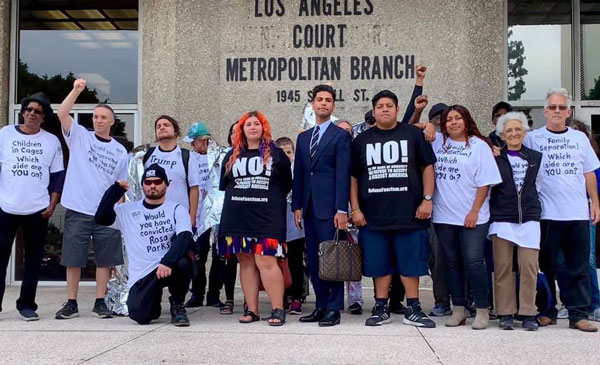 Volunteers Needed... for revcom.us and Revolution